Send to Kindle
With friends like this, who needs family?
Yesterday, I entered a weekly contest that Amazon.com runs. This week's prize is a Kindle 3G. It's only the second time I've entered an Amazon contest.
After entering, I was offered the opportunity to update my Facebook status. It was optional. Even though spreading the word about the contest feels counterintuitive, because it encourages more people to enter, I decided that what Amazon is doing is nice and I wanted to help spread the Amazon love.
So, I posted the following:
I am so on the fence for buying a Kindle. Winning one would solve my problem. 🙂
Below that was the full link and description to the contest.
Within minutes, a buddy of mine IM'ed me to tell me that he believed my Facebook account was hacked! I got a huge laugh out of that, because I correctly pointed out that his had been hacked a couple of months back!
I assured him that it was me that essentially created an ad for Amazon.
Today, I got a package from Amazon. Here's a photo, including a gift card (click for a larger version):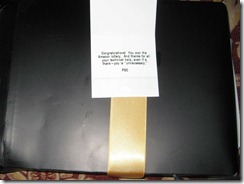 A different friend of mine (you know who you are!) saw my update and decided to create a contest of one and he immediately declared me the winner! Wow, unbelievable. I don't know what to say, except:
Thanks, you are beyond awesome!
I have no doubt that I am going to love this. It turns out that my top five favorite gadgets of all time were things I never thought I wanted, let alone needed. Someone else knew better and bought it for me. Within a day, each became so indispensable to me that I couldn't imagine how I lived without it the day before (e.g., my first email-only Blackberry, my first GPS, my first Treo, my current Droid, my Garmin Forerunner).
Let's safely add the Kindle to that list.
Thanks PSC!