Send to Kindle
We saw Live Society at Arlene's Grocery from 8-9pm. We were planning on seeing Michael Daves and Ximena Sarinana back-to-back at Rockwood Music Hall starting at 10pm. We had an hour to kill and we were around the corner from Rockwood.
We went in to see who was playing the 9pm set.
Sidecar was setting up, our timing was perfect. The group consists of four people, each of whom plays with other bands. They wanted a side project vehicle to give them an opportunity to write and perform together (that's extremely popular, and often very successful, in the indie music scene in NYC).
It feels like the two women are the leaders of the group (but I have no idea). On that assumption, I'll describe them in that order, rather than their position on stage (which is my typical style).
Amy Merrill on vocals and electronic keyboards (at the time I'm writing this, that link says the site isn't published, but I suspect it will work at some point). Amy has a lovely voice, plays the key well. I would have liked her mic volume to be a little higher.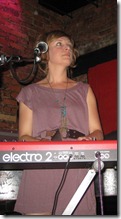 Daru Oda on vocals, electric bass and ukulele. She too has a lovely voice, but was mic'ed at a much better volume. Lower register than Amy. Combined with the better volume, there was more of a fullness/lushness to her sound. She played the bass very nicely, and did a nice job on the uke as well. She toured for a while as a backup singer for Norah Jones!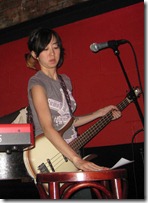 The two women traded lead vocals throughout the set and sang beautiful harmonies when the other took the lead.
Rich Hinman played electric guitar and electric bass. He also sang some harmony on the last number (no lyrics, just lovely oohs and the like). We've seen Rich a couple of times, both supporting Katie Costello. He was good on the guitar at those shows as well, but he was better (IMHO) on the pedal steel when he played with Katie, something he didn't play last night. He took the electric bass from Daru when she switched to the ukulele for the last few songs.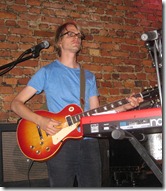 Rob Heath on drums. Rob did a very good job as well. Rob and Rich are both regular members of the Madison Square Gardeners, a band I constantly hear good things about but have not yet gotten to see.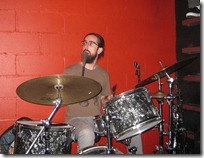 Before one song, Amy mentioned that she finds it funny that she writes songs about her old boyfriend and makes her current one play them on guitar (in other words, if you're not paying attention, Rich and Amy are a couple).

I enjoyed the set, particularly the harmonies, but if they're going to continue to play together, they likely need to spend more time rehearsing. Flubs are normal, even for the most seasoned groups (they rarely bug me, and often enhance the live experience if the band handles them with grace and humor). But, when playing without the flubs, tightness in a band is one of the things that separate one group from another. Sidecar isn't quite tight yet…
This is post two of four today.