Send to Kindle
At 8pm we were at Rockwood Music Hall catching a set by Derek James and the Lovely Fools. The minute the set was over we hopped in a cab and headed straight up First Avenue (no turns from Rockwood all the way to Sessions 73).
We had never been to Sessions 73 before, but any opportunity to see Jesse Terry and Carley Tanchon (separate sets) is a perfect excuse to check out a new place.
We got there just as Jesse was setting up so I didn't have a chance to check out the rest of the place (from the site, it seems like the room opposite the bar is a restaurant, and they might even have a separate room for larger shows, but I'll have to return to verify that).
While Jesse was soundchecking, Lois snapped a photo of Carley with Jesse's wife: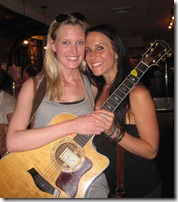 The bar is a long narrow room with a very nice stage set up in the corner (right up against the First Avenue windows).
This will be a super-short post (by my standards) for a number of reasons, the most important being that I've written about Jesse and Carley quite a number of times, and neither broke new ground last night (no one expected them to). I'll point you to my most recent post about both them, when they appeared at a house concert.
Jesse was up first and selected a wonderful set of his music and some covers. He invited Carley up to sing with him on The Weight by The Band (excellent!). To close the show, he asked people to pick one of two choices. I yelled up Natural (which wasn't one of the choices, rebel that I am!). Jesse looked for confirmation from others to make sure I wasn't overruling the collective desire. He got the nod, and proceeded to melt everyone in the bar.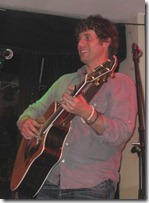 Carley also performed a mixed set (mostly originals). Her cover was an homage to Stevie Nicks, her favorite singer. She even bothered to learn the tricky guitar parts that she and Jesse used to hum when they played it together in the past.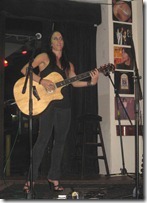 This was a bar, so I won't complain that occasionally people talked. At times, so loudly that you had to wonder why, since this was solo acoustic music, they could have heard each other without the screaming, but hey, it's not unexpected here. That can make Sessions 73 a hit-or-miss place to see someone you really like, but possibly a good place to discover some talent if you can put up with the chattering (which I can, in this situation).
The other complaint is that the sound guy is about the nicest person you could imagine (hey, I know, that doesn't sound like a complaint!). Unfortunately, he didn't get the vocals right last night (and there was only a single person singing for all but The Weight).
The vocals were off in that they were a drop too loud, but really had too much punch in them. It wasn't quite reverb, it was more like being attacked by the vocals. It was worse in the mid-range, so Jesse suffered the effect more than Carley.
In a horrible ironic twist, while Carley introduced her last song, he must have noticed it too, and he turned off the effect (he didn't lower the volume). Her voice became clearer instantly. She then sang the song (amazingly, Blues in C, check it out!), with no ill vocal effects. So, it can be done right at Sessons 73 as well.
We had a fun (but another late!) night out. Come join us at Rockwood 2 tonight at 9pm for the amazing Delta Rae!