Send to Kindle
We had firm plans to see three sets last night, the first of which was at 7pm at Rockwood Music Hall. As is our custom, we like to check out the set before we want to be there both to see if there's someone worth discovering and to snag a seat more easily for the set we're really interested in.
Matt Koziol was listed at 6pm. If you click on his name you'll get to his site where there are (currently) four videos prominently displayed. I clicked on the first (at the moment labeled "another idea…") and it didn't grab me at all. I was ready to simply pass on seeing Matt.
Lois was particularly interested in getting a seat for the 7pm set (John Schmitt) so I bothered to click through to Matt's MySpace page. He has four songs available for streaming there, and I liked all four. Whew, problem solved.
We walked in a few minutes late, likely in the middle of Matt's first number. I would describe the majority of Matt's set as jazz-tinged Rock. He dismissed the drummer for a couple of numbers, with the bass player switching to a shaker, creating a much mellower blues-infused Rock feel. I liked both.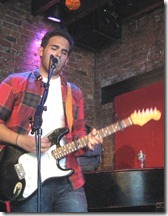 Matt has a very good voice and played the electric guitar quite nicely. It confused me a bit that he had another lead electric guitar player in the band. I had trouble tracking down the names of his band members. I know the drummer's name since there's a story behind it, so it stuck in my head and was easy to find. The other two, not so much.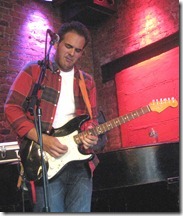 Standing left-to-right on the stage:
Mike Baron on lead electric guitar (couldn't find a good link). Matt said his name clearly, twice, but I didn't write it down, and this was the first of five sets for us last night, so my brain didn't retain the info. He was reasonably good on the guitar, but like I noted above, since Matt handled himself well in that department, and they didn't play any leads together, I'm not really sure what role he played.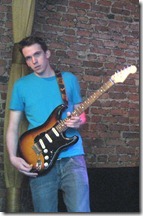 He was also louder than the rest, especially when he added effects (notably some organ-like sounds on one number), which caused the drummer to be way too loud.
Sal Rametta on electric Bass player (I could swear his first name is Sal, but the same caveat regarding names applies). I was surprised not to be able to find his name easily, since he sang fantastic harmony with Matt throughout the set. To me that meant that he has to have been playing with Matt for a while now (that was a lot of lyrics to memorize otherwise). He's not listed on the band page.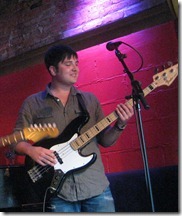 He was quite good on the bass and to repeat, he sings harmony very well. I noted above he put down the bass for the mellower numbers and sang while using a shaker. All around excellent job!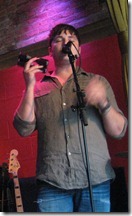 Ted Agelis on the drums. I got this name right because Matt had to say it a few more times than the others. Why? Because he only met Ted yesterday, the day of the show! That made me pay attention to Ted's play a lot (not that I don't always pay a lot of attention to drummers).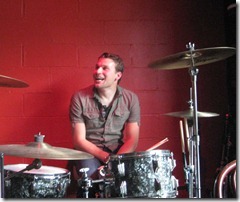 Ted was quite impressive. It's not hard to play with a Rock band if you play it safe, even if you don't know the specific songs. The trickiest part is watching for visual cues (typically from the bass player) for when to stop playing, or when to create the hype of a strong finish.
Ted didn't play it safe. To me it means that in addition to rehearsing with the band (I assume), he was confident enough to take some interesting fills during the song (not solos), which could have been disastrous if he got it wrong or wasn't that good. He was good, and got it right.

To repeat my point about the other guitarist being a bit too loud, that was my only complaint about Ted. He was too loud (by a lot). Ironically, that added to my feeling that he was confident though. Meaning, he wasn't trying to hide behind soft play.
After the set was over, we bought Matt's 7-song CD (EP?) Heart on the Line. I like that too.
P.S. I'll update the post above with the correct names when I find out who they were. I've tweeted Matt the question already. Thanks to @tjopresents for telling me Mike and Sal's names!