Send to Kindle
We only recently discovered Ximena Sarinana, having seen her perform for the first time on May 31st, 2011. You can read my post on that show. Two nights ago we got the tiniest taste when Ximena sang some harmony with Alex Wong during his show.
The Latin Alternative Music Conference is in town this week. As part of the conference, there is a giant Showcase (essentially, a festival) spread over a couple of nights at Bowery Ballroom. Ximena was scheduled to play last night (or more accurately, very early this morning) at 12:15am.
If you read my post about our first experience, then you know we wouldn't have missed a chance to see her again. We had plans earlier in the evening, but in a lucky break, we had nothing scheduled after midnight! (other than sleep, that is…)

We arrived at Bowery Ballroom at 11:45pm and parked ourselves very close to center stage. We arrived between acts, so there was just general socializing going on. A few minutes later the act before Ximena took the stage. A top Venezuelan based Hip-Hop group. Six people performing the singing and dancing and a DJ (part of the group) in the back left of the stage.
While Hip-Hop isn't my thing, and seeing it performed in a language I don't understand isn't likely to change that, I was still completely fascinated by how much energy and effort goes into such a performance. I can't imagine how much rehearsal time it takes to make it look as smooth as it does. Of course, the crowd was wild for them.
Ximena started setting up on stage at roughly 12:20am. While I don't speak Spanish, I would guess that while she was plugging in all of her electronics, she received at least 14 marriage proposals from the guys standing all around me. Most of those guys were with their wives/girlfriends. I'm betting those women understood (if not supported) the guys in their quest to marry Ximena.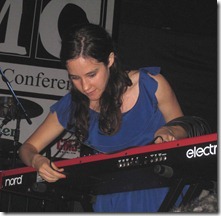 The set started closer to 12:40am. The character was dramatically different than the Rockwood show, immediately. For starters, Ximena stood and played electronic keyboards. At Rockwood, grand piano and sitting (until the a cappella encore). There was an additional band member (electric guitar) and Alex Wong was on a monster drum kit. Of course, the biggest difference was the venue.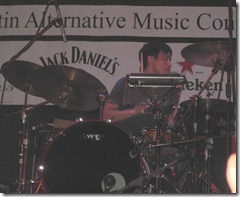 Bowery Ballroom is large. The audience stands throughout the show (except for some seats in the balcony). It's way louder than Rockwood. As I mentioned in my earlier post, Ximena is up to any task and the change in venue was right up her alley as well. She harnessed the crowd's energy by dancing while she was singing and playing the keyboards, amping them (us) even further.
Ximena's first full-length CD was released in Mexico, in Spanish. It's a huge seller. Given my reaction to every song she sang in Spanish at the first show, I have no doubt why that is the case. Having recently moved to the US, she is about to release a second CD, this time in English, on August 2nd.
She opened the show with Shine Down, in English, off the upcoming CD. It's super-charged power Pop/Rock. She followed that with Echo Park, also in English. A few people around me started calling out to her to sing in Spanish. That was completely understandable, given that this was LAMC and a predominantly Hispanic crowd.
She obliged, immediately, but I have a strong sense that this was her predefined set list anyway! She played a song I instantly fell in love with at Rockwood, Normal, off her original CD. Everyone around us sang every word with her, out loud.
At the end of Normal (at least I'm pretty sure it was Normal), Ximena turned on her loop for her voice. If you've still resisted reading my last post about her, but want to really understand what I mean about looping her voice, go back and read that now. Each track in the loop last night was incredibly complex, beautiful and powerful.
I know it isn't possible, but here are six shots of her singing, each one taken during a different vocal acrobatic act. You can see her facial expressions and mouth formations are radically different as she's singing something to layer in the current loop.
She returned to English for the next song, Love Again.
Ximena dismissed the band for her last number. She played the title track off her original CD, Mediocre, solo. When she introduced the song, the crowd was feverish, knowing what was coming. With a microphone and electronic keyboards and no other support, she blew away a crowd of hundreds of people, most of whom had been standing for over four hours already.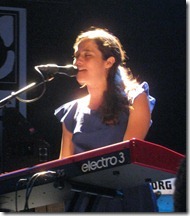 Her voice and skills at live performances are that good. Again, the crowd sang every word with her. They were good (hitting the notes as far as I could tell), but this song builds, and Ximena pours some amazing power into it, so she was always easily recognizable above the audience's singing.
Pete Lalish on electric guitar. For much of the set it sounded like Pete was playing bass. In retrospect, I'm thinking that some of that might have been coming from Ximena's keyboards, because Pete's hands/fingers weren't moving the way they should have to produce what I was hearing. Basically, it was a little tough for me to pick out his specific sound.
Alex Wong on drums and electronic keyboards. Alex had a rock star drum kit setup, high up on stage. The only thing missing was a glass enclosure to make him feel completely unapproachable. Given the power Pop/Rock nature of the English songs, Alex's arms were flying at really high speeds, mostly on the snare, high-hat and one other cymbal. Of course, he was masterful with the kick drum. I didn't see him make too much use of the remainder of the drum kit.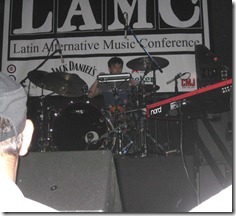 On at least one song, he played keyboards, which he had laid out to his right on top of one of the larger drums. On another song he also had a drum machine going for the underlying beat, and he powered through more tasty drum parts above and around that beat.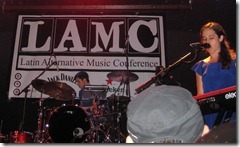 Here's a more artistic shot of Alex, with the trails of the drumstick (recall how fast I said he was) creating an interesting look across his face.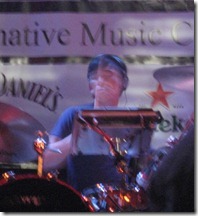 If you are a New Yorker and want to check out my claims, you have two chances later this month, when Ximena opens for Sia at Webster Hall on July 26th and 27th. Get your tickets now. We'll be there on the 26th.

The energy created by Ximena, the Hip-Hop group and the crowd, easily sustained us way beyond our typical bedtime. We got home around 1:30am and were asleep by 2. Nothing normal or mediocre (yes, a closing pun on two of Ximena's more awesome songs) about the evening.