Send to Kindle
What do you do after driving 5.5 hours to return home from a 10-day business trip? If you're most people, you catch up with what happened while you were on the road, then collapse for an evening of relaxation. If you're crazy kids like us, you do that, add a catnap and after relaxing, head out to an 11pm show at Rockwood Music Hall Stage 2.
What could get us out at that hour on such a day? A number of the musicians in NYC celebrate their birthdays with shows. Last night was Brian Killeen's turn. Considering that he's a sought-after bass player who plays with a number of bands, there were quite a number of musicians that wanted to play with him. When I saw the tweet-stream of names that would be appearing, it was a combination of my local all-star list, coupled with a few new people I've been wanting to check out for a while. Perfect!
Apologies for the quality of a number of photos (and the lack of some others completely). The lighting was all over the map and many shots just came out poorly.

Brian played on every song and sang harmony on a bunch. In a new twist (for me), Brian played the lead guitar on one song (later in the set) and did a very nice job! He also sang lead on that number (co-lead actually), which has become less of a novelty more recently.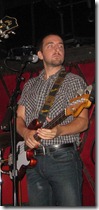 Greg Mayo was on stage for all but two songs, earning him a close second in the Iron Man competition with Brian. Greg opened the show on the keyboards (grand piano and electronic). He switched to the electric guitar on the next song. On both he sang lead (very strongly), getting the large crowd completely riled up on Born on the Bayou (complete set list posted at the bottom). On the one song that Brian played lead guitar (Greg's), Greg played Brian's electric bass (it only seemed fitting).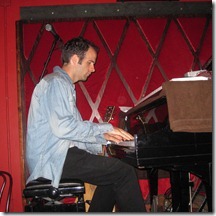 John Schmitt took center stage with his acoustic guitar. His voice was incredible (it always is) in belting out his two numbers. I'm always impressed when someone can handle solo singer/songwriter mellow (John is masterful) and can just as easily stand up to a full rock band and sound as good.
Late in the set John ended up sitting at our table. A few of the people behind me gushed uncontrollably "You are awesome!". They are/were correct, he is/was. I told them that he has his own Birthday set next Friday (7/29) at 10pm at The Living Room. Come test the veracity of my statement and celebrate with John.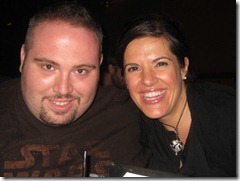 Dorie Colangelo sang and played John Schmitt's acoustic guitar. I've never seen Dorie before, but Lois caught the last song of her set seven months ago. Here's what I wrote in the post about that night:
We got there 10 minutes before Alex's set. I stood outside (brrr) and caught up on some comms on my Droid. Lois went in and heard the last song of the set before Alex, Dorie Colangelo. Lois was extremely impressed by Dorie.

When I walked in, she was telling Dorie how wonderful her voice was. She asked if Dorie had any CDs/EPs and Dorie handed her one (she didn't want money for it). Lois insisted. She asked me for money. Since I wasn't privy to the conversation, I handed her a $5, thinking it was the standard fee for most EPs. When I loaded it up this morning, I saw that it was an 11-song CD. I'll slip Dorie some more money the next time we see her. Given Lois' reaction, I'm sure there will be a next time.
Oops! I wish I had re-read that post before last night. Of course, I forgot that I wanted to give Dorie some extra money. Next time (and this time I mean it).
As for last night, Dorie's voice was wonderful. Her guitar-playing was fine. Unfortunately, the songs were way slower than the rest of the set and the shift didn't feel natural to me. Ironically, I did like her really slow (earthy/sexy) version of I'm So Excited. Still, it seemed to break a mood (just a bit). I'm still as interested in catching Dorie doing her own stuff as I was before last night (perhaps more).
Since she was playing John's guitar, the strap was way too loose for her comfort. Between her two songs, John came to the stage to adjust the strap, which worked out much better for Dorie during I'm So Excited.
Patrick Firth left his normal spot at the grand piano (he played a ton of electronic keyboards as well) and took center stage with his acoustic guitar. He sang the first original of the night, a song off his upcoming album called Boomerang (that's the song title, I don't know what the CD will be called).
Update: Read the comment below from Brian Killeen himself. I got it totally wrong! Every performer did an original. You can see my response about Greg's opening number below Brian's comment. Thanks again Brian, I like to be accurate when possible. 🙂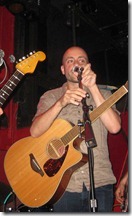 Martin Rivas came on stage to support Patrick Firth the song before and stayed to perform a couple as well. He kicked it off with his own North. Not only was it superbly delivered, but I felt like it was my birthday as well. After Greg Mayo took a short but very sweet guitar solo, Martin turned to him and motioned that he should continue. He took a much longer, killer solo. Thanks Martin for making Greg give me an early birthday present too.

Wes Hutchinson was up next, singing and playing acoustic guitar. While he was standing off stage, I mentioned to Lois that he looked so familiar that I was sure we've seen him before, but the name was escaping me. Ha! When he got on stage he mentioned that he had just chopped off his hair. That's it! I've seen him twice recently, both times in support of Chelsea Lee, and both times I was extremely impressed with Wes.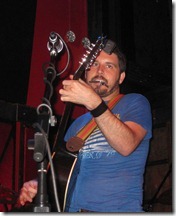 Last night Wes was excellent again, this time singing lead (our first time experiencing that). There will be more Wes in our lives, I'm sure (as there was a bit later in the show as well).
Emily Zuzik sang and played electric guitar. Emily was high on my list of people to see. I nearly got to see her a couple of Friday's ago. I already know I can't make her next two NYC shows, so this was such a big bonus that she was part of this celebration. It shouldn't have been a surprise, since Brian Killeen is part of her band. The other members of her band were all part of this show (independent of Emily), so it was preordained that she be there too.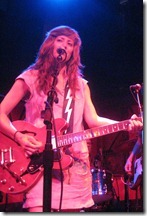 She opened with Want to Go Out Tonight, the first cut on her new CD, The Wild Joys of Living. Wonderful delivery of a fun, upbeat song. Emily has a great voice. Wes Hutchinson moved over to electric guitar (he too borrowed Mayo's, making Emily's two songs the only ones that Greg wasn't on stage).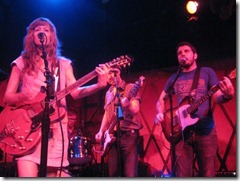 For her second number, Emily performed a gutty version of Psycho Killer. Her voice was completely different, showing that she controls it, rather than the other way around. A total blast.
After the show, I introduced myself to Emily. She told me that she couldn't hear herself sing. I assured her that it sounded awesome in the audience and I assure those of you who weren't there as well.

When you see the set list below, you'll see that the next performer is listed as Me! If you're not paying attention, the Me! is Brian Killeen. He actually wasn't formally introduced as being the next lead performer. Instead, Josh Dion was brought up and began the song as if he were leading it.
This is the song that I previously noted Brian took over lead guitar duties on as well as singing lead. Josh did a bunch of lead singing on the song as well, so it was really co-leads. Brian did a terrific job.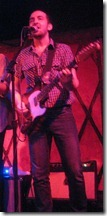 Josh killed it on both of his numbers. The second was an original called Feel. I might be one of the few people in the audience who hadn't heard it before. Even though Josh plays a lot, it's interesting to me that he's also a legend in this community for his previous band, The Josh Dion Band. I know a number of musicians who I respect who speak about Josh Dion Band shows in awe, claiming that to this day, they are still the best live shows they've seen.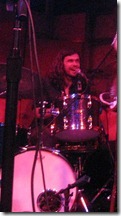 Here's a YouTube video of Josh performing Feel in 2007. He looks nothing like that now, but he sounds just as good, singing and playing the drums (and he's excellent on the keyboards as well). Brian Killeen is in the video, as is Patrick Firth on the keyboards, so you're getting some of the experience I had last night.
Josh Dion performing Feel
Robbie Gil was up to close the show. He sang two numbers, playing acoustic guitar on the first and just singing on the second. Saying just singing with regard to Robbie is probably a crime in 37 states. The man has a passion that will pull you onto to the stage with him and he certainly left us energized, even though it was after 1am.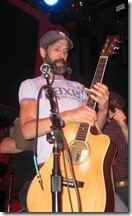 Don't believe everything you read. The set list shows Robbie's second song as Baba O'Riley. It was The Who's Teenage Wasteland. Awesome!

Patrick Firth on the keys was spectacular as was Zach Jones on the drums (I introduce Zach below!). Robbie also wailed on the harmonica during this song.
The Set List: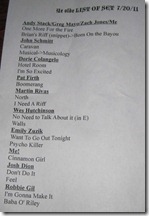 As I got up to leave, Martin Rivas returned to the stage and said that we couldn't let it end this way. While we had sung a wishy washy Happy Birthday to Brian mid-set (I think when Wes was up), Martin wanted a more proper version. He, Robbie, Greg Mayo, Patrick Firth and Zach Jones sang an awesome rendition of Happy Birthday by The Beatles. Martin was right, a much more fitting way to end the night!
Don't run away just yet. There were a few more core band members that deserve mentions, including two people we'd never seen before.
Ryan Vaughn performed much of the drumming for the night. He was superb throughout.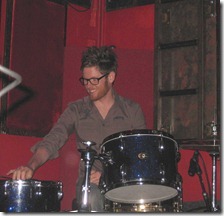 Andy Stack played electric guitar during the first two songs (Greg Mayo's numbers). He was really good. He was the primary lead guitarist on the first number when Greg was on keyboards. But in Born on the Bayou, he traded leads with Greg in classic Rock fashion (wonderfully) and they teamed up for simultaneous leads after the duel. I did mention up above that Greg got the crowd completely riled up during this song. Andy was part of the reason. Andy also sang harmony on both numbers.
Zach Jones played drums for Greg Mayo, Robbie Gil, and I think one other, making it seven songs in total. He also played some percussion on another song. He sang into the mic on both of Greg's songs, and mouthed a lot of the other lyrics. I was very impressed with his drumming. I'll be seeing him again next week and I'm already looking forward to that show (for many other reasons as well).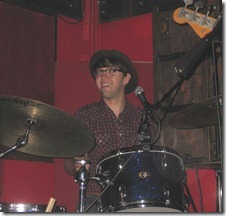 The link from his name above is to a group he is in with Emily Long called The Stone Lonesome. They have an album out that Zach sings a bunch on as well and I am really impressed with his voice (listen to the second song, Bridge to Nowhere). I'm sure we'll be hearing about him a lot and hopefully seeing him a lot as well.
We went to bed at 2am, certainly not something we want to get used to, but it was worth it (at least last night it was!).