Send to Kindle
We've seen Scott Chasolen twice now, both very briefly. The first was at Backscratch 13 when he performed three songs (two originals) with his trio. The second was when he played piano on one number supporting his very talented wife, Mighty Kate (Katy Pfaffl). That was enough to put him on my list.
He played The Living Room last night, with a starting time listed at 11pm. I'm not sure we would have gone that late, but we were already going to see John Schmitt for the 10pm set there, so I was sure we'd stay. John's set started 30 minutes late, pushing Scott's back as well.
Scott is a wonderful piano player. He played both grand piano and organ/synth. He has an excellent voice. He played old and new songs as well as at least one cover. They ranged from slow ballads to synth-infused up-tempo jazz. At the core, Scott's trio is a modern jazz sound.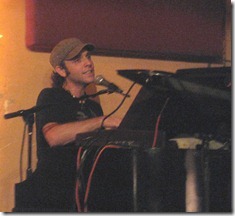 Supporting Scott were the same people that were at Backscratch 13 with him.
Adam Minkoff on electric bass and harmony. Adam is an excellent bass player and has a nice voice, complementing Scott. Adam also sings lead on his own sets, but they rarely start before midnight, so we haven't had the pleasure of catching him yet.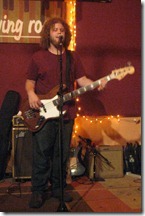 Josh Giunta on drums. Josh is really fantastic. I thought so the only other time I saw him (at Backscratch). Here's what I said that night:
Josh Giunta on drums. Excellent. A lot of eyes were on Josh during a fair amount of Scott's set. No good photo of Josh, sorry.
The was meant to imply that his drumming was that good, but perhaps some people were staring at him for his good looks.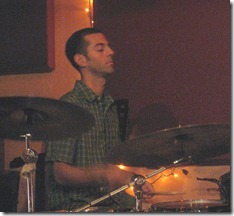 Seriously, check him out. One of the things that I kept (foolishly) thinking was that he has an advantage because he's so tall. His arms are so long that he appears to require less effort to reach the cymbals, etc.
Mark Marshall joined for one song on electric guitar. Scott joked that it would be interesting to see Mark play a song he's never heard before (implying that they hadn't rehearsed together). It took Mark a while to join in, so perhaps Scott wasn't kidding. Once Mark got a feel for the song, he took a couple of very sweet leads, and complemented some of Scott's great piano play with short bursts of guitar play as well. Very well done!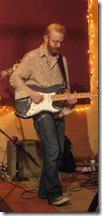 Here's Scott's set list (which he deviated from slightly):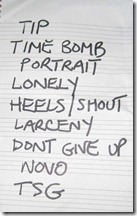 Even though our eyes were drooping, we hung in there until the end. Got home around 12:40am, but didn't get to bed until 2am. Will be dragging a bit today…