Send to Kindle
Every month, Sam Teichman produces a benefit concert. Proceeds go to different charities (one per show).
Last night was for Ronald McDonald House of NY. If you want to get involved directly, with the NY chapter, here's their contact info:
Ronald McDonald House in New York City
405 East 73rd Street
New York, NY 10021 USA
Phone: 212 639-0100
Fax: 212 472-0376
Each show has a theme. Last night it was a Tribute to the Blues Brothers. Sweet (both in theory, in advance, and in retrospect, now that we got to thoroughly enjoy it)!
The series is called Leave a Lasting Mark. The next one is on August 23rd at City Winery. It will be a different style, very special show. After that, they will return to the normal format, at Rockwood Music Hall Stage 2 (where last night's show was), on September 25th. That show will be a 3-hour extravaganza, paying tribute to The Last Waltz by The Band!
24 musicians participated in last night's show (not unusual!). I'll mention every single one of them, but I will not attempt to enumerate the combinations or tell you which people were on which songs. I'll simply describe the evening in a few generalities. Here is the set list, just to put you in the mood.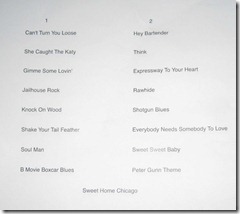 Every performer donates their time to these shows. That doesn't just include time on stage, but time rehearsing (except when they show up last minute, not having made the rehearsal, and still blow the audience away!). We gave them many ovations last night, but you can do so (in your head) as you read along…
Who doesn't love the Blues Brothers? Who doesn't love Soul music? Who doesn't love brass sections? Who doesn't love high-energy live performances by dozens of people? If you raised your hand to any of those, leave now! (In starker terms, no soup for you!)

Every song last night was packed with energy, delivered by top-notch musicians, with a passion for entertaining (clearly, they loved the songs they were performing). In the audience, a lot of head bobbing, foot tapping (and stomping), clapping (during the songs, to the beat). Of course, wide smiles all around.
One guy took it up a level, participating in much of the show from his seat. When we were called on to get up and Shake Our Tail Feather, he did, very enthusiastically. It was fun to see him so in the spirit. Fun, with the exception that he sat opposite me at our table, and in getting up with so much gusto, spilled his wine all over my jeans and soaked the floor around my feet. Oh well, the price of joy isn't cheap.

(My jeans are in the laundry as I type this, thanks for asking!)

There were a number of band changes (shuffles, all done reasonably quickly/efficiently). There were also a number of troopers who played on all songs (perhaps taking a break on one or two, but never leaving the stage. Sam had trouble getting a full horn section, so those that showed up did yeoman's duty and were on stage start-to-finish. Let's cover them first, giving them the credit they're due.
Here's the horn section, left-to-right:
Matt Thomas on alto-saxophone. You have to go down the page to see Matt's bio. Matt was far-left on (and off) the stage all night. He did a great job, including a few short solos. At the end (I think in the finale, if not, close to it), he was highlighted even more and tore it up.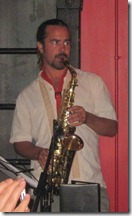 Marcus Graf on trumpet. Marcus did a superb job, with a number of short-burst leads. I would have enjoyed hearing him highlighted a bit more. At the end, Sam said that Marcus was a last-minute addition (they met yesterday), when someone recommended someone who recommended Marcus. Good job with the chain of recommendations!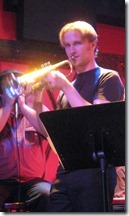 Mitch Marcus on tenor saxophone. He took a couple of smoking leads and played wonderfully throughout. I had the sense that he was one of the leaders on stage, but that might have just been because of his central location.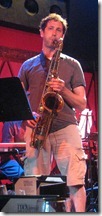 Sitting behind the brass section and playing on all but one song was another late addition.
Dave Pollack (a.k.a Shaky Dave) texted Sam at midnight (so technically, the day of the show) that he could make it. He absolutely killed it on the harmonica on every number. He took long, tasty leads. I was surprised that he didn't rub his lips off.
Sam was upset that he couldn't get a 5-piece brass section, including a trombone, but I'm impressed with the last-minute additions of Shaky Dave and Marcus Graf, who along with Matt Thomas and Mitch Marcus created a big sound!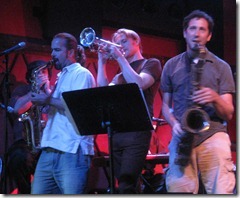 Everyone else, in no particular order. That said, I'll contradict myself immediately and list the female vocalists who didn't play any instruments first.
Stephanie White on lead vocals. Stephanie was extraordinary (so I lied a bit about the order, I wanted to mention her first).

Her voice was strong and clear. More impressively, as the song got more feverish, it was climbing the scales. Stephanie kept hitting higher and higher notes, with the same power and clarity. When she hit the last few, I was worried for the dogs in the neighborhood and was equally surprised that humans could hear such a high (and clear!) sound. Wow!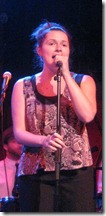 Above, I linked Stephanie's name to her own MySpace page. She is also part of a duo called The Philth Harmonic (actually, called Stephanie White and The Filth Harmonic). I already had them on my list to see, solely due to previously being impressed by her duo partner. Since he was a big part of last night's show, I'll save talking about him for later.
Crystal Durant on lead and background vocals. She goes by the moniker DJ Crystal Clear6 (as you'll see if you clicked through). Another exceptional voice. She's the one that sang Shake Your Tail Feather, so I blame her for being good enough to get the guy across from me excited enough to actually shake it, spilling his wine on me in the process. Not cool Crystal, not cool!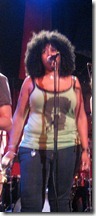 Charlene Kaye on lead vocals. Another serious winner! All three ladies (Charlene, Stephanie and Crystal) were new to me. All three impressed me to no end.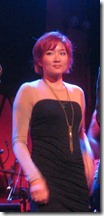 As Sam reminded us multiple times, everyone on stage is a creator of music, not just a musician. He encouraged us to check out each of them when they are performing their own stuff. I will Sam, I will!

Ashley Lehmann on lead and background vocals. I've seen Ashley do background vocals before, but this was my first time seeing her take center stage. She also did more background vocals last night than the others. Like the first time I saw Ashley on background, she did a very good job. Unfortunately, she wasn't well matched for the song she sang lead on. That said, the song itself was still great, with the band nailing it like they did on every other number.

OK, I'll continue with the male singers who didn't play an instrument (hard to resist a theme).
Bryan Lazerus on lead vocals (no good individual music link). Another first for me. Great voice. I enjoyed his number immensely! I see from his personal profile that he's a guitarist, so perhaps some day I'll see a fuller picture of his talents.
Sean Lauder on lead vocals. A number of people came dressed (partially) in Blues Brothers style. Sean came the closest, wearing a black suit, skinny tie and sunglasses. I don't know why he didn't complete the look with the hat. Perhaps he's a hair guy.

Anyway, he put on a helluva show, dancing and singing his heart out. The voice didn't impress like some of the others.
On to the lead singers who also played instruments. Thanks to a cheat-sheet from Sam, these will mostly be listed in the order in which they appeared, but keep in mind that the ones above were interspersed among these!
Jeremiah Birnbaum and Scott Stein opened the show, alternating verses singing lead. Each of them is amazing in their own right, and I think they have more than one collaborative project together, but I know them best (together) as two of the five people in The Ramblers.
Jeremiah sang first and played lead guitar (on that and a number of other songs). He also sang lead on Rawhide, filling in at the last minute. He didn't play guitar on that number. In fact, he asked Sam to find a guitarist and Sam let that slip through the cracks. In real-time, another performer jumped up and did a great job without having known he'd be asked to do so (I'll get to him shortly, and refer back to this).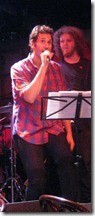 I know I already said Jeremiah is amazing, but I wasn't specific about last night. Great voice, great guitar playing, yes, last night too!


Scott Stein is an incredible keyboards player. When he sings with the Ramblers, I really like his voice as well. I wasn't as kind about a song he sang at the last benefit, but last night he was totally back on track. So, he has a really good voice, but it has to fit the material to really work. Last night, it did!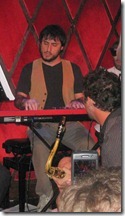 His keyboard play was exciting. When he took leads (a number of them), the horn section crouched down so people could see the magic more clearly (he was buried in the back of the stage).
Craig Greenberg sang lead and played keyboards and electric guitar. He was great on all three, with the latter (guitar) being the one on Rawhide Hey Bartender, filling in seconds before the song started. He had to sit while playing the guitar, because Jeremiah is so tall that the strap made the guitar hang down at Craig's knees.
Adam Minkoff on lead vocals (twice), electric bass and guitar. I just wrote about Adam on Saturday, after seeing him perform as part of Scott Chasolen's trio on Friday night. I lamented in that post that I never get to see Adam sing lead, because his headlining sets typically start a midnight or later!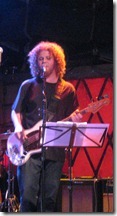 What an absolute treat getting to see/hear him sing lead last night. He's wonderful, and I will now need to nap on nights when he's performing late, so I can stay up (at least once). I've already written a couple of times about how good he is on the bass. Last night was my first taste of him playing lead electric guitar.
Since he was singing, he started out mostly playing rhythm. But, when it came time for a solo, he was fast, clean and excellent. A multi-talented individual! I had never met Adam before, so I hung around an extra minute to find him and tell him how much I enjoyed his singing.
As if the above weren't enough, he cracked us up a number of times with his extremely dry (and quick) humor, in response to some of Sam's introductions. I won't do justice to anything he said, so I won't try.
Robbie LaFalce on lead vocals, drums and keyboards. I really enjoyed Robbie's piano play at the last benefit. I really enjoyed his drumming at the one before that. So, when he played the drums last night, and kicked arse, I had nothing to complain about.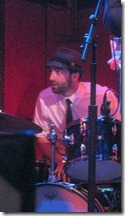 Then he took it up from there. He sang lead while playing the drums (something I should stop being surprised at, but it's still hard to wrap my head around it, even though I see it more often lately). Excellent voice. Later, he joined Scott Stein and they shared the keyboards. Beautiful!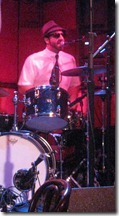 Robbie is the other half of The Philth Harmonic, and the reason they were on my list even before I knew who Stephanie White was. They will be playing an early show in Newark, NJ this Thursday (8/4/2011). If you're in that neck of the woods, do yourself a favor and check them out.
Chris Kelly sang lead and played electric bass. This was our second time seeing Chris, both at these benefits. Again, Chris did a good job singing and an even better job on the bass.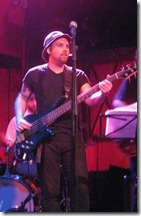 There was one final singer, but I will save him for later (so be sure to stick around), because the finale requires a little section of its own.
Here are the rest of the musicians. Some sang background, some didn't. In any event, the fact that they are listed after the singers means nothing. They were an integral part of the show, just like the horns were!
Jeff Litman on electric guitar. I've written about Jeff a number of times, always glowingly. Last night can be added to that list. Very tasty leads when he was on stage.
Will Hensley on electric guitar. My first time seeing Will. He sounded good, but I couldn't tell how much lead he was playing because he stepped back further than some of the other guitarists, so it was harder to follow him (visually).

Carlos Valdez on electric bass (couldn't find a good link). Carlos was incredible on the bass. His strap was really short (obviously by choice), so the bass was up against his chest rather than his belly. Didn't make a difference, his fingers were flying and creating beautiful bass lines! If you can't tell, it was my first time seeing Carlos.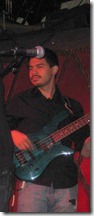 Megan Cox on keyboards. I didn't recognize her even though we've seen her before. That was because she played violin (really well) at the Soul Revue Benefit. Let's add talented keyboard player to her list of talents. I bet there are more gems awaiting my discovery!
Last, but absolutely certainly not least, the drummers! (I already told you how good Robbie LaFalce was!)
Dave Scalia on drums. Another first time, most definitely not a last time! I love drumming and good drummers (there, I said it). Lois can appreciate a good drummer too, but she's not as obsessed as me. Occasionally she'll turn to me and say "Wow, he's good!", and that will be that.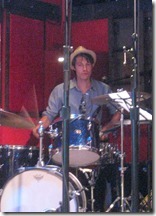 Lois couldn't stop raving about Dave. If Lois is raving about a drummer, you can bet I don't need to pile on.

And, just in case you're wondering, yes, she was correct in her assessment!

Matt Arbeiter on drums (again, no good individual music link). Second time for us seeing Matt. Another excellent job, highlighted a bit more last night, so I was even more impressed.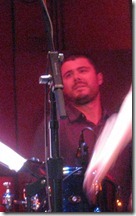 Seth Faulk on drums. Seth wasn't scheduled to play last night, though he's participated in a number of these benefit shows. Since he was in the house, he was invited up. He played at least two songs (the last two I believe) and he was awesome.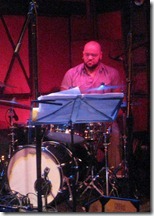 Time for the encore, but first, a word from our sponsors. Before the show started, we said Hi to a few of the performers. One of them is the only one that hasn't been mentioned yet. I asked him what song he was singing and he said it would have to remain a mystery. Now I know why, he was the big finish, which included a surprise shout-out to me.

For the finale, Sam invited everyone who performed during the evening to come up on stage. He remained there as well and picked up a tambourine, so we'll count him as well (you'll understand the point in a minute).
Bryan Dunn sang lead and played electric guitar. I really wanted to see Bryan's set on Thursday and was reasonably sure I'd be back from Ian Axel's show in CT in time. Unfortunately, we got back too late. Having Bryan close the show was therefore a very nice treat. He sings wonderfully, plays the guitar wonderfully and is an all-around nice-guy (and no, he won't finish last! Hmmm, wait, he did finish last at this show…).

For a while, there was a running joke on my blog. I would announce whenever a new record was set for number of performers on stage (at either Rockwood venue) at the same time. The record only counts when I'm there and only by my personal count, even if I count incorrectly. It may sound arbitrary to you, but I assure you, it's completely scientific!
Sam has tried (in vain) to submit photographic evidence of more people on stage for shows that I've missed. But, I won't be fooled. I know that agencies like the CIA and NSA routinely doctor photos, so it's my eyes, or your effort simply didn't happen/count.
Since Sam called everyone back up, and remained on stage himself, the number of people on stage should have been 25 (count up the names above and you'll get 24, plus Sam). I am going to give full credit and call the record at 25! But, to be technically accurate, there were 22 people on stage. Matt Thomas was just off the stage to the left (though he wailed on the sax on this number, so he was an integral part of the song) with Matt Arbeiter and Bryan Lazerus just off the stage on the right. Safety first people, so I'm giving them the credit, for not doing something stupid just to achieve a bigger record!
The played an outrageously good and fun rendition of Sweet Home Chicago. Thanks Bryan (and your supporting cast of 24 others!) for closing out an already great show with a bang!
We attend a ton of shows (the proof is in this blog). One of the people that we see nearly every time is someone taking photographs with a much better camera than Lois uses.
Manish Gosalia is a professional photographer who takes extraordinary photographs of many of the musicians we love, both at live performances and at specific photo shoots. I'll rectify having not introduced myself the next time we run into each other, but in the meantime, with his permission, I'm linking to a photo he took of the finale, from the balcony. Enjoy!
I have a feeling that the linked photo above may disappear (I had to use some tricks to grab the direct URL), so here's the link to the original Flickr photo. You can click on LARGE to see the full version.