Send to Kindle
We were at Rockwood Music Hall last night to see the 9pm and 11pm sets. Chrstine Hoberg was listed at 10pm. I've heard the name a number of times but had no idea what her music was like. Given the convenience of not getting out of our chairs, I was happy to find out.
Christine has a very good voice and sang without playing an instrument on all but one song where she played a touch of glockenspiel. With the exception of two (or three?) covers, the set was all originals, including a couple that were hot off the presses.
I would describe her style as giving me a modern jazz feel, tinged with rock. I can't say that any of the songs particularly grabbed me (including the covers), but my ears didn't latch on to the lyrics since I had no familiarity with them, so this first listen is not enough to judge. What I can say definitively is that it was a pleasant set with no songs that made me wish we were on to the next one right away.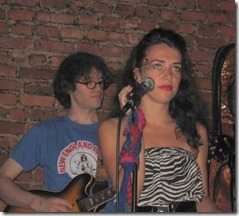 Christine was accompanied by a full band that complemented her sound and enhanced my enjoyment of the set dramatically. Left-to-right on the stage:
Brad Williams on electric guitar (I hope I found the correct Brad Williams). Really good guitar play, highlighted a lot during the set. The crowd went nuts a number of times when he played.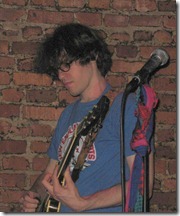 Clay Schaub on upright bass. Clay was very good though I felt that he was heavy-handed a number of times when it didn't seem necessary. He was feeling it (it seemed), which is a good thing, so who knows.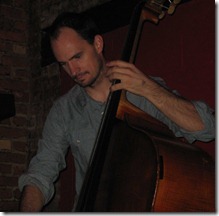 Jon Wert on drums. I was particularly impressed with Jon's play. I had the pleasure of sitting 24" from the drums, so I got to watch and listen up close and personal. Given the jazzy feel of many of the numbers, there were a number of sophisticated drum fills, all of which Jon nailed.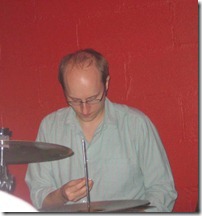 On two numbers, there was some very cool harmony (female voices) but there was no one else up on stage. Normally, I would have looked for looping equipment, but Christine certainly wasn't controlling it (the second time, there is a chance that Brad was working a loop).
But, Christine was singing new words in harmony with others, which I don't think can be done just by looping. I then thought that perhaps she had recorded the harmonies and was playing them back and singing lead over them. If so, it was a very impressive feat of timing everything out perfectly.
When I looked at Christine's Facebook page today, I saw that she listed two women for last night's show. I didn't see either of them on stage, but perhaps they had mic's in the audience and were singing with her. That would be the simplest explanation (and therefore probably wrong). Anyway, if it was them, nice job!
Kimi Lundie and Carolyn Goodman (probably not the Las Vegas Mayoral Candidate, but that makes it hard to find a good link for the correct Carolyn).

All in all an enjoyable experience for me. Christine drew a large crowd who were attentive and loud after each song. She announced that she has a new CD coming out this fall.