Send to Kindle
In my last post, about Rebecca Haviland, I mentioned that we would never miss one of her shows at Rockwood Music Hall if we could physically make it. The same holds true for Greg Mayo. That each had sets on the same night, and played on each other's set, was diabetic icing on the already sweet cake.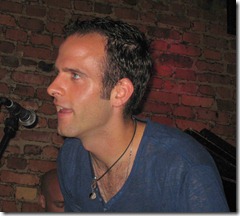 Greg plays in a number of bands, including the Greg Mayo Band. This was not that, even though it was Greg Mayo headlining. One of Greg's incarnations is meant for jamming, to originals and covers, with people he enjoys jamming with. Last night, he affectionately labeled it "Greg Mayo's Fun Times Band".
It's basically a musical party, in your ears, for your eyes, for your soul and to enjoy socially with other music lovers. Last night lived up to that description, as did the time before, as will the next time. Just show up, you'll understand.
Greg played a couple of his own songs (fabulous). The covers were all fantastic, with Greg sharing the lead vocals with two of his band members.
If you read the post about Rebecca, then you know that Greg played keyboards on her set. During his set, he switched to electric guitar. I love all things Greg (guitar, keyboards, vocals, bass), but readers of this space know that if I were forced to choose, I'd pick his play on the guitar (probably electric, but if he quibbled and chose acoustic, I'd still be in heaven).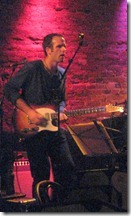 If you were there last night, then you wouldn't ask me why, he was fully in his element. On the last number, he took such a long lead (not solo, the band was accompanying him), that it was dizzying in the most giddy sense of the word. It was past midnight, but my blood was pumping as if it was noon.
Rebecca came up to sing a few songs with Greg (singing a bit of lead, but mostly harmony). On one number she decided to come back up and just play the tambourine. Given the energy and speed that many of these numbers demand, and the length, that was no small task as she kept up her very energetic tambourine play throughout the song.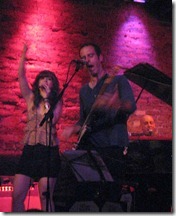 The rest of the stellar band, left-to-right on stage:
Patrick Firth on keyboards (grand piano and electronic). In addition to incredible keyboard play throughout (including some thrilling leads), Patrick opened the set singing lead vocals on Take Me to the Pilot. He sang a bunch of harmony and I think lead on one other song.
Chris Anderson on electric bass. Chris killed it on the bass, letting loose many times (Greg's set choices and his guitar play invite wide open bass playing). He sang lead on The Night They Drove Old Dixie Down and harmony on a bunch of others. Excellent!
Kenny Shaw on drums. Like Chris, Kenny killed it.  I was less than two feet from the drums, and while this set was significantly louder than Rebecca's (where I praised Kenny for not blowing my head off), it was still entirely within reason, so again, my thanks go out to Kenny for playing wonderfully, without making me deaf in my right ear.

Here's a shot of Greg playing lead, while Patrick and Chris sing some background vocals: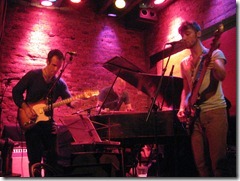 Greg had a number of very good friends there who were more than a bit supportive. They added color to the set. Since this was a musical party, it was very welcome.
Here is last night's set list, which they were using as a coaster for some whiskey glasses. Consider this an honest-to-goodness Rock-N-Roll set list, just for having the appropriate condensation stains: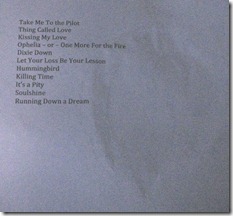 If you're in NYC tonight and want a different take on last night's fun, come to Rockwood 2 at 11:15pm. You'll experience a brand new incarnation called The Crab Apple Singers. Greg Mayo on guitar, Patrick Firth on keyboards, Chris Anderson on bass and Josh Dion on drums. In other words, swap the drummer and it will be the same lineup as last night.
But, the set list will be different (though I wouldn't bet against The Night They Drove Old Dixie Down being on there!) and Josh Dion is reason enough to come on down!