Send to Kindle
If you ask who the Crab Apple Singers are, I won't fault you for not knowing, since last night was their first-ever performance. It's a spinoff of a group called The Big Apple Singers. The founder of TBAS, Evan Watson is on an extended tour with Def Leppard. The rest of the group was itching to play, and I'm certainly not the only audience member that was itching to hear them.
Here is my post on the last TBAS show. Since Evan Watson plays electric guitar for TBAS, some changes were required to constitute The Crab Apple Singers (TCAS).
Greg Mayo moved from keyboards to electric guitar.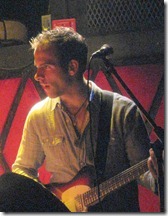 Patrick Firth replaced Evan, but really he replaced Greg at the keyboards (grand piano and electronic).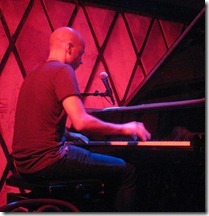 Chris Anderson was slated to play electric bass (he's the primary bass player in TBAS, and therefore in TCAS as well). He had a late conflict and he too was replaced.
Brian Killeen played electric bass. As good as Chris is, there's no drop-off with Brian, so we'll call that an even trade.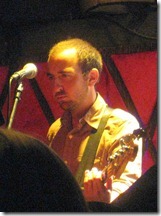 Josh Dion is the only member of TBAS who fulfilled the same role, drummer, in TCAS.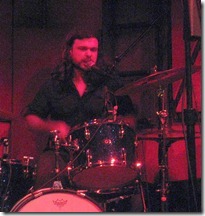 All four members sang lead and harmony. All four did that as well as you could hope.
My friends, if you weren't there, you missed a heck of a set. Every one of them was on fire on their instrument (guitar, keyboards, bass and drums). The leads were sizzling and the drums were mind-boggling.
People literally got out of their seats and started to dance. Once they started, they didn't stop. Many cameras switched their focus to capture the joy of the dancers, but all ears were on the band.
I've been praising Greg Mayo and Patrick Firth a bunch this week, so let me just tell you that there was no letdown from their previously praise-worthy performances. They were both absolutely amazing.
Brian Killeen traded his bass for Greg's guitar on one song. Brian sang lead on Cinnamon Girl (with Josh Dion singing co-lead). He took a wailing lead late in the song, showing that he's no slouch on the electric guitar. Very nicely done Brian!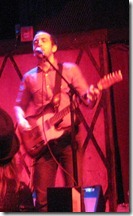 Greg tore it up on the bass, so the switch didn't cost the audience enjoyment on either instrument.
I love drummers. There are good ones, great ones, and exciting ones. Josh is in the exciting category. Keep in mind that this category subsumes the great category as well, the excitement doesn't come at the cost of greatness. That Josh's singing produces the same type of excitement, separate from his drumming, is even more mind-boggling.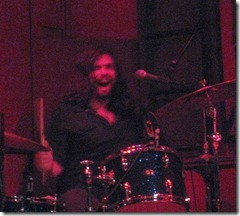 Looking at the faces in the crowd while Josh is ripping up the drums made me feel like I was in an old-time revival meeting. People were seeing the light.
Robbie Gil came up to close he show. He sang Feeling Alright and the band killed it supporting him. Dave Mason closes every one of his shows with his money song, and he'd have been proud to hear Robbie sing it with TCAS backing him up. What a way to end an epic (nearly six hour!) night of music.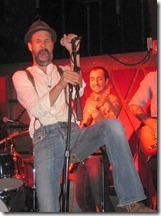 Here's the set list, but there were changes. At least you can get a good sense of the type of songs they select: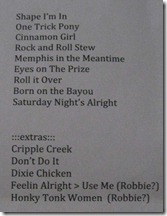 I missed most of Robbie Gil's set, the one immediately before TCAS, because I was next door seeing Bri Arden. Lois stayed and watched Robbie's set. She had a mutual friend text me that Greg Mayo was playing guitar on Robbie's set. I replied that I knew, but was happily committed to seeing Bri nonetheless.
Then she told me (and showed me a photo) that Greg played the lap steel guitar during one number in Robbie's set. That was the only (momentary) twinge I had about my decision. Oh well, I'll just have to keep showing up at Greg's sets until he whips out the lap steel again.