Send to Kindle
If you read this space, you know how often we see Greg Mayo perform. Even so, it's not nearly enough, but we take what we can get. One of the reasons we see Greg so often is that he plays with a number of different bands (and a number of configurations under his personal moniker).
One of those bands is the Greg Mayo Band. Amazingly, it's been a little over six months since we last saw them play. That's just crazy, given how good they are. Of all the bands we see in NYC, Greg likes this one to dress up. Given that nearly everyone on stage played or guested on an earlier set that evening, it was fun to see them change from jeans to suits and ties from one minute to the next.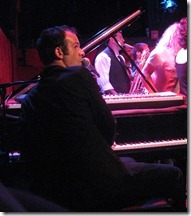 All Greg Mayo Band shows are really events, with last night being no exception. There was a rowdy crowd (in the good sense) rocking out (you don't say souling out, right?) from 11:15pm to nearly 12:30am (on a pre-hurricane Thursday night!?!). Even though every show is an event, last night was sure to be even more special (and indeed it was). Earlier in the day, Greg tweeted the following:
Happy 60th, dad. Tonight is for you. Enjoy the show http://en.m.wikipedia.org/wiki/Bob_Mayo
The link above is to the mobile version of the page, if you're reading this on big screen, here's a better link to study up on how amazing Bob Mayo was.
During the show last night (well into it, so I'm telling this out of order), Greg stopped playing for a minute to mention that it would have been his dad's 60th birthday. He played a song that he said was the first one his dad taught him to play on the piano (I think he said he was in 7th grade).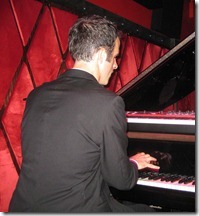 That Bob Mayo inspired and/or taught his son to follow in his footsteps (Greg is an amazing guitarist and pianist, just like Bob was) is yet another gift Bob gave to us all!
Greg played the keyboards (grand piano and electronic) and sang lead. He was outstanding. I would say he was inspired, but the truth is that he never gives a sub-par performance, so I'm not sure how to measure his inspiration.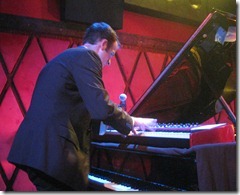 There were a few substitutions from the normal band configuration (or at least from the last few times we've seen them). Everyone was excellent, so no suffering of quality for the changes.
Left-to-right on stage:
Rebecca Haviland on vocals and tambourine. Another in a long string of wow performances. I feel like a broken record, since I wrote about Rebecca in my two previous posts. That said, on those she was a special guest. Here, she is a full-fledged member of the Greg Mayo Band, so she got to sing a lot more.
Kenny Shaw on drums. Another exceptional performance. Kenny was great on every number (these are very high-energy songs), but was phenomenal on one number in particular, Paul Simon's Late in the Evening. It was by no means the only highlight. Greg gave Kenny a couple of shout-outs turning over the focus to Kenny.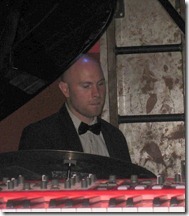 This was my third consecutive set seeing Kenny last night. All were amazing, but this one topped the others, even though he had been playing for two hours before this one even began.
John Liotta on baritone saxophone. Another excellent performance by John. He took a couple of leads and nailed each one.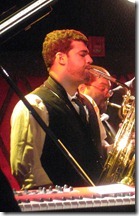 Josh Reed on trumpet. This was our first time seeing Josh. He was great. He was the first of the brass section to take a long lead (I think in the very first song) and he blew everyone in the large crowd away!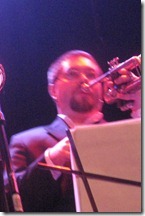 Dan Voss on saxophone. Another stellar performance. He really let loose with an amazing lead late in the show.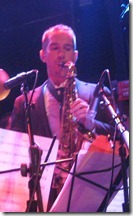 Chris Anderson on electric bass and vocals. One of our favorite bass players, didn't disappoint (has he ever?). He was hidden from my view most of the set, but he was never hidden from my ears. Chris' bass lines were crisp and interesting and very easy to pick out.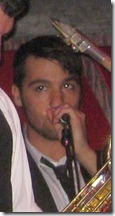 Erik White on electric guitar and vocals. Erik was the founding guitar player in the Greg Mayo Band, but left the group a while ago. Paul Maddison (the current guitarist) was away, and given that Erik was playing with Brothers McCann two sets earlier, he was the perfect choice to sit in.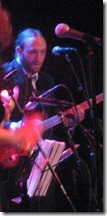 Erik was superb on the guitar (it would be hard to imagine Greg having an ordinary guitarist in the band, given his personal skills). He also sang lead (and harmony). He was the guitar and vocal force on Paul Simon's Late in the Evening (mentioned above when I praised Kenny's drum play). Everyone made that song incredible, but Erik and Kenny in particular.
Martin Rivas and Brothers McCann were called up (twice, but I think the Brothers were a no-show the second time) to sing. Fantastic. (Note: Greg did not make them change into suits.)

The crowd kept cheering after Greg said goodnight, so he was forced to stick around for an encore.

Here's the set list: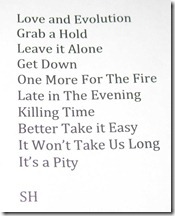 A truly amazing night. Given that I was up from 4am, on four hours of sleep, it would have been a miracle just to stay awake that late, except that this music is so energizing, I had no trouble. Of course, I crashed when I got back to the apartment, but it was worth it.