Send to Kindle
We see Martin Rivas whenever we can. One of the reasons is that he always finds a way to shake things up, even when he's performing with the same (awesome) band. Recently that has meant Martin introducing a slew of new songs (he's prepping to record a new CD with the incredible Alex Wong producing, later this year).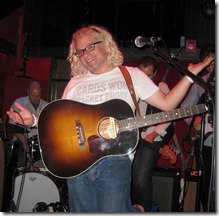 In addition to new songs, Martin often themes his shows somehow (not always announcing the theme, you just quickly figure it out). Last night he picked a cool one. We'll get to that shortly.
We really like his new material. Coupled with our love of Alex Wong as a producer, the anticipation for the new CD is building. We'll have to tamp it down a bit. Martin announced that he likely won't be recording until late this year or early next year, which means the CD won't be out until Spring (my guess, not Martin's words).
Martin started out with the full band (I'll cover them shortly). After a couple of numbers, he called up Rebecca Haviland to sing with him. I just highlighted how well Rebecca handles soul vocals in the post before this one (where she guested with Brothers McCann). This was an extraordinary continuation.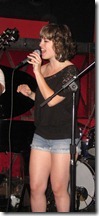 For those of you who don't know, Rebecca is a songwriter and headliner in her own right. She's in the middle of a Kickstarter campaign to raise money to record a full-length CD. I have the EP with four of those songs and I can't wait to get the full album. So, folks, help Rebecca, yourselves, and of course most of all, me, by contributing here.

When Rebecca left the stage, so did the band. Martin morphed into the surprise theme of the night. He played four songs in a row duet-style, each with one member of the band. So fresh, so cool, each song so well done. On the set list, you can see the initials of each band member next to the song they performed with Martin (if you don't immediately know who they are, you will when I cover each individually).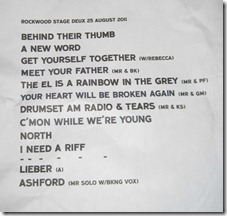 Those songs were all on the mellower side. When the four duets were over, the band came back and kept raising the temperature. I Need a Riff was raucous and had the crowd hopping.
The band, left-to-right on the stage:
Patrick Firth on keyboards (grand piano and electronic) and vocals. Patrick was his usual outstanding self. Excellent piano play!
Kenny Shaw on drums. This was the second of three consecutive sets that I saw Kenny play last night (all absolutely awesome!). I am not sure whether he was stalking me, or I was stalking him, but either way, it worked for me!

Brian Killeen on electric bass and vocals. Another stellar performance by Brian, highlighted on his duet, Meet Your Father.
Greg Mayo on electric guitar and vocals. Always a treat to see Greg on the guitar. While all of his leads were tasty, he saved the real magic until the last few numbers, starting with North, where he just killed it.
Prior to seeing this photo, I didn't know that Greg was also a master voguer.

John Liotta played saxophone on Get Yourself Together.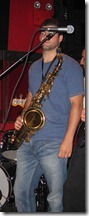 It had been three months since Martin headlined Rockwood 2. Way too long. Welcome back Martin, welcome back!