Send to Kindle
Sometimes dreams do come true. Sometimes they don't live up to expectations, but even then, the dream coming true is often enough reward. Such was the case last night, for me.
I grew up listening to what many people now call Classic Rock. There were so many great bands that I always feel stupid (rather just silly) saying So-and-so was the best, etc. Still, I often find myself using terms like favorite. A more accurate description would be one of my favorites, of which there were many.
Near the top of my list of bands (not necessarily in this order) were: The Allman Brothers Band, The Grateful Dead, Santana, The Who, Yes, The Beatles.
As many great guitarists as they were/are (who can possibly count), back then, my three favorite rock guitarists were Carlos Santana, Steve Howe and Dickey Betts. This is as much for their individual skill and style as for my love of the songs that they branded on my heart/soul/mind.
The greatest concert I ever attended was on June 10th, 1973 at RFK Stadium. 12 hours, mostly music (the intermissions were refreshingly short). The New Riders of the Purple Sage opened the show from 12-2pm. The Grateful Dead played from 2-7pm. The Allman Brothers Band played from 7pm-midnight!
I've never seen Dickey Betts perform live since then (heck, what's 38 years between friends). I've seen the new incarnation of the Allman Brothers twice at the Beacon Theater (more on that at the bottom). I've missed a few opportunities to catch Dickey Betts and Great Southern over the past years and was glad to finally snag three great seats for last night's show at City Winery.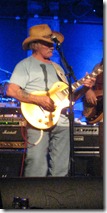 I had no idea what to expect. I didn't know whether it would be mostly new music written by Dickey and/or his band members (Great Southern), sprinkled with a few classics. I was blown away to find out that it was mostly Allman Brothers songs, many written by Dickey himself.
The good: awesome set selection, great individual performances, nostalgia heaven.
The disappointing: somewhat faded skills (still better than most guitarists), classic leads were often simplified (or not executed that well), vocals were nowhere near up to snuff (timing, hitting notes and some lost words).
To repeat, Dickey was great, but he's lost a step or two. He's a bit more hesitant and not quite as smooth, though on occasion, the full-blown magic is there to enjoy. He kept the peddle that he pressed to switch from rhythm yo lead about 4' away from him. It seemed to be a chore whenever he wanted to switch, and often caused him to start the leads a few notes later than he might have liked.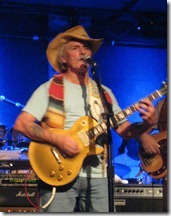 I know it's obvious to blame the change on age, but Dickey is not much older than Dave Mason, who in my opinion is as brilliant on the guitar today as he ever was. Dave's voice is still the same too. Good genes, clean living, or both, who knows.
Some words on the rest of the band, left-to-right on the stage:
Andy Aledort on electric guitar. Andy took quite a number of the leads (I'd guess roughly equal to the number Dickey took). He split them between normal and slide. He performed the dual leads with Dickey that are a signature of many Allman Brothers Band songs and did an excellent job.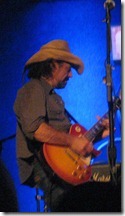 I have no qualms with his guitar play, other than he took took many liberties (for my taste) from some of the original leads. I know people believe that artists should be able to grow, or do whatever they feel, but Andy doesn't have the excuse of being bored playing these numbers for 40 years, so I would have preferred to hear them played the way they were recorded originally.
Duane Betts on electric guitar. I can't find a good individual link to Duane (though his name pops up a lot, including YouTube videos of him). He's Dickey's son. I didn't know that (like I said, I had no idea what to expect). Dickey never introduced the band, so I only found out this morning. That said, Dickey was very generous in pointing to every member of the band when they did something exceptional, giving the crowd the go-ahead to show their appreciation. Still, I'm a big fan of introductions!
Duane provided a third guitar for some of the classic dual leads, making them triples. Those were extremely sweet! He also took center stage as the main lead guitarist at least four times, with two of them being pretty long leads. He's clearly a very talented guitarist, though I didn't feel like I was watching a young Dickey Betts. He too suffered from getting to the pedal a few seconds late when it was his turn to take a lead.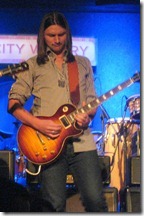 Pedro Arevalo on electric bass. Fast, clean, tasty, excellent. When the band returned after a long drum solo, Pedro and Dickey sparred a bit on the guitar and bass, which gave Pedro a great opportunity to show his stuff.
Mike Kach on keyboards (organ and electronic) and vocals. Mike was superb on the keyboards (he used mostly a piano sound on the electronic keys, and either switched occasionally to an organ sound, or had an real organ keyboard below it, out of my sight). He was also the primary lead vocalist, a job he didn't handle as well to my taste. He sang harmony on the numbers that Dickey sang lead.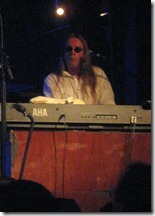 Mike had a Greg Allman look to him, adding a touch of mock authenticity to the Allman Brothers sound.

Sitting behind these guys (and perhaps more importantly, behind their wall of amps!), were two drummers. Each had a full drum kit. In between them, higher up on the stage, was a full bongo-style set.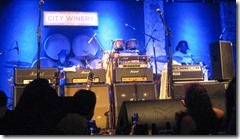 Frankie Lombardi on drums, the bongo set (a bit) and harmony. Frankie was exceptional on the drums. So fast, so interesting. He took an incredibly long solo that was absolutely mesmerizing. He only played the bongo set a few times, but when he was there, he also sang some harmony while Dickey sang lead, making it 3-part with Mike.
James Varnado on drums. James was exceptional as well and was incredibly well-matched with Frankie. He too took a very long solo and killed it. Their solos couldn't have been more different, which was also a treat, since they came back-to-back. James had a masterful touch of very soft/subtle (but really fast) build-ups.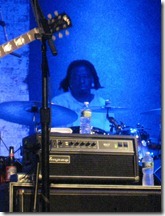 Before they took their individual solos, they played a long duo. They played together perfectly, but also often created a stereo effect of starting a drum riff on one end of the stage, and as the drummer made his way to the other side of his kit, the other one picked it up (flawlessly) and continued across his set. Beautiful!
That duo followed by the solos occurred toward the end of my favorite Allman Brothers Band song, In Memory of Elizabeth Reed. The band walked off the stage leaving only the drummers. When the solos were over, Dickey and Pedro returned (mentioned above) followed by Andy, Duane and Mike. They then finished the song to rousing cheers.
I was blown away that they did In Memory of Elizabeth Reed. As much as I enjoyed it, it was the biggest disappointment in terms of living up to my expectations. I have listened to that song so many times over the past 40 years on the Live at the Filmore East album (one of the greatest albums of all time). Any note that's out of place is jarring to me. Last night's rendition wasn't even close, though it was obviously recognizable as the same song.
That leads me to one final thing about the drums. The Allman Brothers Band has three full-time drummers/percussionists on stage at all times (and they typically add a fourth guest for some numbers). It's such an integral part of their sound, giving such a huge bottom.
As extraordinary as last night's drummers were, it wasn't as obvious (or true to the ABB sound) during the songs. I'm guessing it's because their kick drums were hidden behind a wall of Marshall amps. The drum play was slick, but the bottom just wasn't there like at an ABB show.
I said up top that I would mention my recent ABB experiences. Those shows were great, but even though Warren Haynes and Derek Trucks are amazing guitarists, they try to avoid being copycats of Duane and Dickey. That's the part I don't like. The drummers are still worth showing up for, and the bass player is one of the best.
After walking off the stage, the band returned for an encore. They played Rambling Man. A great choice to end the evening.
Lois went up to the stage to try and grab the set list. It was behind the monitors, taped to the floor. I couldn't tell whether she couldn't reach it, or whether she didn't want to risk ripping it. She took a photo of it (upside down) just in case she couldn't get the actual papers (two sheets).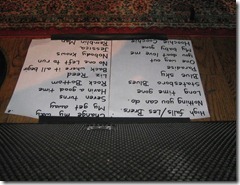 Standing off to the right of the stage was a man who was equally anxious to get his hands on it. He asked James Varnado whether he could have it, and James said no and kept walking.
Lois asked Andy Aledort if she could have it. He hesitated and said he wasn't sure, but then walked off.
Lois left the stage area and found the band tech (the back of his T-Shirt said "Tour Staff"). He was the guitar tech and coordinated pretty much everything that happened on the stage before and during the show. Lois asked him for the set list, and he obliged, after apologizing for having to do something for his brother first.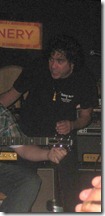 He delivered! Below is what I believe to be a master set list. They didn't play all the songs on this list, but I think they were prepared to play any of them. They picked roughly 1/2 the songs on the list. There was a late show that night (because the Sunday show was canceled due to Hurricane Irene). Perhaps they played a very different set after we left.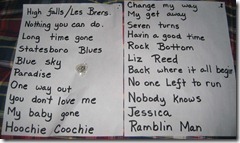 From memory, the one's I'm sure they played last night (not in order): Les Brers in A Minor, Statesboro Blues, Blue Sky, One Way Out, Seven Turns, In Memory of Elizabeth Reed, Jessica, Rambling Man (probably a few more, though each song was pretty long).
In addition to giving Lois the set list, he also gave her a Dickey Betts guitar pick. Cool! Memorabilia is one thing we really like. Thanks again "Tour Staff" guy, we are forever in your debt!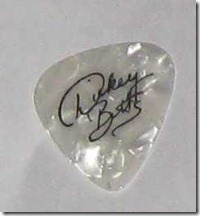 Kristy Lee opened the show. She's a singer/songwriter from Mobile, AL. The people who showed up early enough (1/3 of the eventual crowd) were largely rude and talked quite loud. Thankfully, Kristy has a very powerful voice (speaking and singing) and as annoyed as I was at the talkers, I could hear every word Kristy spoke and sang.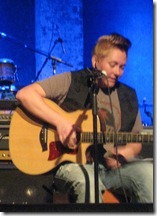 She accompanied herself on acoustic guitar (mostly strumming, but very nicely). I liked everything about her: voice, songs, stage presence.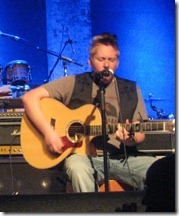 Jimbo Kurisko accompanied her on acoustic guitar. No good individual link, but you can easily find YouTube videos of him and Kristy. Jimbo was absolutely outstanding! His leads were fast (mostly finger picked) and he and Kristy have a great rapport. She highlighted him on every song (usually twice). She would throw it to him by saying "Sing it Jimbo". Singing it, in this case, meant make the guitar sing, baby! He did!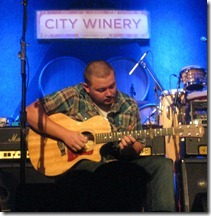 We got to City winery 75 minutes before Kristy went on. We and a friend of ours enjoyed a wonderful meal, good conversation, and most importantly, an amazing carafe of City Winery's own Zinfandel. Incredibly delicious (the wine, that is).