Send to Kindle
Rebecca Haviland is near the top of our list as both a person and an artist. We would twist ourselves into a pretzel to get to one of her shows. Thankfully, last night required no such acrobatics, given that we were next door at Rockwood Music Hall Stage 2 for an earlier show (Chris Ayer and Matt Simons, both of whom came to see Rebecca's show like we did).
We aren't alone in our love of Rebecca's music, as the place was jammed. On a holiday weekend in the summer in NYC? Give me a break. Typically the place is a ghost town. Obviously, the few New Yorkers that stayed in town made it a point to show up for the two shows we targeted as well. Smart.
Rebecca played an excellent set, including a brand new song. So new in fact, that the band had to sit it out (clearly, they didn't have time to rehearse it in advance). Chris Anderson, Rebecca's regular writing partner now (and bass player in her band) didn't join either, even though he co-wrote it (or so I think she said). So, they haven't arranged the vocals or bass part yet either. Of course, Rebecca can carry any song all by herself, even a cappella. This time she accompanied herself on the electric guitar (which she played on every song).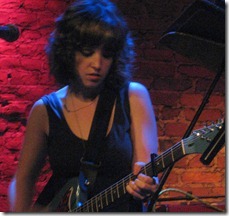 In addition to Chris co-writing many of Rebecca's new songs, he's singing harmony on most of them. With every performance, he's getting more comfortable in that role. He's opening it up (wonderfully) and seems to be having a good time with it. Keep it up Chris!
Rebecca played a number of songs off her upcoming CD (currently in the final three weeks of a Kickstarter campaign). After last night's performance, we upped our contribution (we had the distinction of being first as well). That's how badly I want to get my hands on this CD. If you like bluesy rock, delivered by one of the most interesting, gorgeous voices around, click on the link above and make sure it gets made!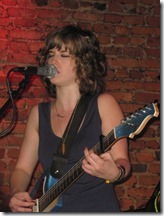 My current favorite (it's closer to an obsession) is If You, which she got many people in the crowd to sing along with. As always, I sang my heart out. The two young women next to me looked at me strangely (I didn't care, but I did notice). I guess seeing an old man letting loose was shocking. I know I wasn't off key (heaven forbid).

She also played Collide With Me, which Lois is in love with (as am I), so she spread the love around (at least among our household). One of the rare times that we didn't snag a set list or take a photo of it, so I can't rattle off every song. Of course, she played her signature cover of Led Zeppelin's Black Dog.
The band, left-to-right on the stage:
Greg Mayo on keyboards (grand piano and electronic) and harmony. Greg was great (as always). When singing with Rebecca and Chris, the three-part harmony was wonderful. Greg took a couple of solos on the keyboards and was fast and tasty.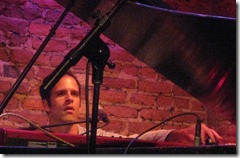 My lovely bride, knowing how huge a Greg Mayo fan I am, surreptitiously arranged with Greg to purchase all of his CDs for me. Right before the show, he delivered four of them (handing them to me, and saying they were from Lois).

Still one more to go. One of the CD's was actually Bergers with Mayo, with the Mayo in that one being Greg's Dad, Bob. What an amazing gift, I can't wait to get lost in all of them. Thanks Lois and Greg!
Chris Anderson on electric bass and harmony. I already mentioned how well Chris did singing and co-writing. Might as well round it out and state (for the 100th time) that he's a top bass player as well. He had a surprise for the audience (which Rebecca introduced). He bought a new toy and debuted it. An 8-string electric bass (isn't that just a guitar with really fat strings?).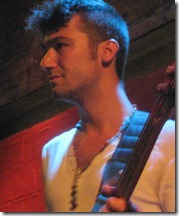 Kenny Shaw on drums. There's no doubt that we see more of Kenny than any other drummer, at least in 2011. That's just fine with me, he's that good. In the picture below, it looks like Kenny is using a clown cymbal.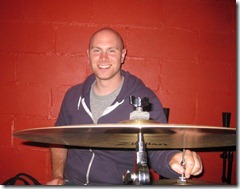 I am a drum-loving fool, so I always pay particular attention to the drummer. As much as I love it, it's only this year that I've come to notice something I think of as discipline.
There are drummers that I loved (and still do), for their skills at being super fast and many times super interesting. This year, I've realized that a bit too often, they're also sloppy. I've really come to appreciate drummers that are machine like in their precision, across styles and genres, while still being fast and interesting when called for. In other words, sometimes understated is exactly what is called for and necessary to support the song.
Another fantastic night out, surrounded by friends, immersed in music that we love.