Send to Kindle
We just got back to town on Wednesday (a day earlier than expected) and I spotted Greg Mayo listed at Rockwood Music Hall at 11pm on Friday night (last night). Needless to say, all other plans now revolved around that show.
On September 3rd, we saw Rebecca Haviland play at Rockwood. Greg was in her band that night. Here's a paragraph I wrote in my post about that show:
My lovely bride, knowing how huge a Greg Mayo fan I am, surreptitiously arranged with Greg to purchase all of his CDs for me. Right before the show, he delivered four of them (handing them to me, and saying they were from Lois). Still one more to go. One of the CD's was actually Bergers with Mayo, with the Mayo in that one being Greg's Dad, Bob. What an amazing gift, I can't wait to get lost in all of them. Thanks Lois and Greg!
I've since gotten to listen to all those CDs, and I love each and every one of them, so thanks again to Lois and Greg. One of the songs on the Bergers with Mayo CD (with Mayo being Bob Mayo, Greg's dad) is Bob's song I Never Forget a Face. I got chills listening to it. In August, we missed a rare solo show by Greg (why does work interfere with my personal interests sometimes?). Someone posted a video of Greg singing I Never Forget a Face. If I recall correctly, the claim was that this was the first time Greg played that song in public:
Greg Mayo playing I Never Forget a Face, by his dad, Bob Mayo
I hadn't scanned the track listings when I started listening to the Bergers with Mayo CD, so I had no idea I'd be hearing this song, and I instantly recognized it, just from having watched (listened to) Greg's video, once!
I've mentioned a number of times that Greg plays in a number of configurations. The above solo show was one. The Greg Mayo Band is another. Greg Mayo FUNTIME is a third. Last night was a FUNTIME show (you did read the title of this post, right?). Last night Greg explained the scientific underpinnings of the FUNTIME moniker. He said that it was expected that we would all have a FUN TIME at the show.
It's crazy how certain difficult concepts can be broken down into their constituent parts by the right teacher. Armed with that knowledge, I did indeed have a superbly fun time, as did every single person in Rockwood, as far as I could tell.
The FUNTIME shows are mostly rock covers, performed by outstanding musicians, who are all having a dangerously good time on stage. Thankfully, they allow us to enjoy that good time with them. Most of the covers last night were new to the FUNTIME lineup. One exception was Take Me to the Pilot (always welcome, even if it's been done before).
Greg has never disappointed me, ever. Last night was another exceptional performance, but many of the leads were longer (thanks!) and mind-numbingly fast/tasty (thanks for that too!). In a few songs, he took more than one solo and the crowd ate it up. They closed the show with Heard it Through the Grapevine. He took three separate really long solos in that one, leaving me (and I suspect others) dazed at his talent.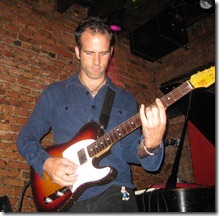 I kept thinking he has to be unconscious, because if he had to think about what he was playing, his fingers wouldn't be able to keep up. But, today, it hit me! Greg's fingers used to be constrained by the speed of light (as all matter was). With the discovery that certain neutrinos have been clocked faster than the speed of light, Greg has been freed to prove that his fingers too, can accomplish that!

As is the case with all of the FUNTIME shows, Greg was surrounded by an extraordinary group of musicians. There was one change to the normal lineup and one very special guest. I'll mention the two regulars first, then the guests.
Patrick Firth on keyboards (grand piano and electronic) and vocals. Patrick sang Take Me to the Pilot on the lead and harmonized on many others. Of course he tore up the keyboards as well.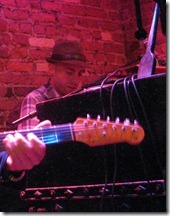 Brian Killeen on electric bass and vocals. Brian participated in fantastic 4-part harmony on the first number, but then relinquished his mic for most of the set to the special guest. His bass playing is always top notch.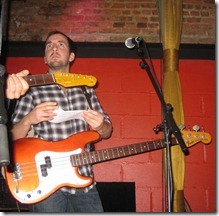 Zach Jones on drums and vocals. Zach was sitting in for Greg's usual drummer, Kenny Shaw. I've mentioned that it appears that we stalk Kenny, as we see him more frequently (at least in 2011) than any other drummer. Perhaps he finally got nervous and avoided us. More likely, he's touring with The Thang Band at the moment (at least I hope it's the latter!).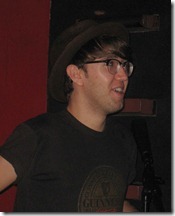 We've only seen Zach a few times, but he was an instant favorite and cemented that with his performance with Ian Axel when they opened for Five for Fighting. He's an absolutely incredible drummer (exhibited over and over last night) and he has a really good voice too. He sang lead on the opening number, Walls by Tom Petty.
I never spoke to Zach before, but after the show I told him how awesome I think he is. He's part of a duo with Emily Long called The Stone Lonesome. I asked him when they were playing and he said sometime in November. He also told me that in addition to their more country sound (you can listen to that here), they are also performing rock sets (don't know if they go by a different name for those).
A few songs into the set, Greg invited up none other than Martin Rivas to sing a song. Once up there, neither Greg nor the crowd would let Martin escape. Greg forced Martin to sing lead and harmony on every song (at times alternating lead with Greg). Martin claimed (after the show) to have lost his voice singing so hard, but at least he made it all the way to the end sounding great!
In an early comic moment, Martin knocked over a music stand holding the lyrics to all the songs for the evening, including the one he was singing (his first number). It ended up being fine, as he knocked it over exactly at the moment that Greg started taking a long solo. Even though dozens of sheets of paper were spread out on the stage, Martin was able to take his time and collect them calmly while Greg thrilled us. He had a few more close calls with the stand and the look on his face each time he avoided the same fate was priceless.

Another fantastic set by Greg Mayo. We'll see him again this Wednesday (October 5th), supporting Sierra Noble at Rockwood 1, at 9pm. Immediately after that is Martin Rivas at 10pm (same place). When Martin heard Greg telling me that he was playing with Sierra, Martin invited Greg to play a few with him at 10pm as well, so I'll be getting a double dose of Greg this week. I'll be smiling from now until then.
I mentioned in my earlier post that we bumped into friends at The Cupping Room Café when we stopped in to see Matt Simons, Chris Ayer and Ryan Vaughn. They shared a cab with us to catch Greg's set. They are the two on the left and we met a third friend right outside Rockwood, while getting drenched.