Send to Kindle
We would have come to see Martin Rivas at Rockwood Music Hall anyway, but we were already there because of the set before. Martin happened to be a guest performer on that set as well (Sierra Noble) so we got a 1.5 dose of Martin last night.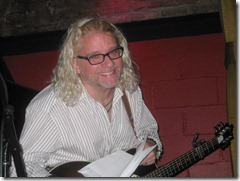 We've been coming to Martin Rivas shows for two years now. They range from large Rock/Soul extravaganzas to solo shows, with a number of configurations in between. Even the solo ones can vary dramatically (from Campfire shows which are largely request-driven covers to Martin's original music only).
Last night was solo only and was special in a number of ways. While Martin played a few crowd favorites, the majority of the set was new material that is destined to be recorded on his upcoming CD (release sometime in the first half of 2012). A few of those were so new that Martin had to refer to the lyrics. One was so new I believe Martin said the lyrics had been written this week!
Sitting in the audience at the bar, about five feet directly behind me was Alex Wong. Alex is producing Martin's CD and the two of them just returned from a retreat upstate NY (in the devastated Schoharie County) where they were planning the CD, a process I've heard termed pre-production.
During a number of the songs, I tried (or rather found myself) thinking "what's going on in Alex's mind now in terms of how will he produce this song?". Meaning, Martin was delivering it to us raw, accompanied by an acoustic guitar, but we'll hear something quite different wen it's all put together in the studio (or so I was thinking).
Last Friday, Martin complained that he strained his voice singing with Greg Mayo. It couldn't have healed up much better or quicker, because Martin's voice was spot on last night. His guitar play was fine (as it always is).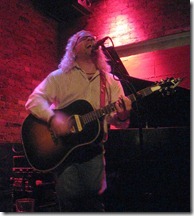 But, in the two years that we've been seeing Martin regularly, he did something last night which I don't believe we've ever seen before (of course, at my age, I space out a lot, so I would not be shocked to find out I'm wrong!). Well into the set, Martin put down the guitar and went over to the grand piano and played two consecutive songs on it.
The first was the song I mentioned above, with the lyrics being hot off the presses (I think it's Believe in Love). He said that he played the song for Alex (presumably just the melody/chords) and told him that he didn't think it would make it onto the CD. Alex insisted that Martin was wrong, and that it needed to be on the CD! Alex was right, in particular with Martin's freshly minted words!
The next song on the piano was Pray for the Impossible, one of the long-time crowd favorites (with everyone singing along on the chorus). Still, I don't recall him ever playing it on the piano before.
Martin finished up with a very upbeat song that most of us clapped to throughout. Unless something forces a change in our plans, we'll be seeing Martin again on Saturday, 10/15/11 at Rockwood 2, 9pm. That will most likely be a full-band show.
This set list was written in tiny letters on the corner of one of Martin's Lyric sheets. Rotated and blown up for your pleasure.