Send to Kindle
One of the joys of seeing as much live music as we do is the ever-growing universe of amazing performers we are exposed to. This happens when an opener blows us away, or even when the headliner does, when we showed up for the opener. On occasion it happens when we stick around for a set or show up early to grab a seat, and discover a treat.
Gaby Moreno opened last night for The Milk Carton Kids (Joey Ryan and Kenneth Pattengale) a show we weren't going to miss. I'll post about their set next, but Gaby (and band) deserve a post of their own (and yes, now I follow her on Twitter so I'll be sure to catch her the next time she plays in NY as well).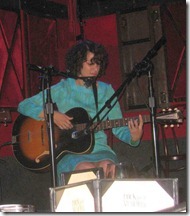 I had seen her name only in conjunction with the current Milk Carton Kids tour (she's been opening for them), but otherwise had no idea what I was in for.
Gaby sang, extraordinarily, and accompanied herself beautifully on acoustic guitar. Her voice is exceptional in that she changes it to match whatever song she's singing, and she took us on quite a wide tour of styles last night. In addition to the change in styles, Gaby performed roughly 60% (probably more) of the show in Spanish (she is a native of Guatemala) with the remainder in flawless English.
I learned (accidentally) that I am in love with Spanish songs (even though I understand less than a handful of words) from seeing Ximena Sarinana perform a number of times. Since I am a lover of lyrics, I'm thinking I better start learning Spanish.
Gaby's voice ranged from throaty to angelic, always appropriate to the mood. A good portion of the huge crowd was clearly there for her (they knew her songs and swayed in ecstasy to them).
Supporting Gaby on either side of her:
Adam Levy on acoustic guitar and light vocals. We've seen Adam a number of times. He's an excellent guitarist (formerly part of Norah Jones band). He can play a number of styles and I have to say that last night was perhaps my favorite performance of his. He nailed every lead and the crowd let him know it, each time (as did Gaby!).
Sebastian Aymanns on cajon, percussion and light vocals (no good individual link). Sebastian was excellent on the cajon. He also had two different kinds of shakers, attached to straps, on each of his ankles. One was multi-colored balls, the other was more like a small tambourine. As he tapped his feet on the stage, each produced a lovely sound, enriching his cajon play.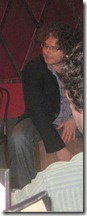 An absolute treat to be able to enjoy an opening act without constantly staring at your watch to see how much longer until the headliner comes on stage.