Send to Kindle
Aunt Martha headlined a set at Rockwood Music Hall Stage 2 as part of CMJ week. We saw the set before them (Jenny Owen Youngs) and were primarily there to see the set after them (Delta Rae), so we had every intention of sticking around (even though we knew nothing about them).
However, if we needed any added incentive, for 30 years, we've had an Aunt Martha in our lives. She's one of our godchildren's aunts, and everyone in our extended family calls her Aunt Martha. In a crazy turn of events, she isn't in the group (bummer), but we stayed anyway.

Every song they played was good, in the sense of being easy to listen to (pleasant). All of them handled their instruments well enough, but none of them stood out to me in any way.
They don't go out of their way to promote the individual members (on stage or on their website). So I will follow in their tradition and simply tell you their collective names without knowing which one played which instrument. Here's how they list their band members on their Facebook page:
Members: In no particular order…. Tim Noyes, Brian Kim, Todd Brehm, Garrett Leahy, Eddie Byun
The lead singer has a very nice voice. The last few numbers showed off his range as he hit some crazy high notes very cleanly. He played rhythm acoustic guitar throughout.
The electronic keyboard player sang a bit of background vocals and kicked off the last song with a bit of lead singing.
The drummer kept a pretty good beat throughout and the rest of the band often turned to him during instrumental sections (with their backs to the crowd). My friend and I joked about it. I said "It looks like they're in a football huddle". I might have added "I think it's something you said" as well.

The electric bass player switched to violin for at least three songs. He sang a bit of harmony as well.
The electric guitar player picked up the bass for each of the numbers that the bass player took up the violin. He sang a bit of harmony too.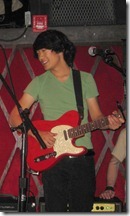 An easy set to enjoy between the two sets I intended to show up for. Here's the set list: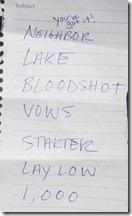 P.S. I lied above, and the guilt is killing me. I ended up doing the research in order to label the photos with the correct names.