Send to Kindle
In April 2009 we accidentally were pulled into the orbit of the NYC indie music scene (courtesy of The Paper Raincoat, comprised of Alex Wong and ambeR Rubarth). Even though some of these artists are signed to labels, most of them still operate (and struggle) like indie musicians, with a one-inch leg up.
By December 2009, we had enlarged the circle of local musicians we follow a drop (it's really big now). One of those was drummer Adam Christgau who posted a YouTube video of Jenny Owen Youngs. I really liked it and put Jenny on my list of shows to catch. Here's the video:
Jenny Owen Youngs–Last Person
Amazingly, in the next two years, I never got to see Jenny. Once or twice I could have twisted myself into a pretzel, but I didn't.
CMJ offers so many choices, but Jenny's showcase at Rockwood Music Hall Stage 2 lined up so that I could finally scratch this one off the list.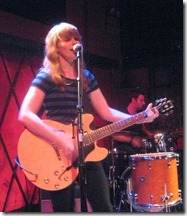 Jenny delivered a non-stop energetic rock set. It was nearly impossible not to be moving (not swaying, rather tapping, stomping, bobbing, jumping, dancing, etc.) to all but perhaps one slightly mellower number.
Jenny has an excellent voice. She played solid rhythm on the electric guitar. She's funny (though with CMJ, banter is often kept to a minimum).
I can't comment on the lyrics, because everything was so loud (well-balanced, not painful) that even though Jenny's voice came through strongly, it was more of an instrument (for me at least) than a lyrical delivery system.
For such a big sound (independent of the volume), it was a stripped-down band. Jenny was supported by two people:
Elliot Jacobson on drums. Elliot is always great, no exceptions, but last night's performance was a bit more herculean for two reasons. The first is that every song was so up-tempo, and there were only three instruments (including the drums). Couple that with the fact that Jenny didn't play any lead on the guitar. For my taste, Elliot was the musical focal point of the set.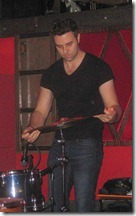 He's always a machine, but this set list called from him to be so non-stop, for roughly 45 minutes. It was almost like he took a 30-minute solo, supported by rhythm guitar and electric bass.
The second reason is a little frightening and only became clear a few hours after the show was over. When I got home (after seeing four additional CMJ sets!), I saw this tweet from Elliot:
elliotjacobson Elliot Jacobson

That was so fun. Thanks to all of you who came to the show! Sorry I wasn't around to talk after. Food poisoning isn't fun. ?
What? That performance occurred while Elliot was experiencing food poisoning? I can't even imagine. Here's hoping he's better now.
Even the lighting guy felt the need to highlight Elliot.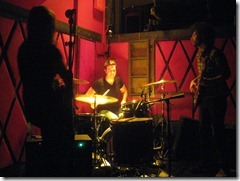 Mike Tuccillo on electric bass and vocals. Mike was excellent on the bass and sang a bit of harmony with Jenny as well (very nicely). He was also the subject of one of Jenny's introductions (she asked his permission first).

On two songs Jenny played on a bass drum (and hit Elliot's cymbal a couple of times). Seeing as the drums were a focal point for me, this enhanced that feeling even more, with two of them drumming at the same time. In keeping with me sharing people's tweets, here's what Elliot had to say about that:
elliotjacobson Elliot Jacobson

Gave @jennyowenyoungs wimpy sticks to play her floor tom during our drum duet. She STILL played loud as hell. #profressionalbadass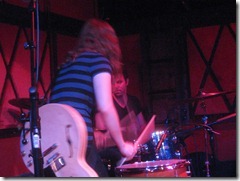 True!
I enjoyed the set, but I'd have to hear Jenny's music recorded to know whether it's something I'd clamor to hear over-and-over or to attend on a regular basis.
Here is the set list: