Send to Kindle
Prior to last night, we'd never seen Lucius perform (that web site is not up yet, you can check out their MySpage page in the meantime). That makes them very unique in our personal history. They are the only band that we have contributed to (on Kickstarter) without ever having seem them perform (as a group or individually). In fact, we never heard their recorded music either.
Melissa Tong, one of our favorite violin/fiddle players, told us about their upcoming CD and suggested we would love them. We contributed sight unseen. That CD is delayed, but at least we finally got to see them live.
There are four members listed on the band's Facebook page. All four were there, with a very special guest star as well. But, while they all play a critical role in the sound, the group is centered on the two women.
Jess Wolfe and Holly Laessig could be right out of an episode of Mad Men. They dress alike (last night in orange pastel colored dresses). They wore matching different colored shoes (meaning, they matched each other, but their left and right feet didn't match). They wore funky sunglasses. They defined hipsterism (or the antithesis of it… ooh… makes me think too much).

They stand on stage facing each other (so the audience gets a profile, except that we were at the extreme edge of the front row so we had a direct view of Jess and a rear view of Holly). They each play electronic keyboards, with Jess throwing in a tambourine on a stand and some additional percussion and Holly having an actual drum to her right.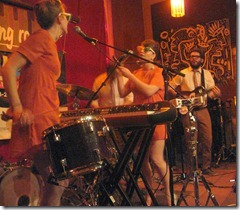 All of that is theater (aside from the instruments) and good theater at that. What's special is their voices and their songs. Their voices are great (individually) and their harmonies are spectacular. At a minimum, it's the two of them, but often it's at least three voices. Quite a number of times, all five people on stage were singing together. Stunning.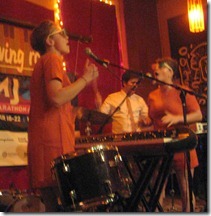 The songs were all great too, so the vehicle for their voices is nice to sit in while you're along for the ride.

Supporting the ladies, left-to-right on stage:
James Cleare on electric guitar, a drum, tambourine and vocals. James was the special guest. He's a member of The Spring Standards, one of the most innovative/fun groups in NYC. He clearly knows their material well, since he was singing a lot. He spices up any performance he's a part of.
Dan Molad on drums and vocals (no good individual link). Dan was excellent.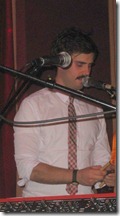 Pete Lalish on electric guitar and vocals (no good individual link). Pete was excellent as well.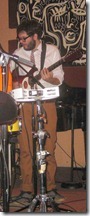 Dan and Pete are both former members of Elizabeth and the Catapult. That should tell you all you need to know about their talent. Pete has also toured extensively with Ximena Sarinana (including an appearance on The Tonight Show).
Lucius is playing again tonight at 9pm at Rockwood Music Hall Stage 1. We might not be able to make it, but I would be thrilled to see them again, even knowing we'd be packed like sardines there. Thanks Jason for suggesting we see them with a little more breathing room at The Living Room. It was definitely worth staying up later than we planned.
I am very thankful that I enjoyed the set so much, or I might have felt foolish blindly contributing to the making of their upcoming CD. Now I can truly appreciate the anticipation of receiving it, sometime early next year.