Send to Kindle
After seeing Delta Rae at Rockwood, our evening was supposed to be over. Our friend Jason asked if we were heading over to see Lucius (the site is not up just yet, but you can check them out here) at The Living Room. I said that we were planning to see them tonight (tomorrow, when I was speaking last night, if you can keep up with the time travel) at Rockwood 1, 9pm (in case you're planning on catching them).
He pointed out that they are very popular, and Rockwood might be full to capacity. We decided to stretch out our night and head over to see them.
When we walked in, another group was just finishing up sound check, so we got a bonus set in during the week-long CMJ Showcases.
Shenandoah and the Night performed a very nice set. I would attempt to describe them, but I'd fail horribly, especially if you compared my description to their own. Here's their version, direct from their Facebook page:
Led by the bewitching singer/songwriter/producer Shenandoah Ableman (of the San Francisco-based Yard Dogs Road Show), Shenandoah and the Night offer a haunting, noir-ish sound counter-balanced by bursts of joy and infectious energy. Rootsy enough for folk enthusiasts without sacrificing its modernist edge, Shenandoah and the Night cast a wide net across the spectrums of taste and time, blending and blurring a diverse set of influences that range from the operatic anguish of Nina Simone and Kurt Weill, to the dusky psychedelic sturm und drang of the Doors and Janis Joplin.
Shenandoah Ableman sings beautifully and demands your visual attention as well. This was most evident in the number where she basically did a fan dance (literally). At the very end, from behind the fans, her LDB (little black dress) came off, revealing a body suit underneath. I think they had to cut the set short to avoid the body suit coming off during the next number.


I'm not really sure who was supporting her on stage. At least one of the band members listed on the site was not there, and finding photos of the others isn't so simple. Rather than make a mistake, I'll post photos, but leave their names out.
The electric guitarist was pretty good.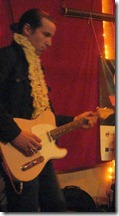 The drummer was very good.
The bass player was pretty good.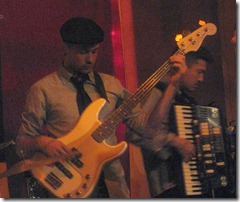 The accordion player also played grand piano. Late in the set he did something I've never seen before. He placed the accordion on top of the piano and played it like it was an electronic keyboard. Cool.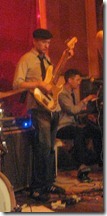 Here's the set list: