Send to Kindle
We headed down to The Delancey for two CMJ Showcases. It was our first time there. We arrived 25 minutes early and bumped into a few people we knew. One of them mentioned that Alec Gross was playing upstairs (The Delancey has three stages). We had only seen Alec once, when he played harmonica on two songs during a John Schmitt set. I was very happy to catch him doing his own stuff.
Alec Gross was terrific. We loved the set. Very folky. He has a great voice, plays the guitar nicely and is as good on the harmonica while he's playing the guitar as he was the first time we saw him.

We liked the songs a lot as well. I just followed him on Twitter so that I can know when/where he'll be playing in the future, as we'll be sure to catch more of his shows.
In a huge bonus surprise, he was supported by two people, one of whom is already high on my list of wanna see people. The other other was new to me and wonderful as well.
Will Hensley on acoustic guitar and harmony. I've seen Will a couple of times now. Here are two lines that I wrote the last time we saw him (supporting Jesse Ruben):
Last night, playing for Jesse, Will totally blew me away. He was amazing on traditional leads, and excellent with the slide as well.

I will be thrilled to see Will play with anyone, just for his skill, until I find out he is willing to play with a dud headliner.
So, if I understand myself correctly, I would have gone to see Alec Gross, even if we didn't know who he was, just because Will was playing with him.

I was already following will on Twitter, but he doesn't tweet often, so I had no idea he was going to be there. Musicians, Promote Thy Shows!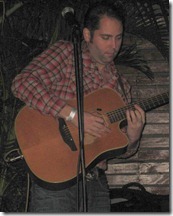 This was the first time we saw Will on acoustic guitar. He was excellent, but I will admit I was more impressed on the electric. It may be more a factor of Alec's songs, than of Will's skill.
Will did an excellent job harmonizing with Alec.
Mason Ingram on drums. The folky nature of the set called for very subtle drumming. Mason answered the call. Impressive.
My primary mission in showing up at The Delancey was to see Derek James. I looked at my watch and saw that it was 7:05pm and Alec was still playing. I asked a friend whether Derek was running late (CMJ is typically on time, which is much appreciated!) and he said "No, Derek is likely on the main stage" (which is the middle floor). Oops!
Lois was enjoying Alec so much (as was I) so she stayed a bit longer, but I sprinted downstairs and indeed missed Derek's first number.
Nice job Alec, Will and Mason.