Send to Kindle
Lisa Jeaggi came onto my radar roughly a year ago. I can't exactly remember how, but it was most likely an email newsletter from her record label, Modern Vintage Recordings. I listened to a few songs (likely on MySpace) and liked what I heard. I started following her on Twitter and was looking forward to catching a show. Our schedules conspired against that, until last night.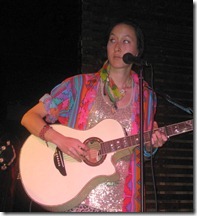 I was already planning on making my first foray to The Delancey to catch Derek James. Imagine how pleased I was to see that Lisa Jaeggi was on immediately after him.
Lisa's style is described as folk/pop and I won't quibble with that. She has a fantastic voice, plays the guitar nicely (first half of the set was finger-picked, second half strummed, for the most part). I enjoyed every single song, but I can't say I had a chance to concentrate on the lyrics (that will require a more private listening session). Still, the lyrics I heard interested me, so I'm betting the more I hear, the more I'll like.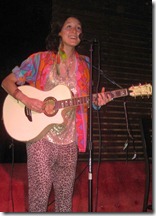 Lisa was supported by two people, left-to-right on stage:
Ben Martinez on electric guitar and vocals (no good individual link). Ben was excellent on the electric guitar. His play danced around Lisa's, mostly when she wasn't singing. Subtle but gorgeous stuff.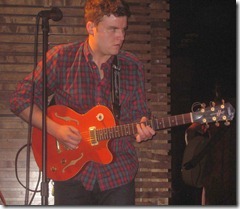 He also sang wonderful harmony with her. I was surprised that I could hear him, because he stood way back from the mic. I don't know if I heard him despite that, or only because I was dead center, around 10 feet from the stage. Either way, it worked.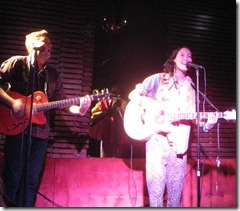 Will Whitney on djembe (no good individual link). This was a pretty small djembe, held between Will's legs (most of the djembes I've seen are mounted and much larger). Will was absolutely amazing. I couldn't believe how rich the percussion sounded coming from just two hands and one small-ish drum.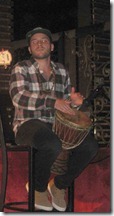 It's not fair to say Will only used two hands. A number of times, each of fingers (at least on his left hand) were acting separately, making for many different (fast) digits striking the djembe in rapid succession.
Will and Ben were integral to making Lisa sound very full. That said, I am sure that Lisa could hold my attention solo, accompanied just by her guitar.
I am extremely happy that we caught Lisa's set and I will be sure to track her down again for another round.
In my previous post I mentioned being impressed with The Delancey sound guy. During Lisa's set, he came down from the sound booth (immediately to the left of the stage) and stood next to me (shoulder-to-shoulder) so that he could hear the music as the audience was hearing it.
He asked a couple of people if anything needed adjusting and asked the band as well (about their monitors). Everyone gave him the thumbs up, so no big adjustments were necessary. He did raise Ben Martinez' guitar volume up a smidge, which was much appreciated. Having someone take such pride in their work is always nice to see.
Thanks to Modern Vintage Recordings and The Delancey for sponsoring a wonderful evening of CMJ music. We caught three sets there (and loved every one of them). We had to leave and missed a few more that I was looking forward to. There was an open bar from 6-8pm. We ended up being extremely cheap dates, since neither of us had anything.