Send to Kindle
Alex Wong has a full-band show this coming Monday night (10/24/2011) at 9pm at Rockwood Music Hall Stage 2. There are three other shows that we want to see that night and we haven't figured out how to be at two places at once, just yet.
Yesterday, Alex had an afternoon showcase at Rockwood, at MPress Records MPressFest (part of the week-long CMJ Festival). Alex isn't signed to MPress, but they are fans of his (as we are) and wanted to highlight him among their own lineup of artists.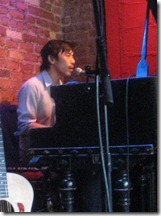 Alex had a full band at this show so we got a preview of what the rest of you can see on Monday. It's a rare treat (the last time we saw him with a full band was in July), but I suspect we'll see more of this setup as we head toward next year's release of Alex's first solo CD.
Alex is an incredible producer (who is about to enter a grueling stretch of producing albums for: Martin Rivas, Anne Heaton, Delta Rae, Alex Berger, and likely others I am unaware of or can't recall at the moment). There's little doubt that he's transitioning his live shows to bring out more of the flavor that we'll hear on his own solo CD, rather than the more stripped-down versions we've been hearing before he hit the studio.
I say amen to that.
Alex was supported by three people, left-to-right on stage:
Ximena Sarinana on vocals. Ximena sang on a few numbers, including the opener, Always Something Better. A superstar in her own right, hearing her voice blend with Alex's (or anyone's, to be honest), is always satisfying.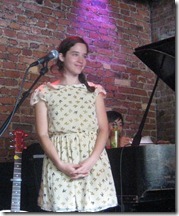 Ward Williams on cello and electric guitar. Ward always delivers. He switched back-and-forth between the cello and guitar. On one song, he started off looping an ethereal sound on the cello, then picked up the guitar for the majority of the song, turning the cello loop off/on as appropriate. Very cool.
Elliot Jacobson on drums. You couldn't have seen two more different drum performances than yesterday's Alex Wong set and Wednesday's Jenny Owen Youngs set. Yet, both were fantastic, and both were provided by Elliot, showing off why he's a very sought after drummer. Given that Alex is a top drummer/percussionist in his own right, selecting Elliot is a very high compliment (well deserved).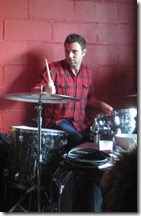 Alex spent most of the set at the grand piano. He stepped out to play acoustic guitar on two numbers. One was a nearly solo performance of Patiently (off the upcoming album). The other is one of The Paper Raincoat's best songs, Brooklyn Blurs.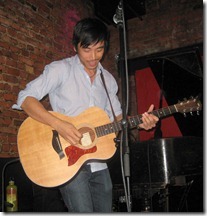 Standing next to Elliot was another great drummer, Seth Faulk. I've noted at least twice that Seth has an excellent voice. Those comments weren't made at a Seth Faulk show. In both cases, Seth was in the audience, singing along with the performer on stage. In one of those cases, Seth was standing right behind me, so I got a personal serenade (that was at an Alex Wong show too!).
Alex is obviously aware that Seth knows his material and can sing it beautifully. He egged Seth to join him on stage for Brooklyn Blurs. It took roughly five attempts, but finally Seth came center stage and harmonized with Alex. Yay!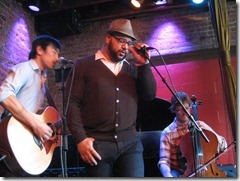 The set was so good that I feel even worse that we'll be missing Alex on Monday. On the other hand, I feel great that we caught this one and got a preview of Monday's set. The other advantage of this one over Monday's is that Ximena will no longer be in town for that show, so we were rewarded for playing hooky from work on a Friday afternoon.