Send to Kindle
On December 23rd, 2009 we saw Rachael Sage headline at Joe's Pub. One of her guest stars that night was Seth Glier, who  sang and played accordion and glockenspiel. He was talented and I made a note to check out his own stuff. It's only been nearly two years and that hadn't happened, until yesterday.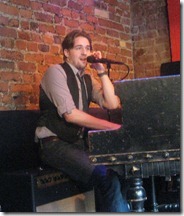 MPress Records put on a showcase at Rockwood Music Hall yesterday. We were planning on attending Alex Wong's set (Alex is not signed to MPress, but they are fans of Alex and wanted to highlight him). When I checked the schedule I saw that Seth Glier was up before Alex, so I would finally get my chance.
Seth opened the show with the title track from his current (second) CD, The Next Right Thing. He sings while playing a large gourd covered in sea shells. He was using a porchboard for a kick drum sound.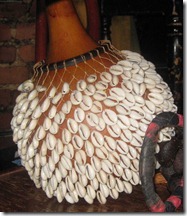 Ryan Hommel accompanied him on every number. On the opening one, he played acoustic guitar. With his right foot he tapped on a tambourine. On his left foot he had a strap (like an elastic bracelet) with sea shells attached, creating a shaker sound whenever he tapped it.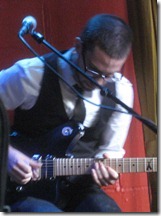 Ryan sang harmony on every number, perfectly. Very high, soft, sweet sounding. Later in the set Ryan alternated between acoustic and electric guitars, playing a more ethereal sounding style on the electric.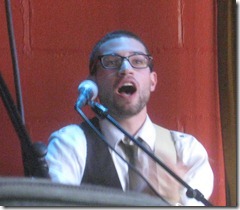 Seth played the majority of the set at the grand piano, which he played very well. He played at least one song on the acoustic guitar and handled that very well too.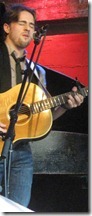 Basically, a very talented kid. Oh, did I forget to mention that he's 22? He's having a slow start, having only put out two full-length CDs so far (first, in 2009, called The Trouble with People, both released on MPress Records).

We bought both CDs after Seth's set and we're listening to The Next Right Thing as I type this and we're enjoying it a lot. Both CDs are characterized as Pop in the Gracenote database. I wouldn't quibble, but First (the 5th song on the CD) is most definitely a traditional Folk song (IMHO, with the exception of the slow-jazz horn solo), so don't pigeon hole Seth, please.

Well into the second CD now (his first), and it's really good too.