Send to Kindle
Greg Mayo Band headlined at Rockwood Music Hall Stage 2, one of the last sets to officially close out the week-long CMJ Festival (of course, there were a ton of other sets closing out the week in many other venues). But there was only one venue for us to be, namely the one Greg was playing at.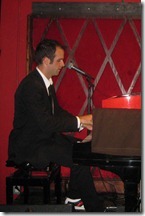 Having just seen Greg shred the guitar minutes earlier when he was part of Robbie Gil's band, we got to enjoy an extremely different set. Greg likes his band to dress up, so there was just enough of a break to reset the stage and give Greg time to put on a suit.
Greg Mayo Band is a big-band sound of rock/soul/R&B/funk. The performances are always stellar, with Greg killing it on the grand piano, electronic keyboards, and singing everyone (including himself) into a frenzy.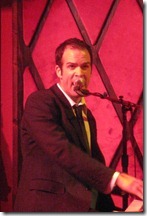 Toward the end of the set Greg split the audience in two and we sang along to the chorus, in harmony. Greg made sure we knew exactly when to sing.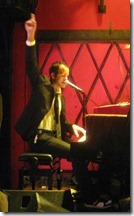 We were able to sit near the piano for every previous show. Last night there were no tables so we stood dead center, right in front of the horn section. That was a ton of fun (I love me some brass).
Lots of people on stage (eight, counting Greg), so let's get to them:
Rebecca Haviland on vocals and tambourine. The girl's got voice, pure and simple. She sang with Greg throughout, but took the reigns on lead vocals when they morphed a song into Long Train Running (and later morphed back into the original song). Rebecca blew us all away. I told Lois after the show that they would have to rename the group The Doobie Sisters in her honor!
Rebecca will be headlining a set at Rockwood 1 this Friday (October 28th) at 10pm. Come at 8pm to enjoy Chris Ayer as well.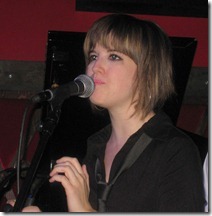 John Liotta on baritone sax. John was excellent throughout, as he always is, taking a long solo toward the end of the set.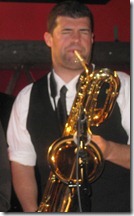 Josh Reed on trumpet. I was afraid Josh would be fired on the spot. While he had a jacket on, he was the only member of the band who didn't have a tie on (including Rebecca!). Once he took a solo, and Greg praised him, I calmed down and realized he was safe (at least for the night).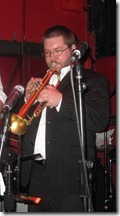 Matt Simons on tenor sax. Seconds before Matt walked on stage I commented to Lois that the band was short one horn player (John and Josh were already on stage and it looked like the show was about to start). Thank goodness Matt was there. He destroys the sax, and one of his super fast solos was in the very first song.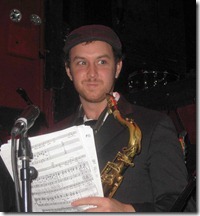 Matt wasn't there for the last Greg Mayo Band show we attended. He was ably substituted for that night, but I am personally very happy whenever I can get even the slightest taste of Matt's masterful sax play.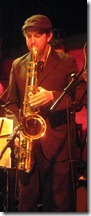 Kenny Shaw on drums. I never doubt that I will love Kenny's play. Considering he's the drummer we've seen most often in 2011, there's little chance I'll be wrong about that. The set before had one of my favorite drummers, Zach Jones, so any contrast would be a little more obvious.
No difference in quality. They have different personas and they were supporting different styles of music, but in the end, both deliver as good a performance as you could hope for, every time.
Chris Anderson on electric bass and vocals. Another musician that we see a ton of times, who has never disappointed. He co-writes and performs with Rebecca Haviland, so if you take my advice and show up this Friday, you'll get to see him sing and play.
Paul Maddison on electric guitar and vocals. Paul was solid throughout, but this set didn't call for any particular leads on the guitar. He did play a critical role in the transition to Long Train Running (mentioned above), with the iconic guitar part that kicks off that song. All eyes were on Paul until Rebecca let loose.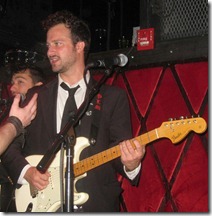 Another fantastic set by the Greg Mayo Band. I think Greg announced that they'll be back at Rockwood 2 on November 19th. It's not listed on the site yet, so please confirm before showing up. Here's last night's set list: