Send to Kindle
Alex Berger headlined a special show at Rockwood Music Hall Stage 2 last night. Special, because we Americans rarely get an opportunity to see him since he abandoned us 20 months ago to return to his native England. His last show in NYC was also at Rockwood 2, 11 months ago (covered here).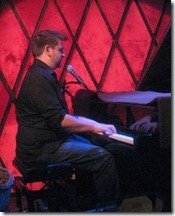 Alex is like a giant English magnet. In addition to hearing great music, performed wonderfully, it was like being in a friend's living room (a very large, crowded one), given how many of the people we love we bumped into, hugged, waved to, chatted with, etc. (Photos at the bottom of a small sample of said people.)
Right before Alex returned to England, he put out his debut album, Snow Globe. It has since won two International awards. He has amassed enough new material to record his second CD, which he'll be doing in a few months, produced by Alex Wong (who also produced Snow Globe).
Alex opened the show solo at the grand piano. He captivated the audience with his silky voice and exceptional piano play. From that point on, most of the songs had at least one special guest (often more). This morning I read a tweet, which I couldn't agree with more:
martinrivas Martin Rivas

So impressed with how @BergerAlex so effortlessly carries a room by himself. What a show!
Alex switched back-and-forth between the piano and an electric guitar. In a not-so-small irony, that guitar (which sounded amazing) was borrowed from his good friend Adam Levy. Adam just happened to be headlining a set on the other side of the wall at Rockwood 1. Each would likely have happily guested on the other's set, if it were not for the bad luck scheduling.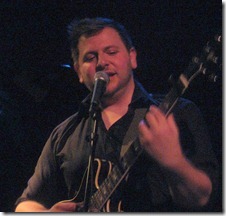 In addition to sporting Adam's guitar, Alex used it to play a song they co-wrote, which will be on the upcoming CD, A Kiss is as Sweet as it Gets.
Alex played a number of songs that he co-wrote with other top NYC-based songwriters. I believe that every one of them will be on the new CD. Two of them were guest stars who got to sing the song with Alex.
The first was Jay Stolar who came up with an acoustic guitar. That song was not the song Jay co-wrote with Alex. He sang Ari Hest's part in a song Ari co-wrote with Alex.
Alex Wong joined Alex Berger, along with Martin Rivas (who played Adam Levy's guitar, beautifully!), to sing their co-written The Fighter. That song will be on each of their upcoming CD's. Let the battle begin to see which one does it better. Keep in mind that Wong is producing both CDs, so Berger better be careful of sabotage if winning the title is important to Wong.

Jay Stolar returned late in the set (second-to-last song?) with Martin Rivas and Chrissi Poland to sing the song he co-wrote with Alex. The introduction was but one example of how relaxed and entertaining Alex is in talking to the audience (I'd almost say caressing the audience). He noted that this was a very upbeat song about the End of the World.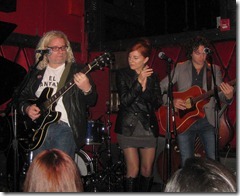 The four of them proceeded to make us laugh while singing their hearts out.
Speaking of laughing, perhaps my favorite song of the evening was one Alex co-wrote with Bess Rogers (who is on tour and couldn't be there). This song is about reading too much into every situation. It's hysterical, but so melodic and lyrical. Alex was awesome on the guitar as well, making his lush picking and strumming seem effortless. It was a joy, with everyone laughing at practically every line.
This photo doesn't quite capture the ease with which Alex delivers his banter, but it will at least remind us of it.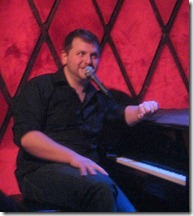 For completeness sake, another song Alex performed was co-written with Allie Moss (who also couldn't attend last night). In other words, Alex has very good taste in who to write with, as do each of the people who were wise enough to write with him.

I can't give you the titles to any of these songs, as I didn't notice a set list on stage to grab.
Ezra Gale on upright bass accompanied Alex on roughly half the songs. He was terrific on every number.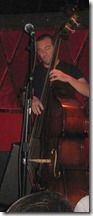 Andrew Nemr joined Alex to dance on two numbers. He tapped beautifully (and mostly subtly), adding the only percussion of the performance. He was originally scheduled to do one number, but everyone encouraged him to stay on stage for the next one as well.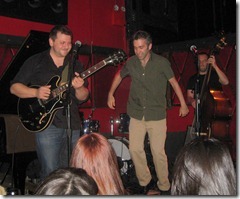 I mentioned above that Snow Globe won two awards. One was by a panel that included Tom Waits, one of Alex's inspirations. Even though Alex had a ton of new (original) material he would never have the time to get through in this set, he wanted to honor Tom's influence on him (and the selection of Snow Globe as Best Story Song!), so he played one Tom Waits song on the piano.
The guest performers obviously enjoyed the set even when they weren't on stage!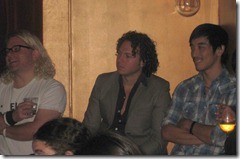 Great music, performed wonderfully, surrounded by friends in a warm environment. Alex Berger better not make us wait another 11 months before he plays in NYC again!