Send to Kindle
Last night was our first time at Sullivan Hall. It was also our first time seeing Carbon Leaf. Both of those are thanks to our love of Delta Rae, who opened for Carbon Leaf.
I hadn't listened to any of their music before the show, so I truly had no idea what to expect, other than a number of people told me that they're really great. Having seen them, I don't doubt it, but there was one reason (and one reason only!) that I don't think last night's show was an ideal one to be introduced to them. I'll get to that below.
My categorization of them would be Celtic-tinged Rock. They reminded me (sonically) of The Proclaimers, a number of times (yes, I know they are Scottish, not Irish). Note the modifier tinged. Not every song has a Celtic feel to it.
They are all very talented and they're tight as a group. Regardless of the music, it was a fun and interesting place to be. Sullivan Hall was packed. Capacity is listed at 345. I would guess they were a few short of a sellout, but not by much. Carbon Leaf has devoted fans who were singing along to every song, every word. At first, it surprised me, because I looked on stage and saw only one person singing, but I heard multiple voices. Then I looked around and everyone near me was singing along. Cool.
The band connects with the audience deeply. They love being on stage and playing for their fans. If they don't, they should be Hollywood stars!

After playing an electrified set for nearly 90 minutes, they brought out a single high-end acoustic mic to center stage. All five members gathered around the mic and played an acoustic number. That was a homage to their current CD, a 2-Disc Live Acoustic offering, with a bonus DVD (a bonus you pay for, as Barry joked: You get three for the price of three!).

Carter then switched from mandolin to banjo and they did another song with the same setup.
Both acoustic songs were absolutely gorgeous. It overcame the problem (that I haven't described yet) and made me truly realize their talent. They followed that with another rock number (electrified) to close out the set. Of course they were called back for an encore.
They returned without the acoustic mic but all gathered center stage again. This time they sang completely unplugged and un-mic'ed. The reason? They sang a song that the fans sang with them, out loud, so it didn't matter whether you heard Barry singing lead. We might have been the only two people in the audience who didn't sing (since we didn't know the song).
In a could-have-been-uncomfortable moment, we happened to be standing dead center, at the stage (surprise!), so we were staring right into Barry's eyes, meaning, he knew we weren't singing. Hopefully, he didn't take it personally.

I have been streaming Carbon Leaf since I started writing, directly from their site (right at the top, just click to start). In an incredible twist (to me at least), the minute I started writing about the first song in the encore (the one I just described), it came on in the rotation, so now I can tell you the name: One Prairie Outpost. Another winner!
In fact, I haven't heard a song I don't like yet, which makes me feel much better about my second paragraph up top.
They followed that with another electrified number to close the show (like they closed the set before the encore).
I'll mention each band member (as I always do), just not in my typical left-to-right order. I'll finish with the problem.
Barry Privett on lead vocals, penny whistle and recorders, tambourine and shakers. Barry is the classic front man. He has a very nice voice, though it didn't do anything special for me. There's something that feels spiritual about him on stage. He acts out some of the lyrics and moves in a somewhat ethereal manner. At times, it seems like he's in a bit of a trance. It all works (at least it did for me).
Carter Gravatt on most things that have strings. Carter played multiple acoustic and electric guitars. He played a cello-like instrument that I've never seen before. He played a lot of mandolin (amplified and unplugged) and bouzouki (or a derivative). His banjo play in the unplugged segment was beautiful. Here's his setup: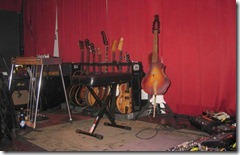 Here he is playing most of those instruments:
Carter took a couple of seriously long leads on electric guitar, extremely tasty. Basically, he's masterful on all of the instruments that he plays. He had a pedal steel guitar set up on stage, but I don't think he played it. He also sang background vocals quite a bit.
Terry Clark on acoustic and electric guitars and the most prominent harmonies with Barry. Terry was quite good (a real crowd favorite), but for the most part, his guitar play takes a back seat to Carter's leads (by design). In the two unplugged songs, he took some extremely tasty leads on the acoustic guitar (when Carter played mandolin and banjo respectively), so he showed off his chops.
Jason Neal on drums and background vocals. Jason did a terrific job throughout the set. His drums were energetic and interesting. On both unplugged numbers, he came out with a drum strapped around his neck and played with brushes to great effect.
Jon Markel on electric and upright bass and background vocals. John is an excellent bassist. I know that largely because of the two unplugged numbers. I also know it because on one number I watched him very closely on the upright, and his fingers were flying up and down the neck while his right hand was plucking the strings at a crazy-fast rate.
That said, he was the problem last night. I can't properly describe or explain how poorly (loudly) amp'ed the bass was. Practically every stroke of a bass string sounded like the kick drum (yes, I know the difference). It pounded me in the chest, shook the floor so that my feet and legs rattled.
Basically, it was a thump/buzz that deadened most of the other sounds. If I wasn't as close to the stage, I might have missed some of Carter's amazing leads. For me, being able to see a guitarist's fingers really helps me pick out the guitar sound from rest, which I was able to do last night, barely.
The problem was twice as bad on the upright. I have never experienced an upright bass mic'ed louder than an electric. It was practically impossible to pick out separate notes. Every time Jon plucked a bass string (on the upright), it was the same as any other string on any other fret (I know there aren't physical frets). It was just another strike of a kick drum. At least on the electric, I could often make out a specific note.
To repeat, this has nothing to do with Jon's skill, which was evident when he unplugged. This was a setup problem. The sound engineer probably had no control over it, but he could have still gotten word to the band that it was overwhelming so they could turn down the amp.
Of course, fans didn't seem to mind (or even notice) and I totally get that. They knew every word (and every note), so they could hear things, because their brains filled in the parts that weren't easy to hear separately. That's why I said this wasn't an ideal show to be introduced to Carbon Leaf.
In a miraculous saving grace, Carbon Leaf uses in-ear monitors, like our beloved Girlyman. Because of that, the sound engineer came out and flipped around the two center stage monitors (that had been used by Delta Rae), and pointed them directly at us (remember, we were standing at the stage, dead center). He told us that we would appreciate having the monitors facing us, so that we could hear the vocals better.
He was correct! I can assure you that I wouldn't have heard Barry even for a second over the bass if not for this incredibly serendipitous turn of events.
I've now been listening for quite a while to Carbon Leaf streaming, and I continue to be impressed. Independent of my complaint about the bass, I enjoyed the show and am glad that we stayed, even though we were both exhausted. Here's the set list from last night, many of those songs are available for free streaming on the Carbon Leaf site!