Send to Kindle
Delta Rae opened for Carbon Leaf at Sullivan Hall last night. We went because of Delta Rae. Discovering Carbon Leaf (who we had heard of, but had never seen or listened to) was a nice bonus.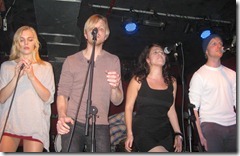 The last few times we saw Delta Rae were at Rockwood Music Hall Stage 2. Those shows were all excellent (covered here, here and here, in reverse order).
When Delta Rae comes to town, you can be sure of one of two things:
It will be over 100 degrees out
It will be pouring
It wasn't going to be 100 degrees yesterday, so that meant that weeks back (when the show was announced), you could be sure that it would rain in NYC on November 17th, 2011. So, seeing this tweet from Elizabeth Hopkins of Delta Rae, yesterday morning, should have come as no surprise to any NYC-based Delta Rae fan:
BatSparkles Liz Hopkins

raining in NYC again . #RockingInAnyWeather again!! 😉 looking forward to seeing Miss @alexandra_watts this fine evening@SullivanHallNYC
If I could make money with this information, I would! If only I were a farmer and could bet on the weather…

They'll be back in January (Mercury Lounge, date not yet listed). Once the date is listed, start making bets about rain (or possibly snow) that day in NYC!
As awesome as the shows at Rockwood have been (all three), the stage is very cramped when Delta Rae is on, largely because of the Grand Piano. The sound there has been great too, but Delta Rae goes big (they never go home), and Rockwood might be a tad too small for their sound.
Sullivan Hall is a more classic rock venue like The Studio at Webster Hall, Mercury Lounge, Arlene's Grocery, etc., with larger stages and wide-open, standing-only venues. It's longer than it is wider (this was our first time there), but it's not a railroad car (meaning, it's not too skinny). The stage is reasonably wide and very deep. Delta Rae was easily able to spread out, move around and the ladies were able to dance a bit more freely.
With a notable exception (below), the sound was very good, even though we were smack in the middle in front of the stage, not the ideal listening place since we're standing between the two main speakers on either side of the stage.
The show itself was one of the best we've seen. The crowd was at near capacity (Sullivan Hall holds 345) and the energy in the room was fantastic. While nearly everyone in the crowd (perhaps other than us?) was clearly a Carbon Leaf fan, everyone standing near the stage (meaning everyone around us) were clearly Delta Rae fans too (knowing every song).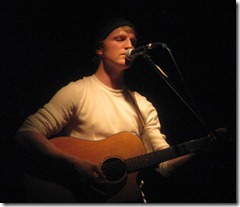 While they didn't abide to a strict rotation, the first four songs were lead by a different member of the band. Each did a fantastic job. And of course, when they sing together (in pairs or all four), make sure you take your heart medicine (OK, I'm older than most of their fans).

Ian Holljes popped a string on his acoustic and switched to an electric for a few numbers.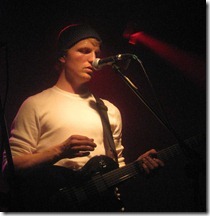 The lighting person has a very different idea of how to light a show than I do. Often, the entire stage was nearly dark, or back-lit with bright lights shining on us, casting everyone on stage in shadows. Sometimes it took him a full verse to put a light on the person singing lead. At times, that made for cool looking effects (which perhaps is exactly what he was looking to accomplish), but it felt random to me, more like he didn't know how to find the singer (whack a mole?).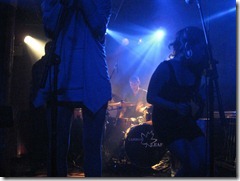 The one sound complaint was that Grant Emerson's amp (for his electric bass) was cranked too high. The same problem existed in spades for the Carbon Leaf set. It seemed a drop better for Delta Rae for two reasons: 1) Four extremely strong voices seemed to soar above even a loud bass and 2) I'm so familiar with the songs that (even unconsciously) I could have been filling in sounds I was sure I was hearing.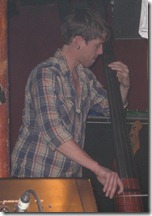 That said, every note of Grant's play could be made out (which wasn't true for Carbon Leaf). In fact, I was mesmerized by his play during the finale, Fire, where he tore up the bass lines (since he was a focal point, it was OK that he was louder than the rest in that instance).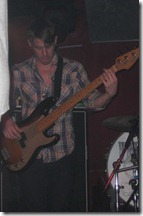 If you want to know more details about them in general, please read the posts linked above. For now, I'll end with the set list from last night, and more photos.