Send to Kindle
What's a Saturday night in NYC without a taste of Greg Mayo? Empty! Thankfully, NYC was full last night. Greg often plays with others on a Saturday, but it was his turn to shine in the spotlight with The Greg Mayo Band.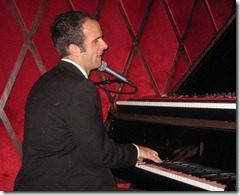 Given the time of year, it was no surprise that there were some substitutions. While we will welcome the regulars back with open arms (they are all exceptional), last night's replacements were no slouches and the show was up there with the best we've seen!
The only missing piece was female vocals (Rebecca Haviland was performing in MD). That said, while Rockwood Music Hall Stage 2 often gets the sound right (or at least really good), I can't recall it ever being better than last night.
Greg is always an excellent vocalist, but last night was perhaps his best effort (possibly due entirely to the sound engineer getting everyone's levels perfect).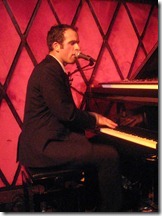 Greg was as masterful as ever on the grand piano and electronic keyboards. We typically sit/stand on that side of the stage for a Greg Mayo Band show, but last night we stood very close at a better angle to watch Greg play. Wow!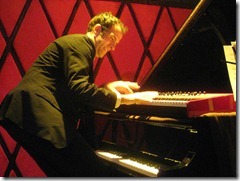 I wondered whether there would be a good crowd, because Greg's set was sandwiched between two paid shows. Logistically, that can be a headache. No worries, it was a large and very energetic/enthusiastic crowd.
It was impossible to stand still. Foot tapping, head bobbing, body swaying, full-on dancing. If you weren't doing at least one of those, you weren't at the same show.
Let's get to the amazing band, left-to-right on stage:
Jeff Richardi on baritone sax. Jeff was filling in for John Liotta, very ably. Jeff took a couple of leads, one was very long and tasty. He also kicked off a number of the songs with a funky bottom.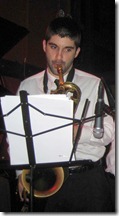 Josh Reed on trumpet. Josh tore it up on one long solo and was consistently excellent on the remaining fills, as always.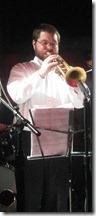 Jon Irabagon on tenor sax. Jon was filling in for Matt Simons. I am in love with Matt Simons sax play, but I still feel a bit silly labeling Jon as filling in. Here's part of the first line of Jon's bio:
winner of the 2008 Thelonious Monk International Saxophone Competition
Yes folks, we had a superstar in our midst. That's what can happen at any time at a place like Rockwood. Jon hasn't forgotten his friends as he's moved up the ladder and when given an opportunity to sit in, happily took it. Happily for us as well!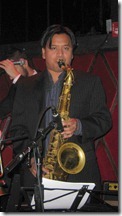 Kenny Shaw on drums. It's been nearly a month since we've seen Kenny hit the skins. Something was probably askew with the universe, as we've seen Kenny more often this year than any other drummer. He was on fire last night, so I guess he felt he had to make it up to us. OK Kenny, we're back to even again. Until next time! (which I hope will be this Friday, 8pm, Rockwood 1, for Rebecca Haviland's show)

Chris Anderson on electric bass and vocals. Chris always delivers on the bass. He also sings background on every Greg Mayo Band show, but without Rebecca's voice last night, Chris was way more prominent on the harmony with Greg. Given how good the sound levels were, he was crystal clear and really did a great job. Way to belt it out Chris!
Paul Maddison on electric guitar and vocals. Paul was excellent throughout on both. During one number, Greg seemed to finish the song abruptly. A few people clapped, but it didn't feel like the song was actually over. In fact, they took the few seconds of silence to morph it into a song by a band that Paul Maddison and Kenny Shaw are in, which Greg Mayo produces.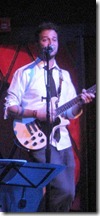 Paul sang two verses of Lipstick on My Booty, a staple of The Thang Band. I've seen one Thang Band show, and have been waiting (impatiently and excitedly) for another opportunity.
To prove that the original song wasn't over, after singing the second verse of Lipstick, they morphed back into the original song and Greg finished it up big. A nice tease for The Thang Band.
Paul also sang a lot of background vocals on the other numbers, often with Chris Anderson as well.
Robbie Gil was called up as a special guest star on two numbers. One in the middle of the set and again for the encore. Robbie has a very powerful voice, which reminds me of Joe Cocker. He fit in perfectly with Greg's sound, and sang a verse on lead in each number, along with background for the rest of the song.
Here's the set list:
At one point, Greg introduced himself. After saying that he was Greg Mayo, he added: "Or when my mom is in the room, like now, Gregory is OK as well".

The audiences at Rockwood definitely like the human interest side of their artists (we certainly do), so everyone started looking around immediately. At first Greg said "Perhaps she doesn't want attention called to her". That didn't stop people from trying to figure out who it was. So, eventually, he said "Mom, raise your hand". She did and we were all satisfied and allowed Greg to back to singing.

A great show which definitely made going out on a chilly Saturday night the right decision. I think Greg mentioned that the next Greg Mayo Band show was on December 17th, also at Rockwood 2, but the website doesn't go out that far yet, so double check.
Some shots of the brass section and the rest of the band (can't see Kenny or Greg in these angles). Last shot is of the encore, with Robbie Gil back on stage: