Send to Kindle
We missed a bunch of great shows last week due to the extended holiday weekend and the wonderful company that was up from Richmond to spend it with us.
Rebecca Haviland was appearing at Rockwood Music Hall on Friday night, and that's the only show we had planned to abandon our company to go see. Unfortunately, our goddaughter baked one of her world-famous apple pies and got permission from Lois for me to have a slice (the answer is often hit-or-miss). Couple that with their latte machine (cherry, or cherry chocolate that night, amazing!) plus an awesome bottle of port, and well, somehow, we didn't make it to Rockwood…
The saving grace is that we knew Rebecca was playing again, last night, at Arlene's Grocery. While I prefer Rockwood over Arlene's for most shows, I admit that I was more excited to see Rebecca at Arlene's this time around. She's a rocker, and Arlene's is well-suited for rock shows (much more so than Rockwood 1).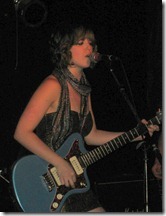 Even if we had seen her at Rockwood, it would have been worth coming out again, for the contrast in venues and the swap of two band members.
We never worry about whether Rebecca's sets will be good, they always are, last night too. If there's ever a concern, it's about the sound. Arlene's has a very good sound guy (Howard), but on occasion, it can get too loud. Last night the volumes were all balanced perfectly. In fact, Chris' vocals were at a better level than any other show. More on Howard the sound guy a bit later.
In addition to Rebecca's voice being extremely tasty throughout, on one number Howard cranked the reverb but had a long delay on it (unless Rebecca was controlling that through her pedal). It sounded like Rebecca had a background vocalist singing with her (rather than a trail or echo). It was an extremely cool sound, hearing Rebecca twice.
When Rebecca got to If You (possibly my favorite song of hers, but there's no shortage of songs to love), she called out that if the audience didn't know when to sing, they should follow me. Ha! Indeed, good advice, since I belt it out whenever I can (even at home, without the CD on, seriously!). Sorry Krista, I hope I wasn't too loud, sitting right next to you.

Let's cover the band, right-to-left this time (not my normal direction), then return to Howard the sound guy:
Chris Anderson on electric bass (two of them, one an 8-string) and vocals. Another excellent performance on the bass, in particular, on Money, when Chris was wailing fantastic bass lines while Todd was ripping up the keyboards. More importantly, as mentioned above, Chris' vocals were leveled perfectly and he sounded great singing with Rebecca on every number.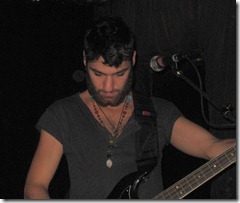 Chris asked for less of Rebecca's vocals in his monitor, and Rebecca asked for more of Chris in hers. Chris was particularly impish last night (in general), and after that exchange, hilarity ensued.
Kenny Shaw on drums. Kenny wasn't able to make Friday's show, even though he's Rebecca's normal drummer. Always a treat to see him. Many of the numbers last night called for slower, but deeply rhythmical (jungle/swing) drumming. Absolutely wonderful.
Todd Caldwell on electronic keyboards. (The site linked to his name isn't fully active yet, but hopefully it will be in the near future.) I'd never seen Todd before, and I'm very glad to have corrected that oversight. An incredible keyboard player who took a number of wonderful leads throughout the set. I already mentioned above that he ripped it up on Money.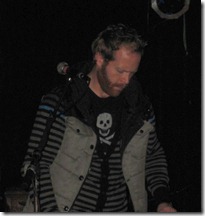 In 2007, Stephen Stills selected Todd to tour with him. In addition to holding on to that role, he was also invited to play with Crosby, Stills and Nash, another continuing role. Need I say more? I didn't think so!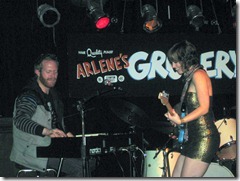 I've noted in other posts that Howard (the sound guy) is one of the hardest working people I've seen. His dedication is impressive. After working the stage to set everyone up, he comes out of the booth during the show to stand in the audience to hear it like we do. During one number, he thought that the electric guitar was a bit too bright. He left the room and came on stage from a side door. He moved a mic that was in front of the amp about four inches further away. That solved the problem perfectly.
He's also a fan of Rebecca (which means he has good taste too). When her set was over, he asked them to play one more. Folks, it's highly unusual for a sound guy to do that. They often allow the extra number, but rarely insist on it, like Howard did. Rebecca noted that it was almost time for the next band to go on, but Howard told her to play on!
Then he said something into his mic that cracked me up: "Don't worry, once you start playing, I'll turn off the sound."

So, the impromptu encore is not listed on the set list: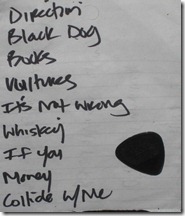 We were both pooped and a bit under the weather, so we bagged another show we were planning on seeing at Rockwood and most unfortunately a special birthday party that we had hoped to attend as well.