Send to Kindle
Dennis Lichtman blew me away the only time I saw him, 10 months ago, at Mona's. That night, he was doing his weekly Mona's Hot Four gig, where he plays the clarinet. Our friend Melissa Tong took us there, specifically to hear Dennis. Here's what I wrote about his clarinet play and her response to me:
Dennis Lichtman was that clarinet player. When I mentioned that to Melissa, she told me that he doesn't consider the clarinet to be his strongest instrument. Say what? Now I have to find him and watch him play every other instrument, first ensuring that my seat belt is on and my tray table is locked in its upright position!
Dennis has another regular setup called The Brain Cloud. In that group, Dennis plays mandolin and fiddle. I've had a number of close encounters trying to get to see The Brain Cloud. They used to play every Monday night at Banjo Jim's. I assumed I'd catch them there sometime, but then Banjo Jim's closed.

That Monday gig moved to Barbes in Brooklyn. I might make it there, but the stars need to align (and I have to update my passport) to get us to Brooklyn (where we both grew up and spent all of our formative years).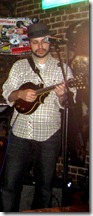 When I got Dennis' email newsletter announcing a show at Rodeo Bar, not too far from our apartment, I knew that nothing else happening in NYC last night would push this off my calendar (and there was a ton happening at Rockwood Music Hall!). We had never been to Rodeo Bar (27th Street and 3rd Avenue), but we've driven by it 100 times. I had no idea they had live music, now I do.
We walked over thinking that this would be a noisy neighborhood bar (not unlike Mona's) with Brain Cloud playing in some corner. Happily, I was wrong (I usually am). Rodeo Bar is a Tex-Mex restaurant bar, with two rooms. One is a more typical local sports bar, and the other is more of a casual restaurant with a real stage area. They have a real sound board and a full-time sound engineer working it. We were both extremely impressed with the sound quality.
The people in our room were an awesome audience. Super quiet during the songs, fully appreciative after each song was over. While we only had drinks, the food looked so good that I'm sure we'll be back for a meal, with or without music being involved.
On to the music. The Brain Cloud is a mix of Bluegrass, Old Time Jazz, Western Swing, Big Band Lite, etc., sometimes all together in a single song. It's all covers (or at least everything on their CD and in last night's show were), so the musicians better be good.
Not to worry my pretties. Dennis is indeed masterful on both the mandolin and fiddle. I might still prefer his clarinet play, but that might also be biased by that being my first introduction to him. Dennis also sang a bit of background harmony. There are five more people in Brain Cloud. The bass player and drummer from the CD were not part of last night's lineup.
Left-to-right on stage:
Skip Krevens on electric guitar and lead vocals. Skip played the electric beautifully. He sang lead vocals on one song. His vocals last night were OK. On the CD, he sings lead on one song and comes across much better.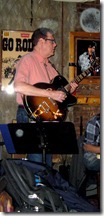 Raphael McGregor on lap steel guitar. Fantastic! Tasty play, including duels with Dennis.

Tamar Korn on lead vocals (lots of links about Tamar, but I couldn't find her own website). Tamar has a voice that is very suited to Bluegrass and old-time Jazz (like the Andrews Sisters). It's high, and has a bit of a Betty Boop flavor. She's a showman (showwoman?), in her expressions and movements, including dancing around when she's not singing. During one instrumental, she sat right near us and couldn't have been lovelier.

Scott Kettner on drums. Scott is not the drummer on the CD, but I didn't feel cheated. He was excellent, including a number of solos. This style of drumming is generally understated, but that doesn't make it easy.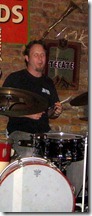 Ian Riggs on upright bass. Ian was also replacing the bassist from the CD, and as with Scott above, I thought Ian was excellent. He took a number of solos. In one number, Ian and Scott traded solos back-and-forth, with Scott supporting Ian on the high-hat. Wonderful!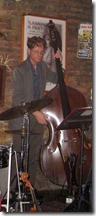 I mentioned above that Tamar sat next to us during one of the instrumentals (she sat for two songs, the second was when Skip sang lead). The instrumental was Mission to Moscow. It was awesome.
When the first set was over (they played two sets, split over three hours) I went up to Dennis and bought a copy of The Brain Cloud CD (it's self-titled). When I popped it in this morning, I was thrilled to find that Mission to Moscow was the first song. The entire CD is excellent.
Glad to have finally caught Dennis again, playing two additional instruments. Glad to have discovered Rodeo Bar. Glad to have been able to walk to/from a music venue.