Send to Kindle
We spent the entire night at Caffe Vivaldi last night. The middle set was someone we hadn't heard of before.
Clara Lofaro impressed us enough when we checked her out before heading down, so we weren't planning on just passing time during her set.
Clara performed solo accompanying herself on the grand piano with the exception of 1.5 a cappella numbers.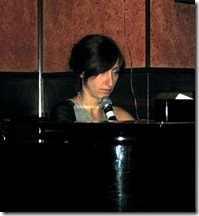 She has a beautiful voice and plays the piano very nicely. She has a relaxed style with a very nice stage presence.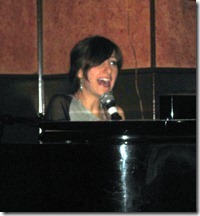 The songs available online (on her site and on MySpace) are produced with a full band sound. They're excellent and have a vibrant feel to them. Last night was a bit more raw and stripped down (obviously), but that didn't change the character/mood of the songs.
She's talented, period.
The .5 a cappella mentioned above came toward the end of one song, when she stood up and shifted gears, singing and clapping to finish out the number (actually, I think she morphed it into anther one, but I don't know her music well enough to be sure).
She was ready to pack it in when everyone asked her to play some more. The bartender told her should could do at least two more. So, after doing two more on the piano, she stepped out from behind it and closed the set with an a cappella number that was wonderful. She put everything she had into it (voice/body/spirit) and it came across really well.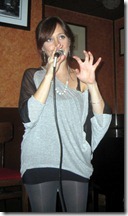 A lot of her friends were in the audience. They knew every word to every song. They often sang along (even in the uninvited times). That can be a ton of fun, when done well, but I'll admit that they weren't always on key, or consistent with their volume. Very nice that they were so into it, but they might have interfered a bit with a new fan's attempt to get lost in the song.
More frustrating though were the times when they weren't singing. At least 50% of their quiet time was hardly that. They were chatting up a storm with each other. I get that they know the songs cold and were partially out to simply support their friend, but with support like that, who needs detractors.
While Clara never called her friends out specifically (and it's pretty clear they weren't the only rude people in the audience). She noted that when she stopped talking, the audience instinctively quieted down. She turned that into a few very warm moments, as she toyed with talking/singing/silence to prove her point. In other words, people know they can be heard, but if they have the slightest cover from the artist's singing, they are emboldened to take up their conversations again, loudly.
Of course, the minute the song is over, they clap loudly and generally whoop their appreciation.

In any event, while we could have enjoyed the set more if it were quieter, we liked Clara enough to warrant going to see her again, hopefully with a more respectful audience next time.