Send to Kindle
Last week I scanned the Rockwood Music Hall website for this week's shows. There was a show listed for last night simply labeled: "A Holiday Benefit". The performers were a mixture of our favorite who's who, plus a couple of groups we have wanted to see for a while, but scheduling has gotten in the way.
I snagged two tickets and excitedly waited for the week to pass. It turns out that this was the fifth (and unfortunately last) installment of this particular annual Holiday Benefit. It is organized by Benjamin Wagner (with some others who helped co-found it). The money raised is for 826NYC. Great cause, great people involved in raising the money and great musicians all around.
Bottom line: my expectations were very high. I was blown away beyond those expectations on two levels: most of the people we know brought their A+ games and we discovered some people that became instant favorites!
There were 16 acts (individuals and groups), some accompanied by a house band. Each act performed two numbers. The entire atmosphere at Rockwood was that of a party filled with loved ones. In fact, some of the musicians noted (on Twitter, and probably elsewhere) that it was more like an Office Party for them, given how many musicians were performing and in the audience. We were thrilled to participate in said party.
In addition to the ticket price going to the charity, this was also an official CD Release Party. Physical CDs were on sale for $10. $20 got you the physical CD of A Holiday Benefit #5 plus downloads of the previous four albums. Of course we did that. We kicked in more money later to purchase CDs by some of the performers, signed, with the proceeds going to 826NYC as well.
At the end, the encore involved inviting all of the performers back on stage together to sing one last song. It was hard to count accurately, as people kept jumping on stage (even some who didn't perform earlier), but I'm 99% sure that at one point there were at least 26 people on stage at the same time. If that's correct, that's a new record for a show I've attended (sorry Sam Teichman, you have your work cut out for you now!).

There's no way to review a show like this without spending an entire day writing (something I don't have the time to do today, nor the inclination). In fact, it's sort of beside the point. What I'll do instead is similar to what I did for the Haiti Benefit nearly two years ago. I'll list the acts in the order they appeared, and mention who supported them. When first mentioning a support person, I might say a few extra words.
Mary Bragg (#1). Mary was new to us. Great voice. On her second number she also played acoustic guitar. She was accompanied by two very talented people, who I think played only with her. I'll list them next.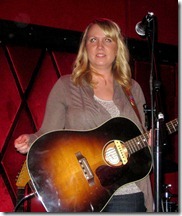 Mike Cassedy on electronic keyboards. Excellent. Mary gave him a couple of leads and he was great.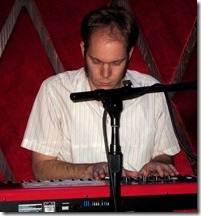 Jimmy Sullivan on electric bass (no good individual link). He too was excellent. He made the electric bass sound exactly like a very jazzy upright on one of the numbers. He was smooth.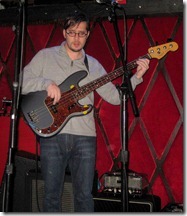 Casey Shea (#2) on electric guitar and vocals. Casey was wonderful. In addition to singing and playing well, he was very funny. He had two female backup singers, each of which was a lead performer later in the show, so I'll save their names for their proper spots.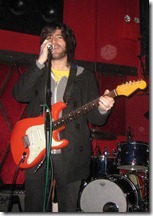 Casey brought up Sean White to read a poem to end one of his songs. It continued the comic nature of an otherwise horrifyingly sad song (my house burned down on Christmas).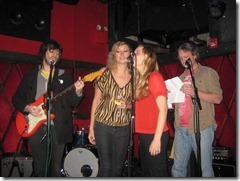 Paula Valstein (#3). We've seen Paula once before, at the Haiti Benefit. She played solo at the electronic keyboards. Great voice, excellent piano play. Definitely someone we need to check out more (one of our friends has been telling that to me for a while). Paula was also one of Casey Shea's backup singers.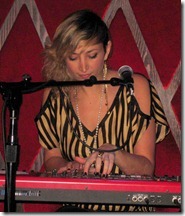 Astoria Boulevard (#4). Wow! I can't believe I never heard them (or of them) before. Three guys who sing heavenly three-part harmony. They're funny and natural on stage as well. They opened the first number a cappella and knocked me back a few steps with how awesome they were.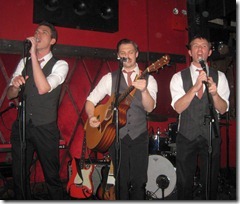 Guitar, ukulele, harmonica and kazoos were played too. They were supported by the default house band (the next two people listed).
Ryan Vaughn on drums. Ryan was fantastic playing with roughly half of the acts last night. Ryan also joined for Mary Bragg's second number, so I should have listed him earlier.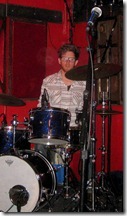 Tony Maceli on electric bass. Tony was his usual excellent self whenever he was on stage, which was a bit less than Ryan, but still the primary bass player for the evening.
Dave Pittenger (#5). We've never seen him, but I've heard of him many times. Mostly because he's producing Live Society's new CD (or at least I think it's him). Dave invited two special guests up, Bess Rogers and Chris Kuffner to kick off his first number. Dave and Bess flubbed Baby It's Cold Outside a bit, but turned it into a very good natured thing.
Chris played the electric guitar in an understated but fascinating manner. When they had to restart, he signaled to Ryan and Tony to join in, filling out the sound.
Dave then performed a second number accompanying himself on the electric guitar (with Ryan and Tony playing).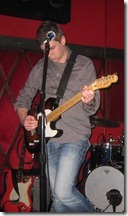 Misty Boyce (#6). Misty kicked off her numbers on the guitar (I didn't know she played the guitar), with the second number on the keyboards. Her voice is fantastic. In addition to playing the keyboards really well accompanying herself, she also played them with a couple of other acts, super tasty every time. I've been wanting to see her perform her own set for a while and this only increased that desire. She was the second backup singer supporting Casey Shea.
Nick Africano (#7). We hadn't seen Nick before. (That's a total lie, Nick played with Misty during her first number, so we saw him before he took center stage!). He played the guitar beautifully (subtle slide leads). When he took over, Misty played the keyboards and she called up Bess Rogers, Paula Valstein and Charlene Kaye to sing backup. Very nicely done. We will be on the lookout for Nick in the future.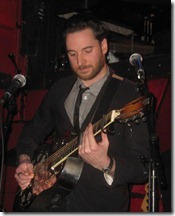 Greg Mayo Band (#8). OK, it was technically the Greg Mayo Band, without the brass section. They also weren't wearing suits, so I'm not sure how official this appearance was. That said, they were incredible, so I have no complaints! They had a guest vocalist and percussionist join them, but since each was a headliner as well, I'll mention them later.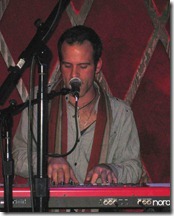 Here are the people that were in the Greg Mayo Band setup last night (left-to-right on stage, not including the guests):
Paul Maddison on electric guitar and vocals. Wonderful.
Rebecca Haviland on vocals. Spectacular.

Kenny Shaw on drums. Excellent.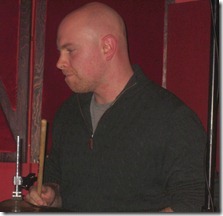 Chris Anderson on electric bass and vocals. Superb.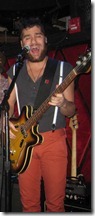 The Vanity Belles (#9). We've seen them sing backup with other groups. We've seen them perform on TV twice. Unbelievably, this was the first time we saw them perform as The Vanity Belles, live. We're proud supporters of the ladies through their recent (successful) Kickstarter, so this was one of the extra special reasons why I wanted to attend. Of course, they were fantastic. Whew!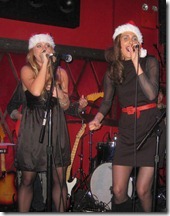 Patrick Firth played electronic keyboards for them. Joining him to round out the band were: Greg Mayo on guitar and Chris Anderson on electric bass. The drummer was already on stage before with the Greg Mayo band (as the guest percussionist) but I still haven't mentioned his name (soon, don't panic!).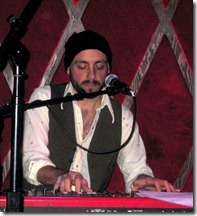 Oscar Bautista played electric guitar as part of The Vanity Belles band. He is always great, so I wanted him to have a paragraph for himself.

Another reason to give Oscar his own section? He broke out the mandolin last night, one of my favorite instruments. Sweet!
Next up was another group I've wanted to see for a long time.
The Stone Lonesome (#10). This is duo of Zach Jones (finally got to mention him) and Emily Long. We've seen Zach drum many times (including earlier last night, and he was the guest percussionist with the Greg Mayo Band as well). He's an awesome drummer. I also knew that he sings well, and that was proven when he was front-and-center with Emily last night. What I didn't know was that he also plays the guitar. Emily sings really well too and the two of them sound great together.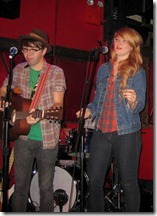 Brian Killeen supported them on electric bass, a perennial favorite of ours. He was joined by Ryan Vaughn on drums and Greg Mayo on electric guitar. Zach let Greg take a number of fantastic leads. The entire night was amazing, but I would have left happy just for the guitar solos that Greg took during The Stone Lonesome songs!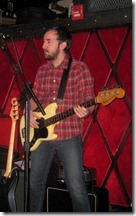 Martin Rivas (#11). Martin had previously sung as a guest with the Greg Mayo Band, wonderfully. He now took center stage and wowed everyone with two of his own songs (one a Christmas number, the other off of his new CD, due out in May, 2012). He was supported (incredibly) by Patrick Firth, Greg Mayo, Chris Kuffner, Zach Jones and Brian Killeen.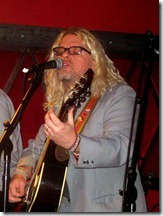 A few items were raffled off during the evening. One of them was a jar of Martin Rivas' world-famous spaghetti sauce (or is it more properly referred to as tomato sauce?!?). Anyway, we won it (see the proof here and again in a couple of the photos at the very bottom!). Can't wait to savor it!
Chrissi Poland (#12). We've only seen Chrissi singing backup with others. We knew she had an extraordinary voice but I have to say that I still didn't understand the full effect of it until last night. Another wow. We won't be attending, but if you want to catch her headlining a show, with Martin Rivas opening, head to Highline Ballroom this Sunday night (Dec 18th, 2011). You won't be disappointed!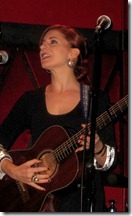 On her first number, she played guitar and was accompanied by Patrick Firth, Greg Mayo, Rebecca Haviland, Martin Rivas, Ryan Vaughn and Brian Killeen.
She then put the guitar down and blew everyone away accompanied by the same band, minus the backup singers (Rebecca and Martin). Her voice and stage presence had us eating out of her hand.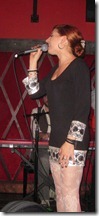 Caleb Hawley (#13). Caleb is one of my favorites and I'm always disappointed when I can't make it to one of his shows (which happens more frequently than I care to admit, including the night before!). At least I got a taste last night to hold me over until his next full show.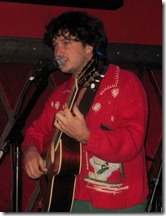 Caleb was supported by Patrick Firth, Ryan Vaughn, Zach Jones and Brian Killeen. There was dancing in the audience (not atypical of any Caleb performance), but I won't post the pictures, since those people didn't sign any waivers.

Benjamin Wagner (#14). Benjamin was our host throughout the show, introducing each act as they were coming on stage. Now it was his turn to shine and shine he did. He has a wonderful voice and he wielded it for our delight. He was joined by a stellar band. I'll mention all but two of them, since they were the next two headliners and hadn't yet made an appearance.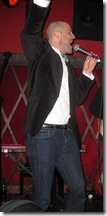 Misty Boyce on keyboards, Chrissi Poland singing backup, Ryan Vaughn and Tony Maceli. All, great!
For his second number, additional backup singers joined: Mary Bragg, Bess Rogers, Paula Valstein and Martin Rivas.
In true showman style, Benjamin left the stage and prostrated himself right in front of us!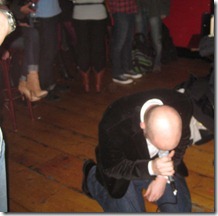 Bryan Dunn (#15). Bryan also played guitar on Benjamin's set. Bryan is wonderful all around. When Benjamin introduced him, he said "Bryan is normally a rocker, but he's going to bring you down a bit with his first number." Ha! I hope no one fell for that. It might have started out sounding like a ballad, but Bryan had everyone hopping in no time.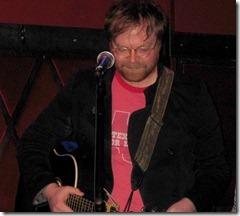 Both his numbers were fantastic (and no, I wasn't the least bit surprised!).
He was supported (wonderfully) by Misty Boyce, Ryan Vaughn and Tony Maceli. He also had another guitar player and vocalist, but since he was the next headliner, I'll save his name for the very next line.
Chris Abad (#16). Another wow for me. He played guitar for Benjamin and Bryan Dunn and sang harmony with Bryan. His guitar play was awesome. It looked like he was playing one of Greg Mayo's two electric guitars, so for a minute, I thought that perhaps Greg just has magical guitars and anyone could make them sound this good. I checked after the show, and the guitars are just look-a-likes, so apparently Chris is just really that good.

He also sang at center stage when Bryan was done, and did a great job. He was supported by Misty Boyce, Bryan Dunn, Ryan Vaughn and Tony Maceli. If I heard correctly, Chris also produced at least one of Bryan's CDs, perhaps the upcoming one as well. Talented guy, no doubt!
For his second number, he was joined by a slew of backup singers: Mary Bragg, Bess Rogers, Paula Valstein, Charlene Kaye, Chris Kuffner and Benjamin Wagner.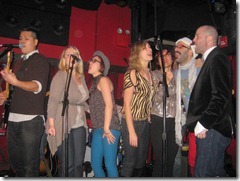 Like I said above, the finale had a ton of people on stage. Here are some photos:
One of the only performers who didn't hop on stage was Kenny Shaw. When Martin tried to get him to come up, Kenny seemed to motion to Martin to come down instead. Martin took it as an invitation to have Kenny hold him in his arms. Kenny obliged!

We shared the evening a number of friends. In one of the photos you can even see our hard-won jar of sauce (I went with the cautious "sauce" with no modifier there).
Here's a shot of our bounty from the night: