Send to Kindle
We're both fans of Country Music in general and of Joey and Rory specifically. We've never seen them perform live before last night. We love Joe's Pub, including the wonderful remodel. It is a great place for Country acts, consistently drawing audiences that are starved for that sound in NYC. This was Rory and Joey's first-ever NYC show, a perfect match.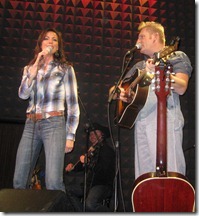 Rather than read this post, I strongly urge you to read their bio, in its entirety. The first paragraph is:
Often times, Nashville goes to great lengths to sell you on how 'real' an artist is. Sometimes they're not quite as genuine as they are advertised to be…but then again, sometimes they really are.
This one feels so real. Their on-stage chemistry is fantastic. Their videos are a blast (that's how I discovered them, Lois knows everything about Country Music, so she probably has other magic ways of knowing about them).
This tour is called A Farmhouse Christmas (if you did your homework, and read the bio, then you know they really do live on a farm, in a farmhouse). Roughly half the songs were Christmas ones (all lovely) and the rest were their own hits plus a few that Rory wrote that others cut.
One of those is one of our favorite songs, The Chain of Love, cut by Clay Walker. Somehow, we didn't know Rory wrote that song, which is crazy, because Lois always knows who wrote every song she loves. I admit to choking up every single time I hear that song, even though I (obviously) know exactly what's coming.

Joey has a gorgeous voice and an extremely gentle stage presence. There's a spiritual aura about her. She also played acoustic guitar on a few numbers.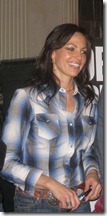 Rory is a great songwriter, with a wonderful voice and good guitar skills (very nice finger picking). They sing beautifully together.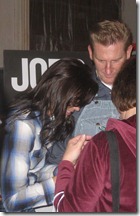 Rory is very funny. It may start off feeling a bit corny to those who don't know anything about him, but the genuineness of it catches on pretty quickly and engulfs you in his homespun, aw-shucks style.
I have no doubt that Joey and Rory could enthrall by themselves. They choose to take it up a few levels from there, bringing a top-notch band to support them on stage. Joe's Pub is not a large place. A full Country band could overwhelm the audience. That shouldn't happen with truly professional musicians, which certainly describes their band. The sound was perfect.
I found it extremely difficult to track down the names of their band (they should make it more prominent on their website, IMHO). They did introduce them last night, but I didn't take notes, because I assumed it would be easy to find them. If I got any of them wrong, my humble apologies, they deserve to be called out.
I'm actually going to give up (though I found the most important name, I think, in a single link on Google). Here's a CMT article that talks about the tour, and even there, they simply say that Joey and Rory are traveling with a four-piece band. That's just bad.
Left-to-right on stage:
Tommy McCaleb on dobro and acoustic guitar (no good link). Absolutely masterful on both. He single-handedly elevated the musical quality of the set. In addition to taking a lead (or a number of them) on each song, his play was fantastic even while they were singing, subtle but always enhancing.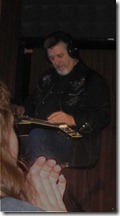 Fiddle player. Subtle, but excellent throughout. He was highlighted a few times.

Drummer played on a reduced kit. Snare, kick drum and three cymbals. He was excellent as well, sang a drop of harmony.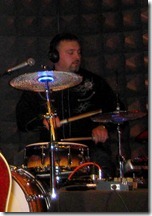 Electric bass player. Extremely subtle, enhancing the sound without ever overwhelming Joey and Rory.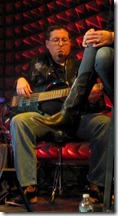 Heidi Feek on vocals. Heidi is one of Rory's two daughters. She sang background vocals on nearly every number. Then on one Christmas song (later in the show), she took an entire verse on the lead. She followed that up with a solo number that she wrote (accompanying herself on Rory's acoustic guitar). She has a very powerful and beautiful voice. She has a musical career independent of Joey and Rory, but is supporting them on this tour, wonderfully.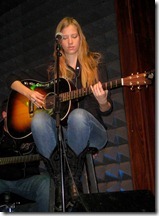 Here's a set list for the tour. They played most of the songs on it, but it wasn't an exact list. For example, The Chain of Love isn't listed. They negotiated a few of the numbers on stage before doing them.
We're often the first in line at Joe's Pub (even though we have tickets with assigned seats). That was true last night as well. That gave us plenty of time to chat with the woman working the merch table for Joey and Rory. It turns out that it was Rory's other daughter, Hopie.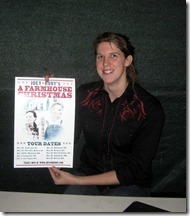 She did a good job selling us on visiting the restaurant that Joey co-owns, with Rory's sister. One of these days, when we're driving from Birmingham to Nashville, or vice versa, we'll just have to do that! It's great to see these two young women happy to be traveling with their parents.
We had a table for four and shared it with two friends who happen to be singer/songwriters themselves. We had an excellent meal before the show started (even though Joe's has not yet completed their full kitchen renovation).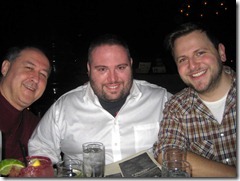 An absolutely wonderful evening (or rather beginning of it, since we went directly from this show to another one at Rockwood Music Hall).