Send to Kindle
We love so many people that we consider family. However, there are a few full families that are truly our extended family in every possible way. One of those families lives in Leesburg, VA. They (parents plus three children) were supposed to spend Thanksgiving with us in NYC. Unfortunately, life intervened and they had more urgent business to attend. Thankfully, we were able to reschedule to get them up for Christmas.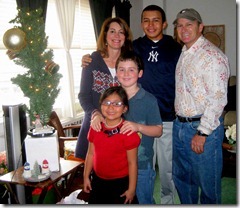 On Friday (when they arrived), after having a fantastic meal at Jackson Hole (probably still our favorite burger place in NYC, though there are so many spectacular ones), we did something unusual for us (and them as well). We split up completely!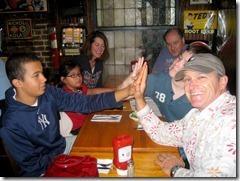 The parents took the 5-year-old girl to see the Radio City Music Hall Christmas Spectacular. They reported that it was fantastic and the girl was mesmerized throughout!
Lois took the 13-year-old to see the new Mission Impossible: Ghost Protocol. Neither was too enamored with the movie. If a 13-year-old boy doesn't come back raving about such a movie, that's all I need to know about it.

I took the 11-year-old to see Blue Man Group. It was my third time, his first. It's been quite a while since I last saw it, so I was quite excited to go again. I was really pleased to see that while the basic show was the same, they created a few new acts, replacing some others, while keeping some real crowd pleasers. In other words, even I got to enjoy some new things (I enjoyed the original material as well).
Needless to say, the 11-year-old was thrilled and had many mind-blowing guffaws during the show. The toilet paper part (a staple) will probably live with him forever.

All seven of us met up at our favorite NYC restaurant for dinner: The Peking Duck House. The parents had been there twice before, but this was a first for all three kids. The meal was a huge success (it never isn't, but I feel compelled to report on it nonetheless). Even though everyone professed to be stuffed to the gills, when offered ice cream for dessert, amazingly, everyone found an extra spot to stick it in.

Not to slight any other activity, because the weekend was 100% incredible, but the main event (and hence the title) was all seven of us going to see Wicked on Saturday afternoon. It was our (Lois and my) 12th time. It was a first for everyone else. I will admit to being a bit nervous as to whether the kids would like it.
When we looked at our programs and saw that the two leads were the same ones we saw last time: Jackie Burns and Chandra Lee Schwartz, Lois and I knew that at a minimum, we would be enthralled. Thankfully, all seven of us loved the show.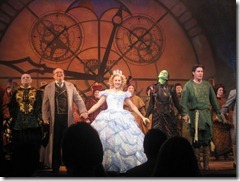 To be honest, the two ladies were even better this time than last time (and they were amazing last time). The only weakness in either of their performances came in the the last big number, For Good, which they had trouble with the previous time as well. This time it was better. Each had trouble with their solo, but they came together beautifully for their harmonies (not so last time). Otherwise, their acting and singing were pretty much flawless.
There were two other changes in significant characters. Madame Morrible was played by someone we hadn't seen before. Neither Lois nor I liked her performance. In fact, Lois thought her acting threw Jackie Burns off a time or two (I think she might be right). She wasn't bad, and if it was my first time I probably wouldn't have known better. Still, practically every other Madame Morrible we've seen was better, including the last one, who we particularly liked.
Fiyero was new to us as well. I think that last time we saw an understudy for this one. I found his acting not quite as loose as some of the others (including the last one), but his singing was good. In particular, he nailed the difficult duet with Elphaba in the woods (As Long As You're Mine). So much so, that Jackie Burns nailed her part. I dinged her a bit on that number the last time out.
The Wizard (Tom McGowan) was as wonderful as he has been each time we've seen him.
So, a huge success (like I said, every activity was, except for possibly Mission Impossible).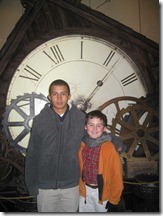 We walked to the theater, having lunch at Z Deli around the corner. Afterward we walked back and headed straight to The Capital Grille. I like a lot of steak houses, The Capital Grille among them. While I've been there many times, this might have been my best meal there. It would be hard to imagine a more pleasant way to spend time with family on Christmas Eve!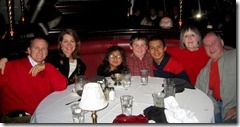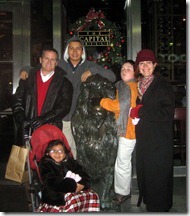 After dinner I watched The Matrix with the boys (their first time). We paused a bunch of times early on to discuss the mind-bending plot. Once the real martial arts scenes kicked in, they were done discussing and were more intrigued by the acrobatics.

We got to spend more quality time with everyone on Christmas morning, then they hit the road back to Leesburg. As sad as we were to see them go, our hearts were full from a literally perfect weekend with loved ones.
Rather than collapse, we continued the weekend festivities by meeting another good friend for lunch. I can't speak for the ladies (each of whom ordered eggs), but my tuna melt was as good as it gets. So was our conversation, which we lingered over long after the meal was done.
P.S. The 11-year-old was enamored with my toy (my You Rock Guitar). He couldn't put it down the entire weekend.