Send to Kindle
Sierra Noble was opening for Michael Sackler-Berner at Joe's Pub last night. We weren't supposed to be in NYC. After missing Sierra last week, when she played a co-bill with Rebecca Haviland, we decided that we had to get our priorities straight. We cut our trip short and returned in time to attend with two friends.

Joe's Pub was our favorite venue in NYC for nearly four years. For a number of reasons, we ended up not attending a single show there for 20 months! Now that they've remodeled the inside and switched to assigned seats (tables), we've been back three times in seven weeks. I'm sure we'll continue to attend regularly.
Sierra played a full set (which was so welcome, because sometimes openers get short-shrift) and was fantastic on every number. As always, she switched between acoustic guitar and fiddle, impressing on both. Of course, her vocals (even though she was fighting a cold) were amazing.
All that said, she's simply a great songwriter (and she picks great people to co-write with as well), so even if her cold had been worse, listening to her (and her band) play those songs would have been worth the trip. Here's the set list: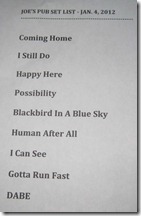 Speaking of her band, let's give them the credit they are due, left-to-right on stage:
Greg Mayo on electric and acoustic guitar and vocals. If this isn't your first time here, then you know that Greg Mayo is my favorite local guitar player. If it is your first time, now you know that too!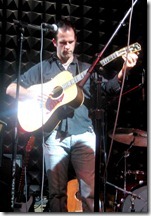 When Sierra was on acoustic guitar, Greg was on electric. When she was on fiddle he was on acoustic. He sang a lot of harmony and was as good as he ever is.
Seth Faulk on drums and vocals. Seth was masterful on the drums, which for most of the set were on the very subtle side (lots of brushes, with some mallets thrown in for good measure). He got to let loose on the last number, DABE, which is a collection of fiddle tunes that are highly energetic.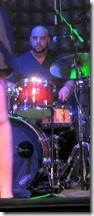 Seth has a wonderful voice (I've written about that a number of times) and he sang even more than Greg did. Most of the time it was three part harmony with Sierra and Greg and it was luscious.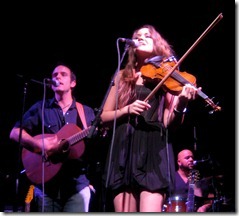 Brian Killeen on upright bass. Brian was filling in for Chris Anderson who is on vacation. Since Brian is independently one of our favorite bass players (as is Chris), I wasn't nervous as to whether Brian would sound good, even though he's not familiar with Sierra's catalog. I was right, no need to worry.

The biggest difference was that Chris sings a bunch with Sierra and Brian doesn't know the material well enough to fill in there.
That led to another highlight of the set.
Martin Rivas was invited up to sing the duet Human After All (that Chris has been singing with Sierra at the last few shows). Martin has such a great voice and knows the song well. Sierra and Martin nailed it.
Sierra co-wrote Human After All with Michael Logen. When I first saw Michael Logen perform, he did that song solo. After the show I went up to him to ask whether it had been on TV. I told him I was sure I heard it before and fell in love with it instantly. He said it had come close to being placed, but sadly, was never on TV.
Then I remembered that I had heard it just the week before, when Sierra played it at a Backscratch. She sang it with Martin that night as well. It turns out that I was prescient. Human After All was just recently featured on Parenthood, on NBC, in season 3 episode 11.
Sierra asked Martin to stay and sing background on the next two numbers as well, creating lovely four-part harmony with Greg and Seth. #winning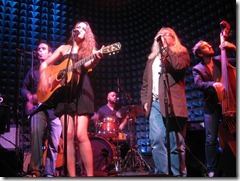 In fact, on I Can See, Sierra asked the audience to sing along. It sounded really good from where I was sitting. I hope it did to her on stage as well.

We had never heard of Michael Sackler-Berner (MSB) before, but were looking forward to serendipitously discovering him.
I really like his voice a lot and he plays the guitar quite nicely (mostly electric, but he switched to acoustic a couple of times). With the exception of a couple of very mellow folky songs (which I liked as well), most of the numbers were very high energy accompanied by a full band.
I had trouble concentrating on the lyrics (not really sure why), but the few times I was able to zone in, I was impressed with his imagery and phrasing. It will require more serious listening to determine whether this is true across a majority of his songs.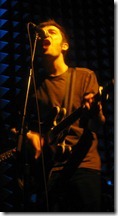 MSB closed the show by inviting Sierra up (with her fiddle). He dismissed the band and played the acoustic guitar. They sang together (beautifully) and each sang verses on the lead. What a terrific way to end the evening!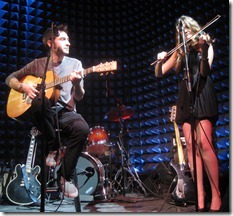 His band was very good and tight. Left-to-right on stage:
Ben Stivers on keyboards (electronic and grand piano). He was quite good on both, including standing for the entire first number while playing the grand piano.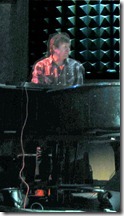 Henry Geller on electric guitar. I can't find a good individual link, but I'm betting he's the guitarist profiled in Rough Waters. He was very good.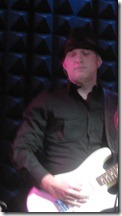 Liberty DeVitto on drums. He was great. Very hard hitter, very energetic, tight as a drum (OK, I couldn't resist).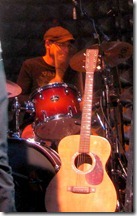 MSB mentioned on stage that he saw Liberty play when he (MSB) was 11-years old and fell in love with him. Later, DeVitto joked that he was just 14 at the time. If you clicked through to the link above, then you know that Liberty was Billy Joel's drummer for 30 years! I'm betting that MSB saw a Billy Joel concert at the Nassau Coliseum when he was 11.
Paul Frazier on electric bass and vocals. He was fantastic on the bass (even though he was handicapped by being a lefty, like Paul McCartney).

He was also the only member of the band to sing harmony with MSB, very nicely! Very impressive performance.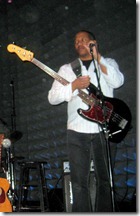 Here's MSB's set list: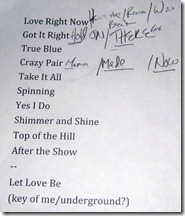 We spotted Liberty as he was heading out and got to tell him how wonderful his play was and snap this picture as well: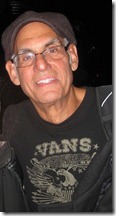 Right after taking that picture, we headed out and got to say hello to Sierra, Seth and Greg. Brian had already left to get the car.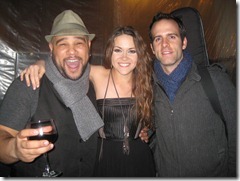 Totally worth having come back early, including enjoying our friends' company before and after the show. The last two times we were at Joe's Pub, they couldn't make me my favorite Chocolate Martini. After they completed the remodel, they hadn't stocked up on Chocolate Liqueur yet.
They finally remedied that situation and I got to enjoy it for the first time in nearly two years. Trust me, if you're ever at Joe's Pub, order the Chocolate Martini. Both of our friends tried it as well (first timers) and I am pretty sure they enjoyed it.