Send to Kindle
Since the remodel, we seem to be racking up the frequent flyer miles at Joe's Pub. We were back there again last night for something different than our usual fare.
The Happy Ending Music and Reading Series is founded, curated, hosted and produced by Amanda Stern. It's been going on for a while (to large audiences and rave reviews), mostly held at Joe's Pub, but I gather not always.
We don't typically take the time to seek out new forms of entertainment (as thought provoking as they might be), given our crazy schedule. It takes an alignment of interests to push our boundaries. Last night it was the musical guests in the Music part of the title that got us to discover this series.
Ian Axel and Chad Vaccarino don't play all that often in NYC (even though they live here), so we grab every opportunity we can to see them, even when the set is known to be short. They were advertised as playing six songs (three to open the show and three to close it). It turned out to be five songs (two then three), but that was fine.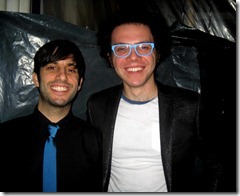 I admit that hearing the other part of the series, authors reading their works, intrigued me.
Amanda opened the show. In order to promote the current sponsor of the series, Three by Three Seattle, Amanda did a pop-quiz, asking the audience about personal habits/foibles, rather than actual facts. People who answered interestingly, won a large magnet (dog, cat or arrow). The questions (and often amusing answers) continued until all magnets were given out.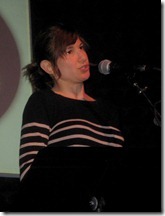 While it was clear from the outset that Amanda is quite clever and quick, I couldn't be sure whether she was nervous or awkward. It was fun, but it wasn't the smoothest beginning I've seen.
Amanda also described the series. Musicians frame the readings. Each author reads for 10 minutes or less (I'm told they get yanked from the stage if they go over, but I don't believe it).

Then each author is required to perform a risk (personal challenge). They are asked to do something that would otherwise make them uncomfortable.
Amanda introduced Ian who came out alone. He sat at the baby grand piano. Joe's has a great sound system and hearing Ian on a real piano (it's often an electronic keyboard) was an absolute joy. Nearly every audience for every type of show at Joe's is there to enjoy the performance (last night was no exception), so it was wonderfully quiet as well.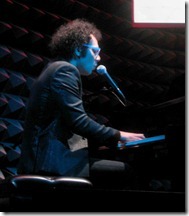 Ian played Waltz and Gone.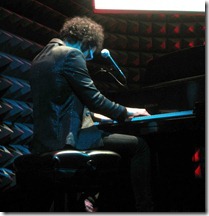 Amanda returned to introduce the first author.
Diane Williams read six short stories. There was very clever writing, pacing, imagery going on, but I can't say it's the type of material I would personally choose to read. A few times (not too many) there were just enough vulgarities that would cause some people to instantly turn off. In most of those cases it wasn't obvious to me whether they added to the story or were there for shock value (or to be cool).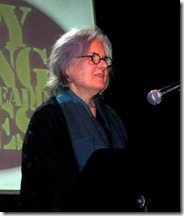 Diane declined to do the risk portion on stage. She noted that simply agreeing to read her stories in public was risk enough for her.

Amanda returned to introduce the next author.
Hari Kunzru read from a chapter in an upcoming book (to be published this spring). It appeared to be about 2/3's to 3/4's of the way into the book. I enjoyed both the concept and his delivery, though of course I have no idea how it fits in with the overall book.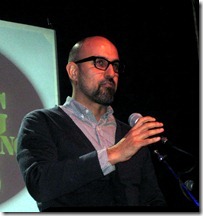 For his risk, Harry told a long (and completely captivating) story, leading up to the actual risk, juggling.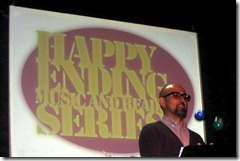 Amanda returned again to introduce the final author.
Adam Rapp read the first chapter from his upcoming book (also to be published this spring). It's the kind of material I used to eat up when I was younger. First-person narrative (though Adam explained that there were four main characters, each of whom has their own voice in the book, but the first chapter is just one of them), that bounces all over the place, keeping your mind juggling (I was inspired by Hari to use that word!) a variety of images, not knowing where they're heading.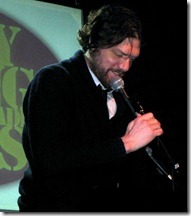 For his risk, Adam sang the chorus to Don't Know Much (a Linda Ronstadt and Aaron Neville tune, one of my favorites). He sang it in his best Aaron Neville impression. The reason this was his risk? According to him, he sings it in Aaron's voice, at home, every day.

Amanda returned to introduce Ian, this time introducing Chad Vaccarino as well.
Ian and Chad performed You'll Be OK followed by This is the New Year. To repeat, with the sound system at Joe's, and Ian on a real piano, wow is the only word to describe their delivery.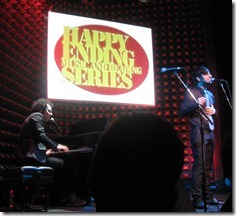 Chad left the stage and Ian closed with the obligatory cover. I might not have mentioned above, but just like each author has to take a risk, each musician has to play one cover, and they have to try to get the audience to sing along.
Ian chose Randy Newman's You've Got a Friend in Me. I am not sure how many people sang along, but I am 100% sure that Ian was awesome in his rendition. His piano play was crisp and his vocals were perfect. Randy would have been proud if he was there (perhaps he was, but he didn't bother to introduce himself to me).
Amanda said her goodbyes immediately thereafter. I mentioned that she might have been nervous kicking off the show. While she never came across as a professional speaker, she definitely got more comfortable each time she stepped on the stage (a total of six times). She's smart, funny, clever and quick. I haven't read any of her books, but I'm betting those characteristics are apparent there as well.
Here is the program for the evening. Click on any picture for a larger image: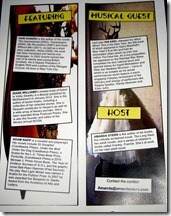 We ran into friends there as well.

An Australian fan (other than me) went up to speak to Ian and Chad after the show!