Send to Kindle
The Vanity Belles have a month-long residency at Arlene's Grocery, every Monday at 8pm in February. We missed the first two and expected to miss last night as well. I was sick the last two weeks of January and we've been gone all of February. We cut our trip short by a few days, largely to make it to last night's show. Glad we did!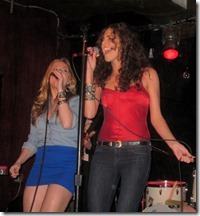 Amazingly, last night was the first full set we've see of the Belles! I honestly believe that they peek at my travel calendar and purposely schedule their shows for when I have to be out of town. At least I finally fooled them by coming home earlier than expected. Take that Belles!

A quick recap:
The Vanity Belles (Carrie Welling and Jessie Rae Waltz) describe themselves as Cosmo-Country. Who am I to argue? Here's what I can assure you of:
Carrie and Jessi have extraordinary voices, each sings lead wonderfully
They harmonize amazingly
They are excellent songwriters
They're not hard to look at (OK, that one has nothing to do with music, my apologies)
When they employ a band, their taste in musicians is exquisite
All of the above was in abundance last night. The ladies were in fine voice, the set selection very upbeat (many songs feeling closer to rock). They were complemented by an incredible band with special guest stars thrown in just in case you needed to amp up the excitement a bit.
On one of the more mellow (yet still very powerful) songs, Jessi played the keyboards and Carrie took up the acoustic guitar. Both played well and sang phenomenally.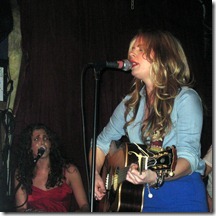 After the show, we bought two copies of the 3-song EP they released last year (yes, they scheduled the EP Release Show for when we were out of town). All three songs are wonderful!
We also backed their recent Kickstarter early (they were successful) and are looking forward to the new full-length CD, which should be coming out in the not-too-distant future.
I'll cover the core band first, then the two special guests, even though one of the special guests was on stage for the first number, replacing one of the core band members. Left-to-right on stage:
Ben Morgan on electronic keyboards. Ben is extremely talented on the keyboards. We've seen him support the Belles a number of times. He was excellent last night.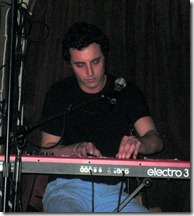 Oscar Bautista on electric and acoustic guitars. Oscar is always fantastic. In fact, the last show we saw, just over a month ago, was also part of month-long Arlene's residency, a Police tribute band. We went solely to see Oscar. While he was great throughout last night's set, during No Regrets, the ladies stepped aside and let Oscar take over the lead. The sound and feel was reminiscent of listening to a great jam band reel you in with a long guitar solo. Very well done!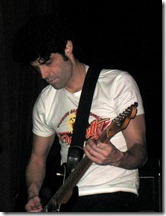 Zach Jones on drums. Zach is one of our favorite drummers. It was a complete surprise to see him playing with the Belles last night. He was at the top of his game. So are the other regular drummers that the Belles use, so it's clear they can attract the best talent when they come a callin'.
Chris Anderson on electric bass. Chis is an amazing bass player with tremendous versatility. Arlene's is a very loud club, often most noticeable in the bass shaking the joint on every note. I have little issue with it when the bass player has the skill that Chris has. Last night, Chris shook me, in a good way!
Cameron Mitchell on electric and acoustic guitars. While Oscar took most of the leads, Cameron was playing rhythm for the most part, very well. He also seemed to be one of the leaders in terms of cueing the rest of the band.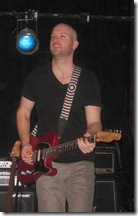 On to the guests.
Rebecca Haviland joined for three numbers, including the first one. Rebecca is one of our favorite singer/songwriters (she co-writes and performs with Chris Anderson). In her own band Rebecca plays electric guitar. The first time we ever saw her play an instrument though, it was the grand piano, just over a year ago. I think she's great on the keyboards, and I can't believe it's taken this long to see her tickle the (fake) ivories again.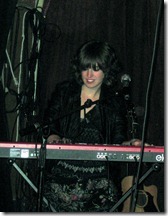 In addition to playing the keyboards, Rebecca sang background vocals on the closing number. The Belles don't need any help in the vocal department, but if they're going to invite a third voice into the mix, it would be hard to pick someone better suited to hold their own than Rebecca.
We didn't know until yesterday afternoon that Rebecca would be joining them, so it was an extra special treat.
Sierra Noble played the fiddle on two numbers. Yesterday was Sierra's 22nd birthday. I'm glad that she chose to celebrate it on stage, entertaining us, rather than in a more private way. I knew for a week that Sierra was joining and it was one of the reasons for cutting our trip short. I don't think Sierra will be there next Monday, so last night would have a special flavor all its own.
We bumped into a number of friends that we haven't seen in a month (always a big draw for going out). Hopefully, we made a new one too (I'm looking at you Jack!).

We're going to do our best to make it out to Arlene's next Monday at 8pm for the final show in the residency. Do yourself a favor and come out as well!
The Vanity Belles usually hand out goodies at each show (I only know that from Twitter, this being our first full set). Here's a photo of the set list, with the front and back of the EP, and the goodie bag (front and back). Don't miss next week's treats!