Send to Kindle
Rebecca Haviland headlined Rockwood Music Hall Stage 2. We've seen Rebecca on Stage 2 many times, but always supporting other people. We've seen her headlining Rockwood 1 many times, but this was a first at Stage 2. Given her full band sound, having the expansiveness of Stage 2 was extremely welcome.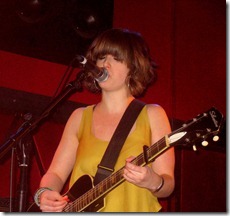 Rebecca and the band took full advantage and filled the room with luscious bluesy rock goodness. It was smokier than usual (actually, more slightly-gruff rocker chick like). It worked well.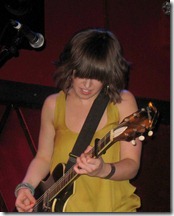 Rebecca played the majority of the upcoming CD. As often as we've seen her perform most of these songs live, I admit that I simply can't wait to have recorded versions so that I can listen whenever I want (which is more often than I see her perform). It's getting closer. I'll circle back to that after giving the proper shout-outs to the amazing band, left-to-right on stage:
Todd Caldwell on electronic keyboards and background vocals. I've raved about Todd a couple of times before, so me add to that list one more time. He took a couple of fantastic leads on the keyboards. If I heard correctly, Todd leaves today (or shortly) for rehearsals with Crosby, Stills and Nash, who he tours with every year. He's the real deal and it's awesome that he adds his talent to an already amazing band on Rebecca's numbers, when he's in town.
Kenny Shaw on drums. Consecutive days, consecutive praise for Kenny's play. I was actually taken by the fact that the day before, supporting the jazzier numbers of Abby Payne, Kenny was averaging faster fills than with the rockier Rebecca ones. In fact, it made me concentrate to realize how deliberate Kenny's beats were. There were some really fast fills as well, but for the most part, it was about keeping the timing perfect for the others. Very well done!
Chris Anderson on electric bass and harmony. In addition to always delivering on the bass, Chris is Rebecca's partner in crime, co-writing the majority of the songs on the upcoming CD. He also sings a bunch of harmony with her, beautifully. Toward the end of the set, he took a long bass solo. Awesome!
I got a shout-out before they played If You. Rebecca mentioned that it was my favorite song (it is) and Chris added "of all time" (well, I can't contradict Chris publicly…).

The audience did a fantastic job of singing along with me.

Coming back the new CD. The mixes are done. That leaves mastering. It turns out that I have a friend who has been a top mastering engineer forever (I've known him for 37+ years and the only thing I still hold against him after all this time is that he forced me to listen to Steely Dan a bunch, way back then…).
Larry Lachmann is a master masterer (sorry). I've mentioned him to a few of the local musicians who were looking for mastering work, but only one, Rebecca Haviland, followed up with him, and after hearing his work on one of her tracks, selected him to master the upcoming CD. I'm proud and delighted to have played the smallest part in making this connection.
I highly encourage any other musicians reading this to put Larry on your list of people to check out for your next project. You can message him on Facebook (linked to his name), or you can email him: larrylachmann1 at gmail dot com (I'm rooting for you to be able to figure out how to solve the previous puzzle).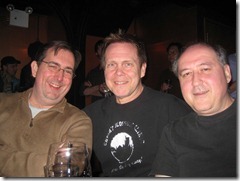 We got there super early, partially so that I could introduce Larry to Rebecca and Chris (they've communicated a bunch via email, but this was their first face-to-face meeting). Because we were there early, we got to hear a bit of sound check. After they were done, Todd and Kenny stayed on stage and jammed for a bit doing really fast and tasty jazz pieces. It was absolutely incredible. I feel a future set in the making…
Here was last night's set list: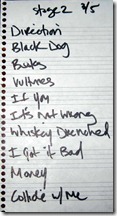 Rebecca Haviland will be appearing at Rockwood 1, on March 30th, at 9pm. Be there!