Send to Kindle
Adam Minkoff has a regular gig at Rockwood Music Hall, called Randomonium. It's typically (always?) on a Wednesday night, starting at midnight.
We've been fans of Adam's for a while (mostly for his bass work, but we've also seen him do wonders on electric guitar, a floor tom and sing up a storm as well). We had no idea what to expect at a Randomonium, but we had an interest in finding out. We missed the last two, just because we couldn't stay up that late on those particular nights.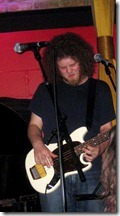 Last night was an epic night on a number of levels, and we weren't going to let a little something like a midnight start get in the way of continuing the epicness. Before Randomonium, we attended back-to-back sets in Westchester, then drove to NYC and caught back-to-back sets at Rockwood 2, then headed over to catch Randomonium at Rockwood 1, already in full swing when we walked in at 12:15am.
Whatever I saw last night, I can't be sure is worth describing for past shows or future ones. After all, Randomonium is the name for a reason!
If I had to guess (extrapolate), I'd say it's a chance for Adam to gather as many talented people as he can on a given night, pick a bunch of songs that might have no relation to each other, then perform them, with a lot of jamming to show off the individual skills. Toss in a commercial jingle or two, done over and over throughout the set to give you the sense that it was being sponsored (last night was the Mentos theme, complete with an actual roll of Mentos!).
Adam wailed on the bass throughout the set and sang a ton. He's great. He also had an infectiously good time up there.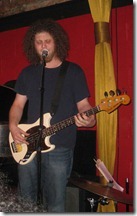 Last night's collection of musicians, left-to-right on stage:
Michael Eaton on saxophone. He ripped it up multiple times.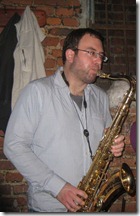 Jackie Coleman on trumpet. She didn't play quite as much as Michael did, but when she played, she was excellent. When the two played together, they were like a full brass section. I was standing three feet from them, so I got the full treatment (in the best sense).
Mark Marshall on electric guitar. Mark was one of two lead guitarists. Mark was also one of the few people on the stage that I've seen a few times before. I've noted that he's excellent on the guitar, and not conventional at all.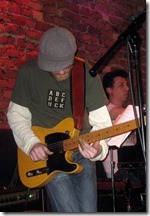 Yuval Semo on grand piano and electronic keyboards. He was fantastic! At one point, Adam teased him to play some Bach, in honor of his birthday. Yuval said no, but then started playing some variations, sounding awesome. Then Adam challenged him to play it in different styles, one after another. One of the styles was "Billy Joel". Yuval was up to the task each time Adam commanded a new style.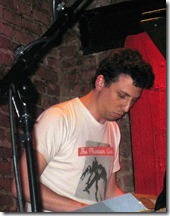 Nick Oddy on electric guitar and vocals. Nick shared the lead guitar duties with Mark, but Nick was more prominent on stage because he was heavily involved in the vocals. He was also the Mentos spokesperson, singing the jingle and offering up the actual Mentos' to anyone who wanted them. He was also excellent on the guitar!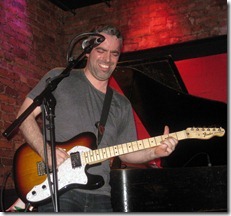 Abby Ahmad on vocals and tambourine. I'm a big fan of Abby and her voice. This was hard-core rock and Abby is more than capable of belting it out, even over seven musicians who are wailing as hard and loud as they can. Abby also played the electric guitar on one number.
Adam Christgau on drums. There was a time, in 2009 and 2010 that I used to write about Adam at least once a week. Then he started touring outside of NYC and now it's the rarest of times that we get to see him. We were committed to attending this Randomonium anyway, but I admit to having more than a little sense of excitement when I saw this tweet:
Adam Christgau ? @adamchristgau

First gig back in NYC since December. Playin w/ Adam Minkoff's Randomonium at Rockwood 1. Midnight! Free! Come out freaks!
Yes, it's been a while (six months) since we've seen Adam perform a full set. Last night, he was on fire. He had to be, to keep up with the insanity going on in that room. Whew!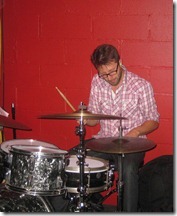 Xenia Rubinos came up to sing one song taking Abby Ahamad's place in center stage. She sang her heart out, keeping up with everyone else.
Marco Buccelli replaced Adam Christgau at the drums for the same song that Xenia sang. He too was incredible on the drums (all of the songs were super fast).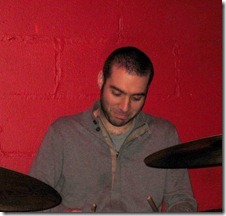 At 12:53am, Adam announced that they had one song left. I admit to being really happy to hear that. I had been standing since we arrived at Rockwood 2 at 10:38pm and this was my fifth consecutive set (and it was louder than the previous four combined!).
Little did I know that the last song at a Randomonium can easily last 1/2 an hour! I guess I should be thankful that this one only lasted 20 minutes. Each person gets to take a long solo (there were typically eight people on stage at a time). It was an epic ending to an epic night, but I was glad when it was really over and I could rush home to crash.
No music tonight, just a fabulous dinner catching up with an out-of-town friend of 30 years! Tomorrow night we crank it up again.