Send to Kindle
The Vanity Belles opened for Rebecca Haviland at Watercolor Café in Larchmont last night. Rebecca Haviland plays at Watercooler regularly, but we've not been able to make any of her previous shows. That we were finally able to get there on a night when The Vanity Belles (TVB) were opening was doubly delicious.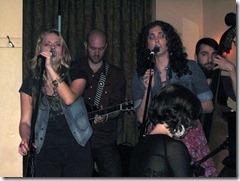 We've seen two full sets by TVB (plus a number of guest appearances). Both sets were at Arlene's Grocery, with a full band. Both were more rock in terms of the overall sound, even though TVB never lose their country roots. Here's the post covering the most recent show.
Last night was amazing, because it was a dramatically stripped down set. No electronic keyboards, no drums, no electric guitar. I never doubted whether their voices would hold up, but the songs themselves would obviously be judged differently.
I am thrilled (but not surprised) to report that when you write great songs, and deliver them through two incredible, angelic voices, you don't really need much else. That they were supported by top musicians playing on acoustic instruments was icing on the cake. They probably could have thrilled me a cappella as well.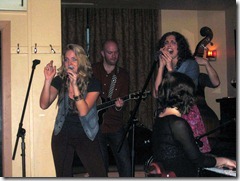 The bottom line, TVB can play arenas with the full band and keep the place rocking, or they can play the most intimate club, with a small ensemble (or just themselves!), and have that audience realize that nothing was sacrificed in stripping down the sound.
On one song, Bottle, Jessi Rae Waltz (1/2 of TVB) took to the upright piano and Carrie Welling (the other 1/2) played the acoustic guitar. The other two members of the band didn't join in until the song was well underway. That's the reason I say that they could perform just themselves, a cappella or accompanied by the piano and guitar.
Speaking of the band, let's name them, left-to-right:
Cameron Mitchell on acoustic guitar. Cameron was really good at both previous shows, but a bit overshadowed by the rest of the band on his acoustic (he also played some electric). Last night, his acoustic guitar was easily heard on every note and amazingly, he hit all of the right ones.

The guitar was a perfect accompaniment to the ladies vocals. Cameron also co-wrote at least one of the songs performed last night.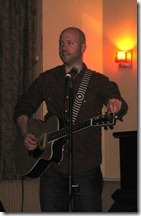 We also got to spend some time with Cameron (Cam) after the show and I can assure you he's one of the nicest people you could have the pleasure of meeting.
Chris Anderson on upright bass. Unless you're a newcomer here, I don't need to tell you how great Chris is in general, on every set. Any set that has fewer instruments makes the bass pop even more, easily differentiating the greats from the goods. Chris is great and really enhanced TVB's sound.

Rebecca Haviland was a special guest on the first two numbers, then the last few as well, playing the upright piano. As much as I love Rebecca's own songs (more on that in the next post), I don't really get enough of her keyboard play, which is actually the first instrument I ever saw her play. So, this was a real treat to hear her on a real piano, in such an intimate place. Thanks TVB for having Rebecca join you!
You can see Rebecca's back in a photo above. For good photos of Rebecca, look in my next post about her set.

As if amazing music delivered by incredible musicians wouldn't have been enough, this was our first trip to Watercooler Café and there's no way it will be our last. The food was fantastic. I had the Baked Eggplant with a Three Cheese Spinach and Mushroom stuffing for an appetizer (OMG) and Wasabi-Sesame Crusted Tuna for the main dish (holy moly).
That we also got to spend it with two other couples, that we weren't sure would be there, turned it into a festive and interesting evening, independent of the music.
The staff at Watercooler were all delightful and funny, making us feel completely at home.