Send to Kindle
Christina Morelli is the Energizer Bunny of the NYC Arts Scene. I originally discovered Christina through her work covering the local scene on that site. Since then, she's broadened her horizons and kicked off an additional venture, The CEO Artist. In addition to having a NYC home base, The CEO Artist (TCA) will have a UK component as well (at the very least).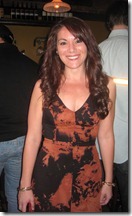 TCA is cooking up a variety of very innovative ideas to help artists broaden their fan base and make a living. I'll save some of those for a future post, since this one is specifically meant to cover last night's event.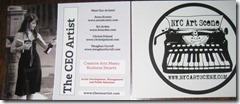 TCA had its inaugural Concert Series last night at Rockwood Music Hall. It was a showcase of four of TCA's current artists, plus an MC who performed as well. The proceeds from the evening were donated (100%) to 2NDFLOOR, a hotline for NJ Youth in need of someone to talk to.
Christina was up first, mapping out the schedule and inviting up the MC.
Caleb Hawley was officially designated the MC, but he was really more of a performer interspersed between the the others, closing out the show as well. Christina came on stage to introduce each artist, so I think she was more of the MC.
I am a huge advocate of ask and ye shall receive. We just saw Caleb headline a show at Rockwood 2, on Friday night. Toward the end of that post, I said the following:
Back to Caleb. I already said how much I enjoyed the set, but he still hasn't recaptured the feeling (for me) that I had the first time I saw him. For most artists that I see, if they do both full band and solo shows, I typically prefer the full band ones. That's even true when they are amazing solo performers.

Caleb is an exception to that rule, so far (but not the only exception). His full band show was fun and engaging throughout, but his personal artistry and wizardry is lost (or rather, watered down) in the fullness. He's so good on the guitar, which is so much more obvious when no other instrument is playing (or when he has only a light-touch drummer supporting him, e.g., Craig Meyer). He has a great voice, which is also more obvious when there aren't other instruments wailing. He is a great songwriter and it's easier to concentrate on the lyrics when it's just him.
See, on Friday, I was somehow begging to see Caleb solo, and just three days later, bingo!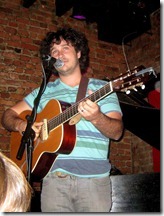 He opened the show by repeating something he had tweeted earlier in the day:
Caleb Hawley ? @iamcalebhawley

Lilith Fair + Me = Rockwood tonight at 7pm. @theCEOartist showcase w/ @chrissipoland @annakrantzmusic @BriArden and@megfarrellmusic
He said that he always wanted to play Lilith Fair, and this might be the closest he got, given that the four showcase artists were all female (in case you missed the reference).

He opened with Bada Boom Bada Bling, a fun song to get everyone smiling and in the mood for more music.
Meaghan Farrell was the first showcase artist up after Caleb. This was my first time seeing Meghan. That said, I thought I had some sense of her because I had visited her site and watched the YouTube video embedded on the home page (at least as of this writing), of the studio version of Lost in My Life. I love the song and the performance. You can visit her site to see it, but I'm going to embed it here, in case she swaps it for another in the future.
Lost in My Life by Meaghan Farrell
I really didn't know what to expect of the showcase format specifically, but I guess I was slightly surprised that it was completely stripped down.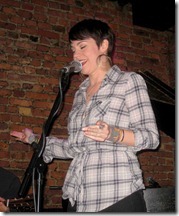 Meaghan was accompanied by an acoustic guitarist. Her voice is incredible (judge for yourself in the video). I believe that it comes across a bit better with the full band than it does over a single acoustic guitar. She's also a bit theatrical in her delivery (you can get a small sense of that in the video as well), which also comes across a bit better with a fuller sound.
She played two originals followed by a cover of Natural Woman (co-written by Carole King).
Gus Fafalios accompanied Meaghan on acoustic guitar. He's amazing. I watched some video on the site linked to his name where he played electric guitar (even better than he was last night on the acoustic). Someone I need to keep my eye on!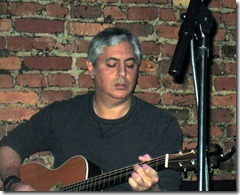 Chrissi Poland was up next. We still haven't caught a full set of Chrissi's, but she's amazed me every time we've seen her sing, even for a few minutes. The most recent time was a jaw-dropping wow, three months ago at a Holiday Benefit show.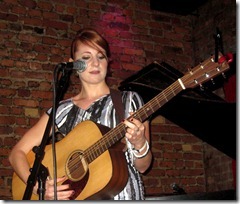 She accompanied herself on an acoustic guitar to open her mini-set. Her voice was flawless. She played songs from an upcoming EP. She's launching a PledgeMusic this week. So, you can be part of the making of this new EP.
Chrissi moved over to the grand piano to do another number. I enjoyed all three of her songs, but she's quite good on the piano and the fullness of it matched her voice better as well. So, given a choice, I'd prefer to see her do more piano-based songs. I can independently attest to the fact that she slays it with a full band behind her.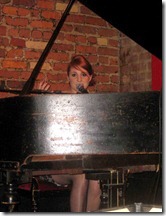 Christina had been on stage between the ladies, but now returned to introduce Nicole Romaine-Settembrino, the representative from 2NDFLOOR. Nicole came up and explained why the group was formed and let everyone know that there was more literature available for those interested in learning about the service.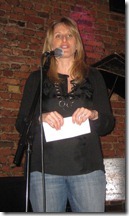 Bri Arden was introduced and came up with an acoustic guitar. In an unplanned moment, her normal bass player happened to walk into Rockwood with his bass, and he happened to have played that song with her once before, so she invited him up to play it with her again. Bri's voice was spectacular (that's been the case every time we've seen her). She jokes about her guitar play needing work. It's true, but partially because she's thinking about it too much. Just keep playing, it will come.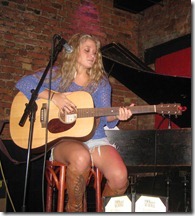 Justin Goldner was the above-mentioned bass player. You can read my raves about him in any previous post I've had about Bri.
She moved over to the piano and played The Other Man. Bri is definitely more comfortable on the piano and as with Chrissi, her big voice benefits from the additional richness of the grand. Beautifully done.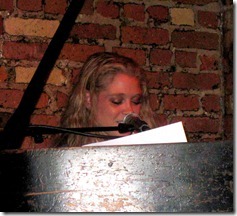 Completing the trifecta, Bri returned to center stage, this time without an instrument. She was joined by the next showcase artist, who accompanied Bri on the piano on a brand new song they co-wrote, What Do I Do. Bri was amazing. The piano play was excellent and the way-too-brief harmony was wonderful.
Anna Krantz was the piano player on the last Bri song, but I saved her name to tout it as the final showcase artist. This was our first time seeing Anna perform, though we did briefly meet her a few months back at the bar at Rockwood 2.
She opened with her new single, Rubble and the Dust. The video (quite clever if you ask me) is currently on her home page (linked to her name above). The song also starts playing immediately (as I type, you might get a different one) when you visit that page. She performed it on the acoustic guitar (I guess that Chrissi, Bri and Anna all wanted to make sure we knew they were multi-instrumentalists).
Anna has a fantastic voice. Like the others, she too moved over to the piano, where I've already noted she excellent.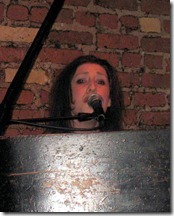 She closed her mini-set with a song called Foundation (or The Foundation). Oh man, both Lois and I were blown away by it. This morning Lois wrote to our friend who introduced us at the bar to say that he was so right that we needed to see her perform.
After a few more words from Christina, Caleb returned to the stage for a playful number about hitting the gym to stay sexy for the girls. I had the sense that this was a cover that I didn't recognize, but for all I know it's just another Caleb original. Hard to stop smiling throughout the number.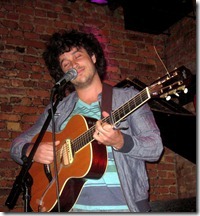 When he was done, he was unplugging and saying goodnight. It was on the early side and people were calling out for more. After a bit of looking around, they finished off the show with a bang.
Caleb picked up his guitar again, but this time, all four women (Meaghan, Chrissi, Bri and Anna) joined him on stage. They sang Carole King's You've Got a Friend. Fantastic!
It turns out there was a unifying theme for the showcase. Christina Morelli is obviously a magnet for females with extraordinary voices. Keep following The CEO Artist to see what other goodies Christina unearths for us!
The show was filmed by Sam Teichman, so soon, you'll be able to watch the performances for yourself. They'll probably be listed (or at least linked to) on The CEO Artist site.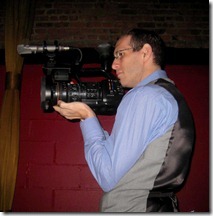 We bolted really quickly. After the late nights we've had recently, both of us were really looking forward to being near a pillow on the early side. Apologies to anyone we didn't say a proper goodbye to!