Send to Kindle
Rebecca Haviland headlined a set at Rockwood Music Hall last night. We try to catch every Rebecca show. March has been a good month, with this being the third time we've caught one of her full sets. We also got to see her sing with the Greg Mayo Band.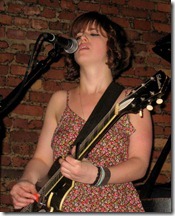 Even though we've seen three sets, all three venues are very different from each other and the band setup was different each time. The set list even got shaken up a bit last night. One example: Rebecca didn't play If You (unbeknownst to her, I've already forgiven her).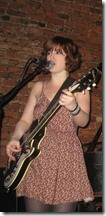 At Rockwood 2, she had a full band on every number, including electronic keyboards. At Watercolor Café they played just a duo (Rebecca and Chris Anderson). Last night, the majority was a trio (add in a drummer) and then two special guest on the grand piano.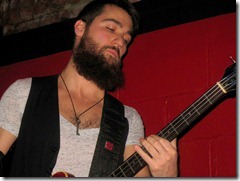 When the volume is right at Rockwood 1, it can be one of the best rooms to hear people, and last night was fantastic. I loved every second of the set. Both Rebecca and Chris were in a zone, vocally, musically, but most of all, they were in a flow, that you could feel coming off the stage.
Kenny Shaw rounded out the trio. I just recently commented that Kenny was hiding from us. I guess my come out, come out, wherever you are chant, worked! It was great to have Kenny in the driver's seat for setting the rhythms. Great job, as always!
Greg Mayo was the first special guest. He played four consecutive songs on the grand piano. Rebecca gave him two long piano leads which Greg destroyed. On one of the songs, Greg was featured on harmony vocals with Rebecca and the two of them were great together. On the rest, Greg joined Chris for harmony background vocals. Always a treat to catch Greg (always!).
Evan Watson was in the audience, I believe just there to enjoy Rebecca's set. Evan was headlining next door at Rockwood 2, at 12:30am, and Rebecca and Chris were going to be part of his band (Greg Mayo too). Rebecca asked Evan if he would come up to sing with her.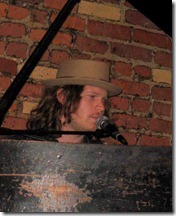 The only free mic was at the grand piano so Evan sat there. In addition to singing amazingly with her and alone (he took a full verse on the lead), Evan noodled on the piano as well. If I heard him correctly, it was the first time he played the piano at a public show.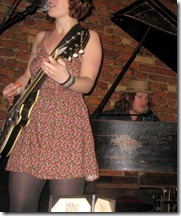 The song was Dig My Grave. Excellent.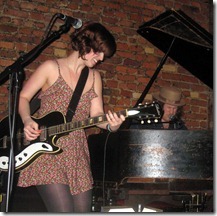 Evan deserves a different kind of shout-out. Meatloaf just released a new CD this month. The second song is called Giving Tree. It was written by Evan! When Meatloaf performed on the Tonight Show the night the CD was released, that's the song he chose to sing. Absolutely fantastic. Congratulations to Evan (and to Meatloaf for recognizing and promoting talent!).
A terrific set. Already scanning Rockwood's site for another opportunity to see Rebecca Haviland and Chris Anderson!