Send to Kindle
Elizabeth and the Catapult opened a show at The Standard Hotel last night. Well, to be honest, there were no catapult in sight, so let's also give credit to her as a solo artist, Elizabeth Ziman. She mentioned that last night was her first-ever solo show. A bit hard to believe, but I have no evidence to refute that, so let's go with it.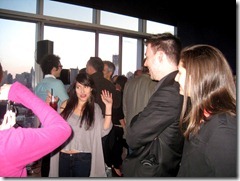 It's a bit hard to believe that we've only seen Elizabeth and the Catapult (E&TC) once before. That was 2.5 years ago, when they co-billed with The Paper Raincoat for TPR's CD Release show at Joe's Pub. Here's what I had to say about Elizabeth that night:
Elizabeth Ziman is the heart and soul of the group. She has an absolutely extraordinary voice, completely captivating. She plays the piano exceptionally well. She played accordion (well) on one number, and guitar on one other number. Still, even though her piano skills are top notch, it's the voice, the voice, seriously, it's the voice!
Every word I said then was true last night (except that she didn't play an accordion). That said, without any other instruments supporting her, I might tone down the last sentence and tone up the piano skills to mesmerizing. The voice was a good as I remembered it (so I don't mean to downgrade it), but the piano (actually an electronic keyboard) was an equal match.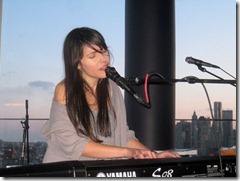 In the opening number, Elizabeth's fingers were in a constant wave of motion up and down the keyboard throughout the song. This wasn't just chords, nor constant lead (melody) either, but an actual wave (like you might see going on at a sports stadium). Fast, silky smooth and to repeat myself, mesmerizing.
Later in the set she played a piece where the piano was straight out of an extraordinary classical piano concerto, yet she was singing jazz-like vocals/melody over it. Wildly impressive piano play and a cool song to boot.
Sorry about the quality of this shot, it's the only one we have of her playing the guitar: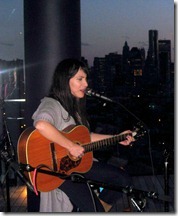 She opened the show with Thank You for Nothing. I loved the entire song, and all of the lyrics, but I promised myself I'd remember the following lines (and I did!):
Thank you for loving me
Thank you for leaving
I won't be able to name the rest of the songs. Not only didn't Elizabeth have a set list, she seemed to change her mind early on and decided to play a few new songs, including one on acoustic guitar. She also played a cover of a new Greg Laswell number (beautiful song, performed equally well). Elizabeth is opening for Greg on his upcoming tour (starting in about a month).
Like I said above, it's a little surprising that it's taken this long to catch another E&TC show, even though technically, we caught an E show last night. I won't let that happen over the next 2.5 years…
As you can see in some of the photos, the space itself is quite magical. I'll spend a few more words on that in the next post.
In addition to Lois capturing photos during her performance, Manish Gosalia was right to her left snapping away throughout the set. It seemed only fair for one photographer (with the toy camera) to capture the other one (the professional) with the performer.