Send to Kindle
The following is a guest post by our very own Lois.

Their voices soared in stunning harmonies, filling the Cathedral as worshippers and visitors gathered after the noon mass to hear the Bishop Shanahan High School (BSHS) Choral Ensemble.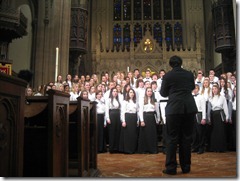 Under the direction of Chuck Keating, the School's Music Director, the students sang nine songs, all but two in Latin. Most were a cappella (a few with light background piano).
There were three special additions: a flute solo, several songs conducted by a student and one highlighting a solo singer. About half-way into the performance, sections of the ensemble went back to their seats as the remaining students continued singing. Their voices were concentrated even deeper, yet as moving and inspiring in smaller parts, as with the whole group.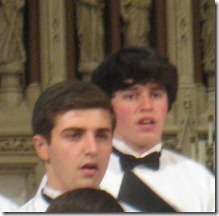 The performances were breathtaking, eliciting huge applause and appreciation from the audience. It is no understatement to call this an uplifting experience for those of us lucky enough to participate. The school's motto is "Quae sursum sunt Quaerite" ("Seek the things that are above.") The group delivered, raising our eyes and our hearts in unity.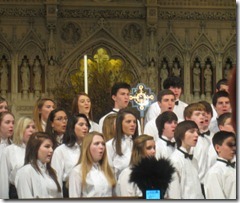 Here's the program: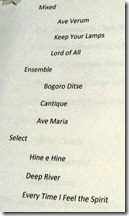 The Choral Ensemble was recently chosen by B101, WBEB-FM as the best school musical group in Philadelphia (the station's 2nd Annual Christmas Choir Contest in the grades 7-12 division.) Here's the song they sang for the contest.
Trinity Church is a beautiful structure at the tip of the Island founded in 1697 "a sacred oasis amid the busy downtown streets". The Church (and Trinity Choir) are well known throughout the world for their rich musical heritage and contributions. Trinity presents many free concerts every year.
They have a wonderful youth music program which "emphasizes the social aspect of singing, brings together collaborative neighborhood partners, and teaches the importance of building bridges within our community."
Why did I attend? A 'few years' back I worked with an amazing girl in her first job straight out of college. She proved over and over how much she could take on with grace and dedication: marriage, motherhood, burgeoning career – and still remain the kindest of people! We kept in touch over the years as each of our lives took their twists and turns. While we haven't seen each other as much as we'd like, yesterday gave us the chance to correct that 🙂 finally in person, sharing this incredible experience….hopefully the first of many more to come.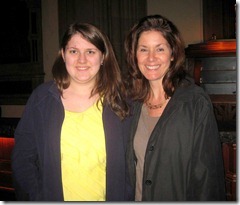 As Hadar & I have found, our lives are continually enhanced and blessed with the music – and musicians – who create the 'joyful noise' we all can share.