Send to Kindle
Jeff Taylor and his band Dumpster Hunter headlined a set at Rockwood Music Hall Stage 2 last night.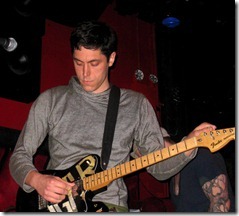 Quick aside. The link to Dumpster Hunter currently redirects to the same site as Jeff Taylor's link. In the future, it might not, so I decided to give both links. That leads me to say that I don't really know if there are any official members in Dumpster Hunter other than Jeff, though I suspect at least one of the other people on stage is a permanent member.
I have heard about Jeff Taylor for the past couple of years, in the most glowing of terms, from both fellow music fans and musicians for whom I have enormous respect. So, I was particularly happy to catch this set, as it was sandwiched between two others that I was intending to see anyway.
From what I understand, most previous Jeff Taylor NYC shows have been solo affairs, which is what all my friends were raving about. Dumpster Hunter sounds like a reasonably new endeavor to deliver a full band sound around Jeff's creations.
Jeff has an excellent voice, but he's not a traditional vocalist. In addition to singing, he also produces a number of different sounds (including melodic yelling, for example). He whistles on a song or two as well.
He sang without playing an instrument for roughly the first half of the show, then picked up the electric guitar for the second half.
I would describe last night's set as Dream-State Rock/Pop. Jeff had extremely high reverb on practically every song, so that every note he sang lingered for a long time. It was executed very well.
Jeff was supported by three band members, left-to-right on stage:
Steve Wall on electric guitar, electronic keyboards and vocals. If I had to guess, Steve is a permanent member of Dumpster Hunter. He traveled to CA with Jeff for some shows out there. Steve added to the dream-state with his play on the electronic keyboards, but spent more time on the electric guitar, which I had trouble distinguishing. His harmonies with Jeff were very good.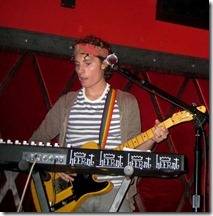 Mark Guiliana on drums. Excellent on every number. The drums were an integral part of the experience and Mark was right there on every strike.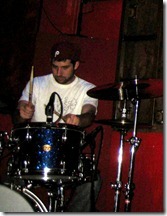 Chris Morrissey on electric bass. This was my second time seeing Chris. The first time he was supporting Vicci Martinez (before her fame on NBC's The Voice). Here's what I wrote about him that night:
Chris Morrissey on electric bass. Given the tempo and power of Vicci's set, the bass player is key in keeping it all together. I was extremely impressed with Chris' play, even though there were no flashy leads. As Vicci herself said of her band, they are all P-R-O-F-E-S-S-I-O-N-A-L-S.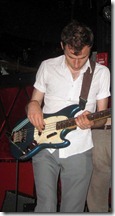 Last night he took quite a number of blazing leads, as Jeff's music called for it significantly more than Vicci's did. So, I continue to be really impressed by Chris and look forward to seeing him again!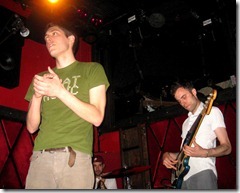 I only had complimentary things to say above, so I understand why my friends recommended Jeff. I also noticed that many people in the crowd were in trance-like states enjoying the music. Still, while I appreciated each person's talent, and I enjoyed the set in general, the music didn't grab me in any particular way.
It's possible that I need to experience Jeff solo to get it, but I don't know if/when he'll be playing solo.
For those that love him (and I was wildly outnumbered last night), Jeff noted that Dumpster Hunter's CD Release show will be back at Rockwood Music Hall Stage 2, on May 5th (Cinco De Mayo), at 10pm. It's a ticketed show, so grab them now if you're interested. Mark Guiliana's band, Beat Music, will be opening.
P.S. I doubt this affected my reaction too much, but the setup time was longer than most 4-piece bands take, which may have made me more antsy than normal.