Send to Kindle
Jay Stolar released a new EP (The Acoustic EP). Numbered CDs were available for sale at his headlining show at Rockwood Music Hall Stage 2.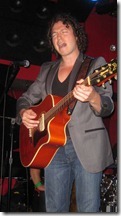 If you read my last post about Jay then you know that we weren't going to miss this show (and there was strong competition for our attention down in Philly!). We made the correct decision, as I can summarize the show/performance in one word: Wow!
Seriously, among the many things Jay has going for him, the top three are:
Extraordinary voice
Unreal stage presence
A band that can keep up with him (at every position!)
I couldn't help thinking how lucky we are (were) to experience them (Jay and the band) in such an intimate (yet mobbed!) spot like Rockwood 2. I have no doubt that Jay has the energy to fill Madison Square Garden to every fan's satisfaction. I hope to get the chance to verify that claim some day.
In addition to playing all four of the EP songs, Jay mixed up his classic Soul/Rock/Pop genres to keep every song fresh throughout the set.
I've mentioned before that Jay could thrill on his own. He likely couldn't do that at MSG though. He certainly could with his 4-part harmony and kick-a** band. Left-to-right on stage:
Jason Wexler on grand piano and vocals. We're big fans of Jason's and our fandom grows each time we see him (we had seen him guest with Jeff Litman the night before). He was atypical last night in playing only the grand (no electronic keyboards) with such a big sounding band. That's perfectly fine with me, his piano skills are exceptional.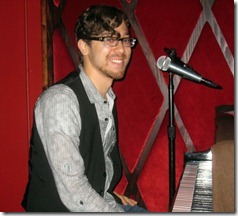 In addition to singing a ton of background vocals throughout, Jay gave Jason a really long lead during When I'm Acting Crazy. Holy moly Batman, Jason slayed it (and everyone in the room).
Jay took over the piano duties on one number and Jason stepped to center stage and played the accordion.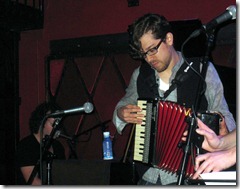 Grace McLean on vocals. Fantastic, but no surprise (other than I didn't know Grace would be singing with him). I recently saw her for the first time at one of Sam Teichman's Leave a Lasting Mark benefits and was instantly taken with her voice (and performance). I may as well repeat what I said about her that night:
Grace McLean was the final newcomer to us. Grace performed perhaps the second most famous song (to me at least), Chain of Fools. Let's see if I can be succinct in describing her: Wow! (OK, that was succinct, but not sufficient, how about: Holy Wow, Unreal!, yes, that's better).
In a small-world story, Grace's upcoming EP was mastered by my good friend (and expert Masterer) Larry Lachmann. I discovered that just days after seeing Grace for the first time.
Seth Faulk on drums, percussion and vocals. Seth completed the vocal superfecta. In addition to adding his wonderful voice to the mix, Seth was one of two drummers/percussionists, another touch that makes Jay's shows so special (I think 10 drummers might be too many, but less than that is all a plus for me, as long as they're good, and these guys are more than good!).
Here's Seth as part of the 4-part power harmonies: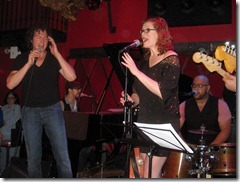 Kenny Shaw on drums. Kenny is always great. Having him coordinate with Seth cranks it up a notch and is a sonic joy. Kenny and Seth are a large component of why I feel that Jay could fill MSG with sound. Let's get on that one folks, please!
Rob Pawlings on electric bass. I've written about Rob a number of times lately and they've all been raves. No difference last night, another amazing performance.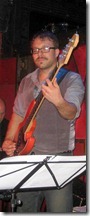 Paul Maddison on electric guitar. When I last saw Paul, on May 12th, I wrote that I would finally introduce myself to him at the next show. I can't say I totally followed through, but we did shake hands, so I'm making progress. He's getting married on Sunday (tomorrow), so I didn't want to break his concentration.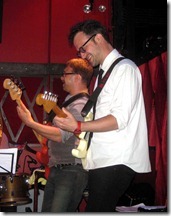 On a more serious note, Paul is an excellent guitarist and Jay gave him one long lead with a bunch of other tasty licks. Wonderful!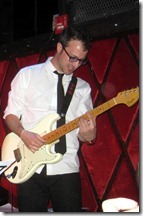 That takes care of the core band. There were three additional guests.
Wil Farr came up to sing with Jay on a song they co-wrote. Very well done. Wil was the front-man for the band that was up next, so I'll be writing more about him shortly.
Matt Simons joined for one song on the sax (I believe it was When I'm Acting Crazy). We had seen Matt perform a solo set on the grand piano right before this one. Now he switched to the sax and when he was let loose, he destroyed the room. That he ended up taking such a great solo in the same song that Jason did on the piano, made a great song all the more amazing.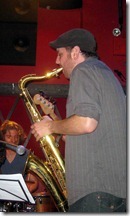 Jim Perry on drums/percussion. Jim joined for two of the final numbers. I think I heard Jay say that Jim co-wrote one of those songs with him, but don't hold me to that. For the first number, Seth gave up his kit (Seth stood and played a tambourine and shakers while singing). On the second number, Jim took over Kenny's kit and Kenny played the tambourine between Seth and Jim. Jim did an excellent job in both spots.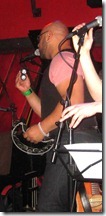 Here's the set list:
An absolutely incredible show. When do we all get together to do it again?