Send to Kindle
Last night we saw Kathy Mattea for the second time on her Coal tour (that's the name of her new CD). The previous time was at Joe's Pub on October 24th, 2007 covered in this post. We both thoroughly enjoyed that show, as you can see for yourself if you clicked on that post.
To me personally, the most important nugget in that review was my statement that:
Bill Cooley is possibly the greatest acoustic guitarist I have ever heard!
I've been following him closely ever since (and have written about him and his CDs a number of times). Here are two links for Bill Cooley, one being his new MySpace page. When he let me know about his new MySpace page, I blogged about it. During that first visit to his new page, I saw that he was going to be at the Barns at Wolftrap with Kathy on April 1st and 2nd, 2008. We already had tickets to see Girlyman there (which was to be our first time at Wolftrap) on March 26th, 2008.
I told Lois that I would be happy to pass. I think Kathy is wonderful, but the Coal stuff, while extremely interesting and moving (she delivers it with all the emotion due such a project!), is heavy stuff, and hearing it again live wasn't a priority.
Lois is a long-time fan of Kathy's, and I would have been thrilled to go there if Lois really wanted to see it again. I shouldn't have been surprised by Lois' (unselfish) answer. She said "Bill Cooley is your favorite guitarist, how can you pass up an opportunity to see him?"
OK, that cinched it, we grabbed two tickets, unfortunately, in the balcony, since Kathy is a big name that fills seats quickly. At the time we bought the tickets, we had no idea whether that was going to be nose-bleed territory, or good seats. Also at the time, we were scheduled to be down at Zope for two weeks (the week before during the Girlyman show, and then this week).
If you read this space regularly, you know that got turned upside down with our unplanned trip to back to NYC to see Girlyman again on Sunday March 30th, 2008, covered in this post. That meant running back to VA to see Kathy. We had to drop our young guest off anyway, so it wasn't a chore.
When we saw Girlyman, we saw that the balcony seats weren't that far. Lois noticed that they were plastic, while the chairs in the main area are like padded dining room chairs. At least we knew what we'd be in for last night, a week in advance.
OK, finally, the show, followed by tons of background info (trust me, it will be worth reading the background if you like connectedness stories).
Kathy came on the stage just with Bill at 8:03. That was already exciting (for me). 😉 She sang a slow ballad without her guitar, with only Bill accompanying her. After that song, the other two members of the band came on stage. Eamonn O'Rourke and David Spicher. Here's what I wrote about Eamonn in the Joe's Pub post, and there's no need to change a word:
Eamonn O'Rourke is an outstanding mandolin player. His fiddle playing is even better. In the past few years, I've seen some amazing fiddle work. While I wouldn't say that Eamonn is the best (like I did for Bill Cooley above), he certainly isn't far from it. He also sings harmonies with Kathy.
David Spicher plays the upright bass and is new to the band. He was absolutely outstanding! Like Eamonn, he sang harmonies with Kathy (more on that later). Here's David's bio from the above link:
David Spicher (bass & vocals) The son of session fiddle king Buddy Spicher, David's performed with Crystal Gayle, Merle Haggard, Pam Tillis, the Jerry Douglas Band, polka queen Lynn Marie, the Nashville Symphony, and his own Nashville Swing Band.
They can now safely add Kathy Mattea to the above string of stars that David has played with. 🙂
The new Coal CD was released yesterday, so last night was the first chance for anyone to buy it. Kathy talked about the release as a birthing process, so she intended to change things up on this special day from previous nights on the tour. At Joe's Pub, she intermixed the mostly Coal songs with a smattering of her hits. Last night, she announced that the first set would be the hits part, with Coal coming in one long shot after an intermission.
This was a crowd well familiar with Kathy's hits. One wonders whether they come there to really discover the Coal stuff, to simply support the new effort, or secretly hoping that Kathy will do enough of the hits to make it great, regardless of how they respond to Coal. The first set didn't disappoint even for a second. She was great on the hits, and the crowd loved every second of it.
Roughly four songs into the set, she asked if there were any requests. The Barns have phenomenal acoustics, so you could hear the individual requests quite clearly, even in the balcony! People screamed out so many different titles. After a bunch were screamed out, someone yelled out another, and many of the people in our section starting murmuring to each other (not loud enough for Kathy to hear) "Yes, that's a good one."
All the while, Lois was trying to get me to yell out Asking Us To Dance. I didn't do it, and I could tell she was disappointed in me. I don't recall hearing anyone else yell it out either, so that meant that we could only hope it would be played later in the set, by design, rather than by request.
A minute later Kathy had decided what she was going to play. She turned to the bass player, and said "You've never heard this one before, so just fake it in C". 😉
Then she started playing Asking Us To Dance! I have written before that Lois is Always Right (search if you want to read it, it pains me to link to it so many times) 😉 but what I am not sure I've ever mentioned in public before is that Lois also conjures people and things by simply speaking about them out loud. No, I'm not kidding! Perhaps that's why we have such an affinity to Wicked! 😉
To repeat, the rest of the set was spectacular as well, and the band is scary good, as individuals and as a group. Of course, Bill nails every single guitar riff, the subtle ones, and the scary fast ones as well.
Here's an admission that I hope will be taken in the spirit it is intended (meaning, this has nothing to do with Kathy's abilities!). On occasion, without trying or thinking about it, I realize that I'm concentrating on Bill's playing, and Kathy's voice becomes the background accompaniment to this extraordinary guitar playing. Again, that's not to say that Kathy isn't an amazing headliner, she truly is.
This is possible because Kathy is extremely generous in giving Bill so many opportunities to shine. I am willing to swear on a stack of bibles that she looks over at Bill with the same awe that I do, every time he takes a solo. They've been playing together for 18 years, and she's no slouch on the guitar herself, so if I'm right, it's a beautiful thing to see that she appreciates him now as much (if not more!) than she did in the beginning.
In addition, Bill arranges much of their music (he arranged the Christmas Tour and worked with Kathy on the Coal album as well). In other words, in addition to being a genius on the guitar, he's also an amazing musician from a theory point of view as well.
The first set lasted 55 minutes. After a 15 minute intermission, they came out for the Coal set. As Kathy herself jokes, it's quite depressing. It's historically important to never forget the stories and times that these songs are about, but that doesn't make it any more lighthearted. It's beautiful stuff, extremely evocative, but it's not something I'd want to listen to constantly.
Ironically, it's in this set that Eamonn really wailed on some fiddle playing. You have to blink really rapidly to make sure it's possible to move your fingers and the bow that fast and make such gorgeous sounds at the same time. Wow.
They finished with the same instrumental (the only instrumental of the night) that they did at Joe's Pub, including Kathy playing on the penny whistle (or piccolo, or tiny flute, who knows?). I am crazy about that song. I could swear it's something either Nickel Creek or Chris Thile plays too, but I'm not really sure. Simply brilliant.
They left the stage at 10:20pm, which made for two hours of playing (not including the intermission). A very generous show! I'm extremely glad we went. That said, as much as I loved the show (and I did!), it's the rest of the story, coming up right now (to a browser near you), that really made the evening special!
I said I'd mention the harmonies. They are pleasant (and professional) enough, but very sparse (only during choruses) and both Eamonn and David seem to sing the same notes (meaning, two-part harmony, not three). Bill doesn't even have a mic, so he doesn't sing on stage. After seeing Girlyman twice in the last week, the harmonies last night felt gratuitous. Nothing wrong with them, but hard to call them harmonies in comparison…
OK, now is the part of the post that I most enjoy writing, and I hope I don't lose you along the way.
When I first posted the above-referenced announcement of Bill Cooley's MySpace page, I got a lovely comment on my blog from a complete stranger, Willa Shaffer. After replying to her comment, I visited her MySpace page. As a result of that, and another page of hers that I visited, we exchanged a few emails directly.
She is a very big Kathy Mattea fan and saw my Bill Cooley news via a Google alert. Since she has been to many Kathy concerts, she knows the band well too, including Bill. She's a big fan of Bill's as well! Great! She let me know that she would be at the same show we would be at, and that she had seats in the first row, so coupled with her photo on MySpace, I should be able to find her easily. Cool. After a few more emails, we stopped communicating until a week ago, when we confirmed that we would try and get together.
As an homage to Willa, let me provide a link to another of her favorite artists. She feels similarly about Krista Detor as Lois and I feel about Girlyman. Meaning, not only does she love Krista, but she really works hard to make sure others discover her. Here's my small attempt to help her on her mission!
We got to the Barns at 7:15 and bought both the Coal CD as well as a John Vezner CD (that's Kathy's husband, who is an amazing songwriter, who Lois really loves). There was a sign at the merch table saying that Kathy would be out to sign CDs after the show. It was our intention to get on line and get both CDs signed.
We went in to the Barn (theater) at 7:40 and took our seats in the balcony. It seemed further away from the stage than the view from our fifth row seats made it appear the week before. On the other hand, the plastic seats were surprisingly more comfortable than the padded ones on the floor. We looked for Willa, but she had let me know in advance that she couldn't make it early, so we decided to wait for the intermission or after the show.
At 7:45pm, both Lois and I noticed that Bill came on the stage to set up his guitars. He was alone on the stage. Lois encouraged me to go down and say hello. We were very far away, and I didn't know if he'd still be there after I climbed down the stairs and made my way to the stage, but Lois insisted, so I dutifully went. I indeed got to shake his hand. He remembered that I was from NY (which was cool in itself!), and thanked me for coming. We agreed to connect after the show. Here's a grainy photo that Lois took of that encounter from the balcony: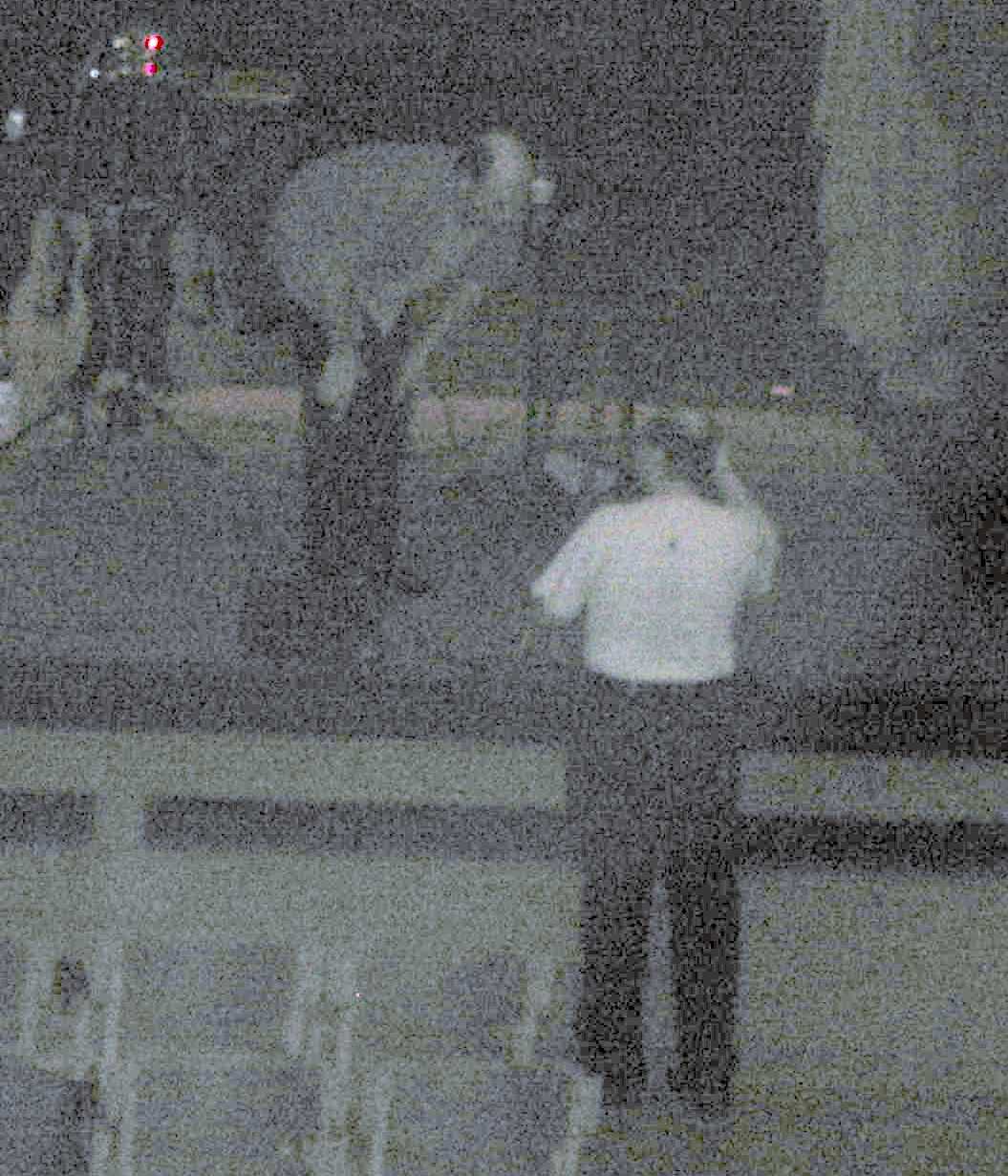 Yes folks, that's my honking bald spot. Nothing more to see here, keep moving along…
At intermission, Lois told me to go down and look for Willa. Given my mental image of her (with reasonably light hair color being the key, since we could only see the back of people's heads!), I declined, since I had no likely suspects. Lois went instead. After standing there for a few minutes, and asking one woman (who declined to accept being called Willa), Lois was about to head back.
At that point, the real Willa stopped her and asked if her name was Lois? Haha. Thank goodness I sent Willa a link with our pictures in it as well, so she recognized Lois from that! From the balcony, Willa's hair looked jet black. It wasn't.
Willa mentioned to Lois that there were four empty seats in the row behind them. Lois asked the usherette whether we could move down from the balcony and she said yes. Cool. So, for the second half of the show, we were in the second row, in the exact same seats that we were in three rows further back for Girlyman! While it would have been great to sit in those seats for the entire show, I have to admit that having both perspectives during the same show was quite interesting.
After the show, we got on line and waited to get our CDs signed. I was also waiting for Bill to come out. After a while, Willa joined us and said that Bill almost never comes out, and that I should go back to the stage to catch him while he was packing his guitars. I hesitated, and didn't go. After a few more minutes, I decided to hit the men's room before our long drive back to NY.
When I came out, Bill was standing there with Lois and Willa. Willa was so kind to have gone back and asked Bill to come out! Thanks Willa!
We chatted briefly with Bill and Lois took this photo of us together: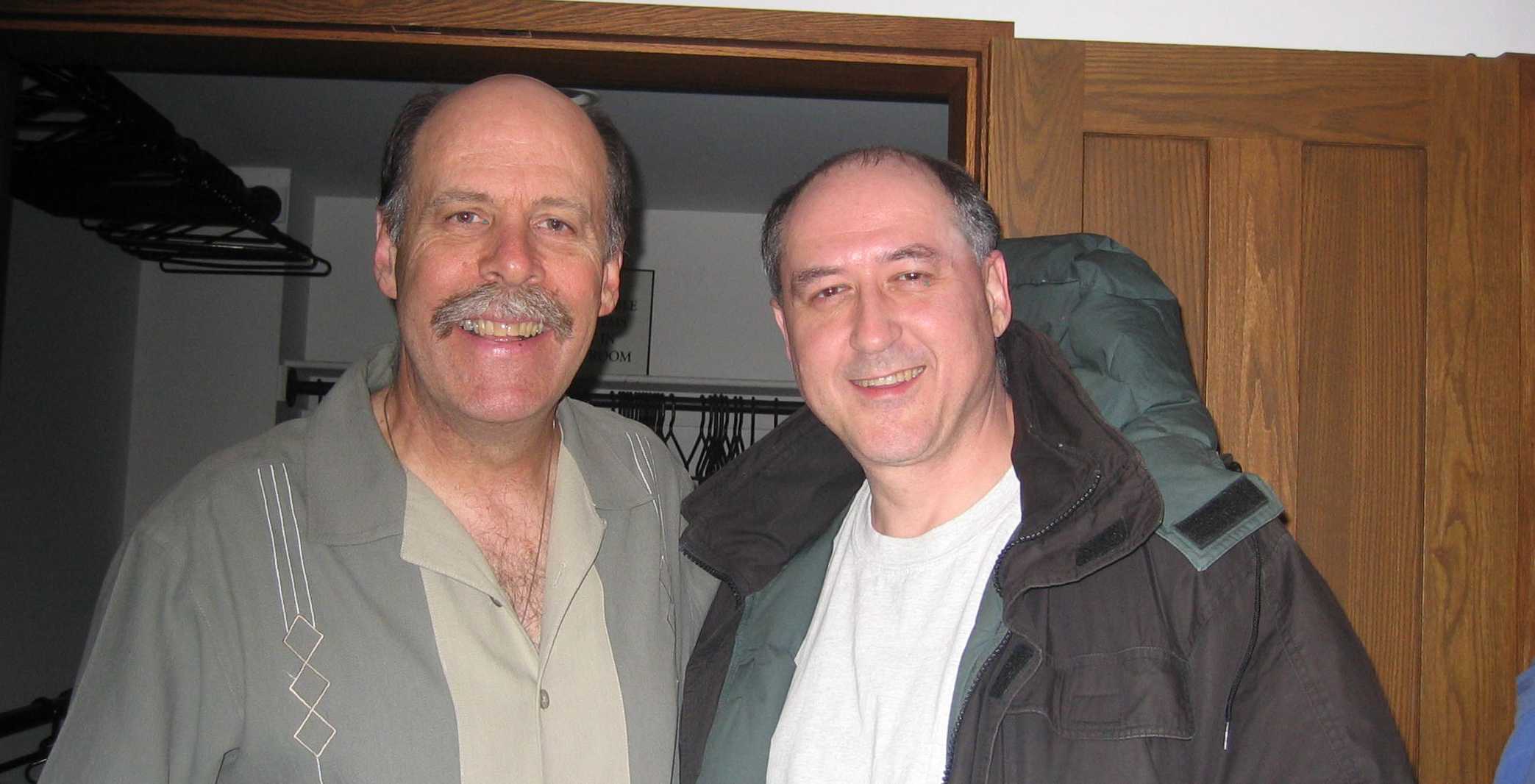 By this time, it was getting late, and we were going to push through all the way back to NY, so reluctantly, we bailed on meeting Kathy. Bill signed our CDs, so it wasn't a loss. 🙂
Willa informed me later that Kathy got caught up with a group of her former Music Teachers, and ended up coming out much later than she usually does. Great for her, and slightly bad luck for us. We'll catch her next time!
I noticed as we were leaving that people were surrounding Bill and asking for autographs. He had admitted to me during our chat that he rarely comes out. He should, as Willa told me today that people continued to surround him long after we left. We're not alone in understanding that this man has more talent in his 10 fingers than most people have in their entire bodies! 🙂
Kathy is playing at the Barns again tonight. Ironically, we're headed (in a few minutes) back to Joe's Pub, to see Tim O'Brien. Tim writes amazing songs, a number of them have become big hits for Kathy. So, we'll continue to think about Kathy, Bill, Eamonn and David as we enjoy Tim tonight! 🙂
We got home (to the house) at 3am. We slept for three hours and 40 minutes, and got up and drove to the city. Now we're off.
Today, we exchanged a ton of emails with Willa. She's a hoot, and writes fantastically, and we are so glad to have made a new life-long friend. Have I mentioned how much I love the Internet? If not, let me say I love the Internet! 🙂
Don't forget, we have a Girlyman Live CD Contest going on. One entry so far, and it's a very good one! 🙂